Every thing about FRIED PADRON PEPPERS | Vahrehvah :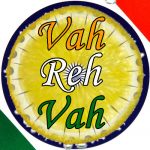 Fried Padron Peppers is an amazing side dish just made with some really small Spanish peppers which literally melts in your mouth with a small amount of salty heat dashing a lingering pepper flavours as you grab the next one and the next one. Fried Padron peppers are very special Spain's delicacy as it is one of the seasonal foods that appear in a short period annually.
Padrones are small green peppers native to Spain but occasionally available in American farmer's markets. They are seasonal crops, very short period in just few weeks they disappear like some shadowy, charismatic guest leaving just as things are spicing up. They are complex having a bitter sweet flavour. Usually the mild padrones are the world's most exciting peppers to eat.
This is due to a fascinating genetic oddity that just one out of every dozen or so peppers is really spicy. The most famous produce of Padrón are its peppers (Spanish pimientos de Padrón), which are small green peppers from the Capsicum annuum family. They are generally served fried with olive oil and coarse salt. Most taste sweet and mild, though some are particularly hot and spicy, which gives its character to the dish.
The level of heat varies according to the capsaicin of each pepper. The younger the Capsicum pepper, generally the less capsaicin levels. Padron chile peppers are picked immaturely so as to avoid the higher levels of capsaicin, allowing for an entirely edible fruit. Although it's not always the case, the peppers grown towards August/ September tend to contain more capsaicin than the ones of June/July.
Each Padron chile pepper is unique though similar in shape and size with curved and grooved furrows along their skin. Young padrons are crisp, the color of limes, roughly two inches in length and their flavor savory, grassy, piquant and peppery. Padron peppers are essentially finger food. They are traditionally pan fried in hot olive oil until the skin blisters and finishes with sea salt and lemon juice and served with stem on.
Padrons can be a sparkling addition to pizzas, salads, pasta, soups, fritattas and rice dishes such as paella. Padrons pair well with creamy sauces, citrus, manchego cheese, other chiles such as smoked chipotles, lobster, shrimp, chorizo, pork, poultry and tomatoes. Large harvests of padron peppers can be used for pickling. There are a variety of green chilli peppers differing mainly in size, shape and pungency of fruits.
Unripe fruits are green in color and on ripening they attain a red hue. Generally the long and thin varieties are highly pungent and used as spice in preparation of hot and spicy foods. They are an integral part of Indian cuisine and regularly used in Indian Kitchen. Green chilli peppers are used in preparing stuffed chillies, green chilli pickles, green chilli chicken, used in salads; and also an important ingredient in various hot sauces (green chilli sauce) and chutneys (green chilli chutney).
For preparing the Fried Padron Peppers, firstly add some olive oil to a hot frying pan and when the oil is hot add shimmering, add the chilli peppers. Cook and stir the peppers until the skin is brown and blistered. Remove the peppers from the pan and serve on a plate.
Sprinkle with some sea salt to taste. They are the perfect first dish to start a good meal, followed by meat, seafood or shellfish. A quick sizzle in hot olive oil, and a few flakes of sea salt is all that is needed to make this exotic, late summer treat that can be served as a tapa, with eggs or as a side.
Just give it a try!