Every thing about PAPDI CHAAT | Vahrehvah :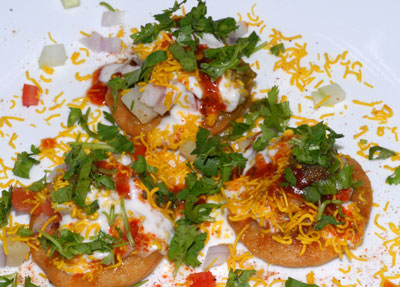 Weekends and most of the families are found near the
Chaat walas
having a great time eating their
favourite chaats. Chaats
are always tempting and the excitement one gets in eating the
hot chaat
at the road side is thrilling. One such
chaat
is the
Papdi Chaat.
Papdi chaat
is one of the all time favorites and prepared with variety of toppings.
The
papdi
are placed in the plate and a
bed
of
aromatic sweet,
tangy and savory chutneys,
mashed potatoes, tomatoes, onions, sev,
and the
sweet yoghurt
spread over them along with sprinkle of chaat masala and chilli powder. Wow! Mouth's watering. It's a true comfort food, delicious and economical too. We should appreciate the chaat walas for their creative skills in presenting the
papdi chaat
to us.
We can also create the same atmosphere at home when you have friends or visitors and treat them with an array of chaats. They are really crowd pulling appetizers and can be eaten any time.
Papdi chaat
is simple and easy to
prepare. Papdis
are readily available in the market or else you can also prepare at home or use the
small puris
of
pani puri.
Take the puris which are not puffed and use it as a
papdi.
You get round
papdi
or layered papdis too.
Ingredients:
Ingredient Name
Unit
Quantity
Aloo

---

0

---

as needed

---

chaat masala powder

---

0

---

as needed

---

coriander leaves

---

1

---

bunch

---

cucumber finely chopped

---

0

---

as needed

---

cumin powder

---

0

---

as needed

---

curd sweet

---

0

---

as needed

---

green chutney

---

0

---

as needed

---

onions chopped

---

number

---

1

---

papdi

---

number

---

1

---

red chilli powder

---

0

---

as needed

---

Sev

---

0

---

as needed

---

sweet tamarind chutney

---

0

---

as needed

---

tomatoes

---

number

---

1

---
Instructions:
take a plate,spread papdi apply sweet chutney, aloo pices,cucumber,tomatoes,onion, green chutney, sweet curd, then sprinkle red chilli powder, chaat masala,cumin powder, sev, again top it with curd then sprinkle coriander leaves.
Cooking time (duration): 25
Diet type: Vegetarian
Number of servings (yield): 4
Meal type: snack
My rating: 5 stars: ★★★★★ 1 review(s)
Recipe by Vahchef.
Presenting the papdis is the most important part. You can use all your creative and innovative skills to present them. Take the papdis, place them nicely in a plate, top it with sweet sauce, and put some small cut boiled potatoes, put some cut tomatoes, cucumbers, chopped onions, sweet yoghurt, green chutney, hot sauce and sprinkle sev over them and repeat adding sweet yoghurt and the tangy chutney and serve.
You can have your own variations for topping the papdis. They only need to be artfully arranged with zesty toppings and vibrant garnishes to be impressive. You can also leave it to your children to be more innovative and bring out their creativeness. Kids would also enjoy doing it. For watching the video of papdi chaat do click this link:
https://www.vahrehvah.com/papdi-chaat