Every thing about POHA CHIVDA | Vahrehvah, poha chivda,poha chivda recipe, poha chivda recipe, thin poha chivda recipe :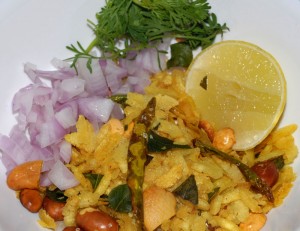 Poha Chivda
is a savory snack prepared in many parts of India.
Poha
is
flattened
or
beaten rice
also known by a variety of names as the
Poha, Chudwey, Aval, Atukulu
or
Avalakki.
It is one of the most popular dishes prepared in
Maharashtra
and
Gujarat.
The lightly fried variety is a standard breakfast in
Malvaa
region (surrounding
Indore
) of
Madhya Pradesh. Flattened rice
(also called
beaten rice)
is
de husked rice
which is flattened into flat light dry flakes. These flakes of rice swell when added to
liquid,
whether
hot
or
cold,
as they absorb
water, milk
or any
other liquids.
The thickness of these flakes vary between almost translucently thin (the more expensive varieties) to nearly four times thicker than a normal rice grain.
Poha
is easily digestible and very popular across
North East India, Nepal
and
Bangladesh
and is normally used to prepare snacks or light and easy fast food in a variety of
Indian cuisine
styles.
Poha
is an easy to cook nutritious snack.
It is often eaten for breakfast or brunch.
Poha
can also be eaten raw by immersing it in plain water or milk with salt and sugar or can be eaten as porridge. In villages, particularly in
Chhattisgarh
,
Poha
or
Chiura
is also eaten raw by mixing with
jaggery
. In Bhopal,
poha
is cooked with lightly frying mustard seeds,
tumeric
,
chili powder,
finely chopped onions and then moistened
poha
is added to the spicy mix and steamed for a few minutes.
To prepare the
Poha
chivda
or
chidwa
you need a thin variety of
poha
for this healthy snack. It's an anytime snack or namkeen. You can also have it as a tea time munchie without bothering about the calories as it is not fried and does not use too much oil. You can store the
chivda
in an airtight container as it remains fresh for about a month.
Take a pan add oil,
groundnuts, channa dal, cashewnuts
sauté them and then add turmeric, green chilli, curry leaves, cumin seeds and mix well. Add poha add salt and mix again. Cook till the poha is crispy and cook in very slow flame. Keep mixing for 5 minutes. Once its ready add
chopped onions, lemon juice
and
chopped coriander.
Summary: Quick Snack
Ingredients:
fried Channa Dhaal dhalia -1-tbsp
cashwnuts - 1 - tbsp
cumin seeds - 1/2 - tsp
Curry Leaves - 14 - number
Green Chillies - 1 - number
Groundnuts -1 - tbsp
Lemon Guice -few - drops
Oil -2 -tsp
Rice Flakes (Poha) - 1 - cup
Salt - to taste -as per taste
Sugar pinch - to taste - as per taste
Turmeric Powder - pinch - pinch
Instructions:
Take a pan add oil,goundnuts,channa dhaal,cashwnuts saute them and then add turmuric,green chilli,curry leaves,cumin seeds mix well and add poha mix again, add salt.Cook till the poha is crispy cook in very slow flame keep mixing for 5 min. once it is ready can add chopped onions,lemon juice and coriander chopped.
Cooking time (duration): 25
Number of servings (yield): 4
Meal type: snack
My rating: 5 stars: ★★★★★ 1 review(s)
Recipe by
Vahchef
.
This is good tea time snack and usually carried while traveling. Do prepare this light, easy to cook and nutritious dish serve with a hot cup of masala chai. Watch the preparation of Poha Chidva at: