Every thing about pani puri,pani puri recipe,pani puri water,how to make pani puri,pani puri company. :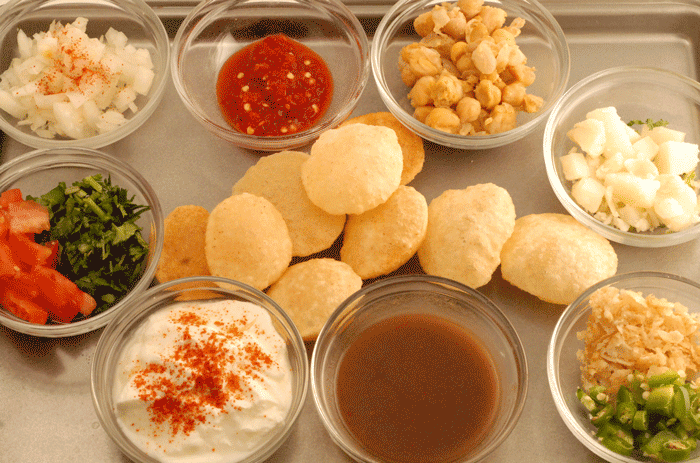 The
PANI
that is eaten with the
puri
is actually flavored water. Pani in hindi means water.
Pani puri
is one of the most popular street
chaat
dish liked by one and all. The water is prepared by combining few
spices
and poured into the puri stuffed with any of your favorite concoctions. The
stuffing
can be anything that you like which includes mashed boiled
potatoes,
boiled
chickpeas
, onions,
yoghurt
, chilli sauce, chopped
tomatoes
and fresh coriander leaves. Pani puri is also commonly known as
Gol guppa
,
Gupchup
. The Pani for the pani puri differs from region to region and depends on the customers tastes.
The pani prepared in Gujrat is a little
sweet
and Kolkata it is
spicy.
You can also eat the pani puri according to your tastes. If you want you have a spicy panipuri than you can add
chilli sauce
or else if you wish to have a little sweet panipuri you can add the sweet
chutney
. The
puri
is a small fried
crisp
ball
shaped made of
flour
and
semolina
.
The hollow puri is slightly crushed on the top and filled with a little of
mashed potatoes, chopped onions
and
sweet chutney, yoghurt
then dipped in a
chilled mint
flavored tangy water, and eaten as a whole, in one mouthful. Few chaat vendors also use
boondi
, sev or sprouts for the stuffing. As you
savor
the
pani puri,
you can literally feel the explosion of flavors in your mouth, an assortment of
crisp
, tangy, spicy tastes.
Summary: tanzy dipable sauce to go with baloons of dough
Ingredients:
black salt - 0 - pinch
chilli pdr - 0 - as needed
coriander leaves - 0 - as needed
coriander pdr - 1/2 - tsp
cumin pdr - 1/2 - tbsp
gr chilli - 0 - as needed
mint - 0 - as needed
pepper - 0 - as needed
salt - 0 - as needed
tamarind - 1 -fl.oz
Instructions:
In a bowl add water, tamarind pulp, black salt, salt, pepper, red chilli powder,in a blender add green chillies,mint,coriader leaves make a paste and add to the water.mix well.
Cooking time (duration): 25
Diet type: Vegetarian
Number of servings (yield): 4
Meal type: snack
My rating: 5 stars: ★★★★★ 1 review(s)
Recipe by
Vahchef
.
Making of pani is very simple. In a bowl, add water, tamarind pulp, black salt, dhania powder, cumin powder, chilli powder, pepper powder and a little sugar and mix well. Blend coriander leaves, mint leaves, a small piece of ginger, green chillies and blend it and mix in the water. Wow! The water would tastes of all flavors as black salt gives a nice tangy flavor, chilli and a little sweetish.
It's a lovely combination. It is also said that this pani is very healthy and good for digestion. It's also best to make the panipuri and serve your family with the fresh chaat at home as the water used by the chaat vendors might not be mineral water. Rush and click the link on preparing of the pani for your panipuris.
https://www.vahrehvah.com/pani-pani-poori-recipe