Every thing about pesarattu upma recipe,allam pachadi for pesarattu :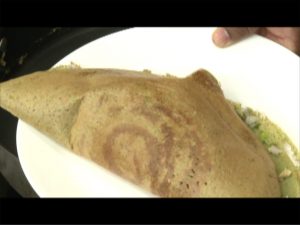 Pesarattu
is one of the
popular
signatory
breakfast
dishes of Andhra region in India. Pesarattu actually means an attu (crepe or dosa) made from pesara pappu (full moong dal or green moong dal or green gram). Pesarattu is a very
healthy
and delicious lentil based
pancake
served as a best
breakfast dish
.
Pesarattu is actually a healthier version of any
plain dosa
made from green
moong dal
because of its high fiber content. This is better than having any normal
rice dosa
. The pesarattu is easy to make and needs no fermentation. Done to golden perfection, sprinkled with chopped onions inside, served traditionally with coconut, ginger
chutneys and sambhar
, have 2 or 3
pesarattus
for breakfast, you will be in a food induced delirious haze all day. A pesarattu is also popularly called as the
Andhra Pesarattu
.
It's a delicacy from Andhra Pradesh. The Pesarattu is simple to prepare and is made with the green beans or moong dal as the main ingredients combined with little green chillies, ginger pieces, and onion, cumin seeds and blended into a batter.
There are a variety of Pesarattu that popularly includes the plain pesarattu, onion pesarattu,
upma
pesarattu (also known as MLA pesarattu as its popular at a restaurant near the MLA quarters in Hyderabad) and lastly the onion and ginger pesarattu. Upma pesarattu is a favourite in coastal Andhra region especially East Godavari and West Godavari districts. It is served as special breakfast cum
dinner
in many Andhra restaurants and also a well
balanced meal
.
To prepare the Pesarattu, you first need to the soak the green gram and rice overnight or for atleast 6 hours. Rice is added to give a nice consistency and crispness to the Pesarattu. Grind the soaked green gram and rice along with green chillies, ginger, salt, jeera and onions by adding a little water till it comes to dosa batter consistency.
Now take a non-stick pan, heat the pan and pour the
dosa
batter and spread to form a round dosa shape. Fry it by applying oil to the edges and turn around. Once done remove and serve hot with phalli (groundnuts or peanuts) chutney, ginger chutney (alum chutney),
coconut chutney
or sambar or with upma. The golden, crispy texture and the creamy upma filling make the pesarattu a favorite breakfast item to many. Do watch the video and learn to make the
famous Andhra delicacy
called the Pesarattu at:
Green bean claims to be a perfect slimming food and few eat it as their dieting food in their slimming program. It is not only it is low in fat, green bean is also a rich source of protein, and fiber which enables one to lower the high cholesterol level in body system. The high fiber in green bean yields complex carbohydrate which improves digestion. Frequent consumption of green bean is beneficial to diabetes and one who suffers from high cholesterol level.
Diet plays an important role and is vital to one's health. Taking a balanced and nutritious diet can provide the health benefits to a person. Food is a very important part of any holiday, picnic party, family get together or any kind of celebration.
Especially during this holiday season, it is very hard to resist on all these yummy
food
we are surrounded by but you have to balance the nutrition and taste as well for health reasons. Then incorporate such dishes in your daily diet keeps you flying and fit. Today's recipe,
Pesarattu
made with moong dal is warm, golden hued and in good flavor, topped with cumin seeds, these pesarattus are easy to prepare, make a filling meal for those of us who are on diet and can add some variety to routine weekday fare. It is also an important and thus contains lot of health benefits along with it.
Pesarattu Green gram dosa
Author : meetsir...
Published On : Apr 13, 2009
Preparation Time: 7 min
Recipe Type : Breads
Cooking Time : 30 min
Standing Time : 30
Yield : 4 (4 servings)
Ingredient : Moong Dal
Description : Andhra breakfast preparation with moog green
Ingredient Name
Unit
Quantity
Ginger

---

small

---

root

---

Green chillies

---

number

---

2

---

Green gram/pesalu/moong whole

---

small

---

1 glass

---

Jeera

---

tsp

---

1

---

Onion

---

small

---

1

---

Rice

---

small

---

1/2 glass

---

Salt

---

to taste

---

---
Soak green gram and rice for 6 hours. Grind soaked green gram and rice with green chillies, ginger, salt, jeera and onions by adding water little by little till it gets dosa consistency. Now take a dosa nonstick pan, heat it and pour a small cup of dosa batter in the middle and spread it. Fry it by applying oil on the edges and turn around. Serve hot with palli chutney,gingerchutney,coconutchutney and sambhar OR with upma.