Every thing about EGG BIRYANI | Vahrehvah :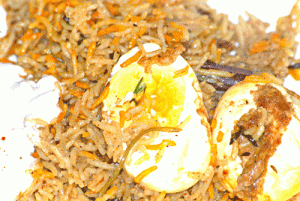 To all the ardent lovers of
Mughlai food
this is yet another treat to all, including the
egg vegetarians
who love and crave for biryanis.
Egg
biryani
is perfect flavored rice with striking aroma and full of richness. This dish is one of the best dishes to treat all those who do not eat meat but enjoy
eating eggs.
Egg biryani
is one among the original feel and taste of the true
Mughlai Khana.
Biryani
is one of the most exotic Indian rice dishes that is craved for by many over the world but due to its complicity and time consuming process of making, many prefer to buy from outside and eat rather than making it at home.
But looking on the hygienic point of view it is always better to cook at home and make it
healthier
and nutritious using the right amount of ingredients and fat as per your taste and choice.
Biryani
is the most common and
popular recipe in South Asia.
Biryani
is loved by all mainly for its distinctive spices and the flavorful rice that is made with
basmati rice
,
spices, egg, chicken,
meat
, fish or
vegetables. Biryani
is the signature dish and originates from the
Indian city
of
Hyderabad
and became an important part of
Hyderabadi cuisine
being passed by the rulers of
Nizam of Deccan.
Egg biryani
too holds a strong place in the
biryani
family using only
eggs
instead of
meat
or
chicken
preparing it with the usual authentic spices. This dish makes a perfect dish for parties;
lunch
and
dinner
served hot with mirch ka salan, raita, green salad and thinly sliced onions and lemon wedges.
Eggs
are one of most
comfort foods
available all round year that not only provide delicious meals on their own but is also an essential ingredient for many baked products and sauces.
Eggs
are composed of a yellow yolk and translucent white surrounded by a protective shell that can be white or brown, depending upon the breed of the
chicken
.
The shell's color is not related to the quality or nutritional value of the
egg
itself.
Eggs
holds an esteemed place not only for its wonderful taste and nutritional content but serves many unique functions in cooking that includes
coagulation, foaming, emulsification
and browning.
Hard-boiled
eggs
are fun to eat and easy to pack for
on-the-go lunches.
For example just mix chopped up
hard-boiled eggs
with fresh
lemon juice
and
olive oil, leeks
and
dill
(and salt and pepper to taste) to make a
healthy egg salad.
Wash the
basmati rice
and soak the rice in water for atleast half hour.
Boil eggs
shell the
boiled eggs
and give four long cuts on the white portion of each egg without separating it and keep aside. For preparing this ethnic
Egg biryani,
firstly in a
kadai
or
pot
add and
heat
the clarified butter or oil and when the oil gets hot, add whole spices (cardamom, cloves, cinnamon, shahjeera and bayleaves), sliced onions and fry until they turn golden brown in color. Add salt, ginger garlic paste, slit green chillies, coriander powder, biryani masala and curd and stir well. To this add 1 ½ times the amount of water as per the measure of rice taken and bring the water to boil.
Drain the water from the soaked rice and mix the rice to the boiling water and cook covered till rice is done. In a mixing bowl, add some
red chilli powder, ginger garlic paste, coriander powder, cumin powder, salt, besan flour
and
one egg.
Mix all well. Take the boiled eggs and nicely coated the eggs with this spices mixture and fry them till it gets a nice texture.
Check the rice and when you see air holes appear on the rice surface, simmer the flame completely and cook until all the water is absorbed and the rice is done. Top the rice with
eggs
and mix carefully before serving. Serve hot. To make this delicious, lip smacking dish do try the recipe at home and serve your family and friends and wait for their wonderful compliments. Don't miss watching the making of
egg biryani
at:
https://www.vahrehvah.com/egg-biryani
Eggs
are a good source of
protein
, and contain
vitamins
and
minerals. Eggs
are a good choice as part of a
healthy
balanced diet. But remember that it's a good idea to eat as varied a diet as possible. This means we should be trying to eat a variety of foods each week to get the wide range of nutrients we need.
Eggs
are very good source of
selenium, iodine,
vitamin A
,
vitamin
B2 and a good source of
protein, molybdenum, phosphorus, vitamin B5, vitamin B12
and
vitamin
D
.
Eggs
can make a really
healthy
meal your
breakfast, lunch
or
evening meal.
Few of the popular dishes are
Omelettes, Poached egg,Scrambled eggs
on thick slices of brown toast, Boiled eggs chopped into a summer salad. If you include salad leaves, new potatoes, green beans, red onion, olives,
boiled egg
and some tuna, you will have yourself a filling salad nicoise.
If all these mentioned are just the routine dishes then a simple
Egg Biryani
is best for the perfect Sunday meal. Happy cooking!







Egg Biryani
































Author :


Published On : Dec 13, 2007




Preparation Time:

7 min



Recipe Type : Rices




Cooking Time :

25 min



Standing Time : 5-8 mins




Yield :

4 (4 servings)



Ingredient : Rice






Description : This is the most easy and best Egg Biryani i have tried and thanks to Vahchef's easy video instruction



















Ingredient Name


Unit


Quantity








Basmati Rice

---



grams

---



500

---





biryani masla pdr

---



tsp

---



1

---





black cumin

---



tsp

---



1

---





Clarified Butter

---



tsp

---



6

---





Eggs

---



number

---



8

---





fired onion

---



tsp

---



1

---





Fresh Coriander/Cilantro Leaves

---



tsp

---



1

---





Ginger garlic paste

---



tbsp

---



1

---





Green Chillies

---



number

---



4

---





mint

---



bunch

---



1

---





oil

---



tbsp

---



1

---





Onions

---



large

---



1

---





Plain Yogurt

---



cup

---



2

---





Salt

---



to taste

---



1

---





whole garam masala

---



number

---



10

---













Wash and soak rice for atleast ½ hour. boil eggs Shell the boiled eggs and give four long cuts on the white portion of each egg without separating it. In a kadai or pot, heat the clarified butter or oil. And spices and fry the onions until they become golden brown and add ginger garlic paste ,gr chillies ,mint coriander ,biryani masala and curd and cook In the same masala measure 1 1/2 times the amout water to rice and bring it to boil add soaked rice and mix well and cook covered till rice is done add. Then add red chilli powder, salt and eggs,besan and fry until the eggs get coated with the spices. Remove the eggs and set aside. When the air holes appear on the rice surface, reduce the stove heat to low. Cook until all of the water has absorbed and the rice is tender. top rice with eggs