Every thing about Aloo Samosa,samosa chaat recipe,samosa recipe,samosas. :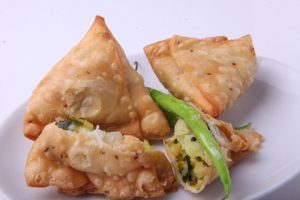 Samosa most popular Indian tea time snack, it is a crispy pastry with spicy and zesty potato savory filling. Street Style Aloo Samosa is an awesome and crusty deep fried snack, crispy pastry with spicy and zesty potato savory filling.
This is a very popular snack made with mix of boiled, mashed aloo/potato and spices combined together with little citric acid to give a punch in the taste. The outer casing is crispy and crunchy on bite while inside the taste enlightens the palate with its yummy stuffing.
Generally the street side vendors prepare the stuffing in the morning and sell the deep fried snack in the evening. The citric acid in the stuffing is the key element that keeps the stuffing fresh and delicious and enhances the taste too.
Recipe: Street Style Aloo Samosa
All-purpose flour - 300 gms
Ajwain - ½ tsp
Salt - to taste
Oil - 100 gms
Water - 1-2 cups
For the Stuffing:
Oil - 1 tsp
Mustard seeds - ¼ tsp
Cumin seeds - ¼ tsp
Green chillies - 2-3 nos
Curry leaves - 2 sprigs
Turmeric pd - ¼ tsp
Salt - to taste
Citric Acid - pinch
Water - 5-10 ml
Coriander leaves - ½ bunch
Mint Leaves - few
Potato - 250 gms
Add little oil in a hot pan, add mustard seeds. When the mustard seeds splutter, cumin seeds, finely chopped green chillies, curry leaves, turmeric powder, little salt and pinch of citric acid.
Add little water, finely chopped coriander and mint leaves, potato (boiled and mashed) and sauté well.
In a mixing bowl, add flour, ajwain, salt, oil and water and mix the flour to make stiff dough. Cover the dough and rest for about 30 minutes.
Divide the dough into equal portions and with help of the rolling pin shape them into elongated puri shape and cut in the centre and keep aside.
Take one sheet, apply water on the edges of the sheet, bring the two ends closer and seal to make a pocket. Stuff a spoon full of street style aloo stuffing and seal the top nicely. Slightly squeeze the edges to seal the edges properly. Make the rest of the samosas and keep aside.
Deep fry these samosas in medium hot oil until they are crisp and golden in color.
This variety of samosa is one of the common and trendy snack eaten by the young and old especially college students, office-goers etc. It is one of the best take-away snacks that many of us prefer to grab to satisfy our hunger pangs or relish during a stroll in the evening at the garden.
It is an easy to prepare and refreshing dish that you would surely like to make at home to delight your kids and family with good and healthy foods. Then Why not try this highly alluring, appetizing and delectable snack. Serve the Aloo samosa with some spicy, savory fried green chillies, chopped onions and sweet and tangy red chutney on side. Potato is a very versatile ingredient that you can make a marvel of scintillating and luscious dishes. Largely it is one of the favorite vegetable among kids.
Any fried dish made with potatoes will easily go down in filling the kid's stomach. Do try this wonderful recipe and always serve them with fresh and comforting foods. I am sure you'll try this dish and if you do wish to look out for many more appetizing and exotic recipes, feel free to click at: www.vahrehvah.com
My rating: 4 stars: ★★★★☆ 1 review(s)
You could always reach me at my below links:
Enjoy Cooking and always remember that: "VahrehVah is all about inspiring others to cook"!