Every thing about CHANA DAL PARATHA | Vahrehvah :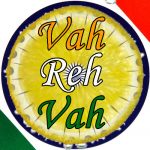 Chana Dal Paratha is stuffed delicious Indian flat bread that is nutritious and a wholesome meal generally served with raita or plain yoghurt. Chana dal paratha is popular traditional North Indian dish usually eaten for breakfast. Chana dal paratha, typically stuffed with a mixture combined with ground chana dal, ginger, coriander leaves, onions, green chillies, amchoor powder, garam masala and salt and made into a flat paratha and shallow or pan fried on a tawa with desi ghee (clarified butter) to enhance the taste and flavor of the paratha.
Traditionally in North India people make it using ghee or butter but some people also use oil or bake it in the oven for health benefits. Paratha can be stuffed with any filling, for example paneer, potato, onions or keema. This is an excellent way to get your kids eating healthy food or dals which they don't like usually.
These parathas are also a great one dish meal that can be easily carried for travel too and a fantastic change from the regular ordinary parathas. Paratha is popular Indian flat bread that originated in the Indian subcontinent and is an amalgamation of the words 'parat' and 'atta' which literally means layers of cooked dough.
To make excellent crispy parathas, heat a flat pan on high flame and once you put the paratha on the pan, reduce the flame to medium. You can also prepare the dough a day ahead and store in an air tight container and keep it in the fridge overnight. Refrigerating the dough also makes it easy to work on and gives a good rise.
Paratha can be made of any shape such as round, square or triangular. In the former, the stuffing is mixed with the kneaded flour and the paratha is prepared as roti is, but in the latter two, the peda (ball of kneaded flour) is flattened into a circle, the stuffing is kept in the middle and the flatbread is closed around the stuffing like an envelope.
The latter two also vary from the first in that, while the former is like a thick (in terms of width) version of the roti with filling inside, the latter two have discernible soft layers if one "opens" the crispier shell layers. Paratha served with yoghurt or pickles is staple breakfast for a large number of people in India.
They are commonly eaten with yoghurt or any vegetable curry. They are also consumed with meat dishes especially chicken. For preparing this nutritious and healthy Chana dal paratha, firstly boil water in a pan on high heat and add chana dal (soaked in 2 cups of water for 15 min, salt and turmeric. Stir and bring to boil.
Reduce heat. Cover and cook till dal is tender but not mushy for about 35 minutes. Drain off excess water if any. Allow to cool. Add all the remaining ingredients. For preparing the dough: mix flour, pinch of salt, ghee and water to make soft dough. Knead till the dough is smooth. Keep covered with a damp cloth for about 30 minutes.
Now make about 12 balls. On a floured board, roll out each ball of dough and fill in the above filling. Now roll into a paratha. Heat tava on medium flame and put the paratha on tava and cook on both sides applying ghee. Cook remaining balls in the same way. Serve hot accompanied with curd or tomato chutney or achar.
Tip: Use luke warm water while mixing the dough as it will help in making the parathas soft. For best results, you can use half milk and half water. Parathas made with whole wheat flour is healthy and nutritious. Parathas are usually stuffed with vegetables such as boiled potatoes (Aloo Paratha), radish (Mulli Paratha), cauliflower (Gobi Paratha), green leafy vegetable (Methi Paratha), Keema Paratha (stuffed with spicy keema mixture), Lachha Paratha - Tandoori (Punjabi in origin. Round in shape with multiple layers traditionally prepared in a tandoor) etc.
A paratha (especially a stuffed one) can be eaten simply with a blob of butter spread on top, with chutney, with pickles and yogurt, or with meat or vegetable curries. Some even roll the paratha into a tube and eat it with tea, often dipping the paratha into the tea. Do try this delicious and crispy recipe, do click on the below link for detailed recipe:
https://www.vahrehvah.com/chana-dal-paratha-recipe
Chana dal paratha makes an excellent food for people with diabetes because it has a low glycemic index. The glycemic index is a ranking of foods on a scale from 0 to 100 according to the extent that they raise blood glucose (or blood sugar) levels after eating. The glycemic index is lower for foods that raise blood glucose levels slowly. These foods can help people with diabetes control their glucose levels. Chana dal is a split and husked relative of chickpeas and the most popular legume in India.
It is delicious, nutritious and easily digested, but, aside from its usage both in dal dishes and savories, the legumes are also roasted and powdered into chickpea flour (besan). Chana dal is baby chickpeas that look and taste like small kernels of sweet corn and work well in soups, salads, and rice dishes.
Coarsely crushed chana dal are used in making the Dhokla and Handwa for that crunchy taste and increase in nutritional value. The chana dal when cooked has a rich almost meaty flavor and provides the essential amino acids for complete protein. It is high in fiber and help to low cholesterol. It is also a helpful source of zinc, folate, calcium and protein. They are low in fat and most of it is polyunsaturated.