Every thing about ROOMALI ROTI | Vahrehvah :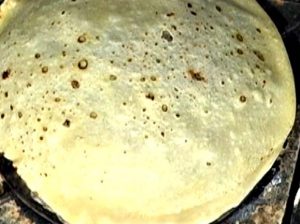 Roomali roti
or
rumali roti
is very thin
flat bread
from the northernmost part of
India
and
Pakistan
.
It is one of the popular traditional dishes from the
Mughlai cuisine.
The word
rumal
means
handkerchief
in
Urdu
and
Hindi, hence rumali roti
means
handkerchief. Bread
as the
roomali roti
is extremely thin and usually served folded like a
handkerchief.
The
bread
is usually made with a combination of
whole
and
white wheat flours
(atta and maida respectively) and best cooked on a
tandoor. Roomali roti
is larger in size than any normal
chapati
or
roti.
The appearance of the
roomali roti
is more like a
handkerchief
and can be easily folded like a
hanky
without tearing the
roti. Roomali roti
is best when served with nice
meat curries
or with
juicy kababs.
Also goes best with dishes like
paneer
butter masala
or
butter chicken
or any
korma
etc. There is no leavening in this simple, tender Indian flatbread of
bread flour,
oil,
salt
and
water.
Once shaped, it bakes on an inverted skillet on the stove. To make the
roomali roti,
firstly mix
whole wheat flour
(atta) and all purpose flour (maida) together. Maida is actually added as it is gluten free and stretchable and keeps the roti soft.
Sieve them together. Add little by little water and make smooth and elastic dough. Add
oil
and set aside covered with moist muslin cloth for 15 mins. Now make small balls of the dough and roll like a thin
chapatti
using dry flour with thinner
edges
and
thicker
center.
Roll
it well to a
large roti.
Heat an inverted griddle (tawa). Place the roti carefully over it and cook till done. Flip on the other side and cook again. Fold it like a
handkerchief.
Serve hot with any
vegetable
curry
or
hot kababs.
Do not use any nonstick pan upside down as it will permanently damage the pan. Do watch the making of
roomali roti
at home at:
You can also use the wok or
kadai
to cook the
roomali roti
. Wheat is one of the ancient grains and originated from the
southwestern Asia,
it has been consumed as a food for more than 12,000 years. As it was looked upon as the Staff of Life, it played an important role of religious significance and was part of the sacred rituals of many
cultures. Greek, Roman, Sumerian
and
Finnish
mythology had gods and
goddesses of wheat.
This exceptionally nutritious grain is still considered to be sacred in some areas of
China.
Whole wheat is a very good source of dietary
fiber
and
manganese.
It is also a good source of
magnesium.
So now you don't need to go to the restaurants to eat the
roomali roti
and as well make it by your own self. The
roomali roti
may not come immediately the same like restaurants at the first time. As this needs a little extra skill in making a
roomali roti.
Roomali Roti
Author : sreya85...
Published On : Nov 27, 2007
Preparation Time: 7 min
Recipe Type : Breads
Cooking Time : 25 min
Standing Time : 5-8 mins
Yield : 4 (4 servings)
Ingredient : Flour
Recipe of
Ingredient Name
Unit
Quantity
Maida

---

grams

---

50

---

Oil

---

tbsp

---

1

---

salt

---

pinch

---

1

---

Water to knead

---

ml

---

---

Whole Wheat Flour (Atta)

---

cup

---

11/2

---
Mix wheat flour maida, salt andsieve them together.
add water bit by bit and make a smooth and elastic dough add oil and set aside covered with moist muslin cloth for 15 min.
Now make small balls of the dough and roll like a thin chapati of about 8" diameter circle using little dry flour with thicker center and thinner edges
Heat an inverted griddle (tawa).
Place the roti carefully over it and cook till done.
Fold it like a handkerchief.
Serve hot with hot vegetable or hot kababs

do not use nonstick pan upside down as it will permanently damage it