Every thing about Bihari Cuisine | Vahrehvah :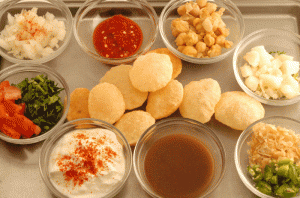 The food of Bihar is vegetarian. However, unlike Gujarat or some communities of south, non-vegetarian food is also quite acceptable even in traditional homes of Bihar. Some sects of Brahmins ke the Maithil Brahmins have traditionally eaten some varieties of fish. Mutton or Goat meat is even" used as Prasad in some type of pujas. like devi puja Oddly, many Kayastha families in Bihar, who are generally considered great lovers of non-vegetarian food, are vegetarian in Bihar.
Traditional Bihar society did not quite eat eggs and chicken, though other types of birds and fowls were highly acceptable. However, such distinctions are no longer current Staple food - As stated eartier, much of the food consumed by people in Bihar is vegetarian. The staple food is "bhat, dal, roti, tarkari and achar", prepared basically from rice, lentils, wheat flour, vegetables, and pickle. Traditionally, mustard oil. has been the popular cooking medium.
"Khichdi", the broth of rice and lentils, seasoned with spices, and served with several accompanying items like curd, chutney, pickles, papads, ghee (clarified butter) and chokha (boiled mashed potatoes, seasoned with finely cut onions, green chilies) constitutes the lunch for most people of Bihar on Saturdays. Sweet delicacies - Unlike Oriya and Bengali sweets which are soaked in syrups made of sugar and are therefore wet, sweets of Bihar are mostly dry.
Some of them are Laktho, Khurma.Balushahi.Anarasa, Khaja, Motichoor ka Ladoo, Kala Jamun, Kesaria Peda, Parwal ka Mithai, Khubi ka Lai, Belgrami, Tilkut, Thekua and Chena Murki. Some of them owe their origin to towns in the vicinity of Patna: Khaja from Silao Nalanda, Ladoo from Maner, Kala Jamun from Vikram, Khubi ka Lai from Barh, Tilkut arid Kesaria Pbeda from Gaya .balushahi from Harnaut and Chena Murki from Koelwar. Descendants of the original family members of the cooks, called halwais in the local language, have migrated to urban Patna and authentic sweet delicacies are now available in the city itself.
Other traditional snacks and savouries - There are several other traditional snacks and savouries: Pua, prepared from a mixture of powdered rice, milk, ghee (clarified butter), sugar and honey and its variant Malpua Pittha, steam cooked, mixture of powdered rice Chiwra, beaten rice, served with a coat of creamy curd and sugar or jaggery Makhana (a kind of water fruit) is prepared from lotus seeds and is taken puffed ocas kheer, prepared with milk and sugar Sattu, powdered baked gram, is a high energy giving food. It is taken mixed with water or with milk.
Sometimes, sattu mixed with spices is used to prepare stuffed 'chapattis', locally called as 'makuni roti' Litti/Choka, a fast food item that can be prepared with minimum of utensils by people on tour. It is prepared with Sattu and Wheat flour and taken with mashed potato and brinjals. Dhuska, a deep fried item prepared from a mixture of powdered rice and ghee but is salted Kadhi Bari, these fried soft dumplings made of besan (gram flour) are cooked in a spicy gravy of yogurt and besan it goes very well over plain rice.
Non-vegetarian food - The distinctive Bihari flavor of the non-vegetarian cooking finds mention in the memoirs of Maulana Abul Kalam Azad who found it quite tasteful. Forms of Kebabs, Mutton preparations and dishes prepared from the various fowls and birds have a very distinctive flavor. Bihari's are quite famous for their Behari Kebabs another typical Bihari non vegetarian dish. This dish was traditionally made from mutton and is eaten with Roti, Paratha (-sort of pita) or boiled rice.
Recently in fast food restaurants these Behari Kebabs are also sold as Behari Kebab Rolls. This is essentially the kebabs wrapped up in a Paratha. Some muslim families moved from Bihar to Pakistan during partition in 1947. The Behari culture and their cuisines can be seen quite distinctively in Karachi where they are in quite a large number Later on few of them immigrated to US and Canada, taking with them their culture and cuisine.
There are a number of Behari restaurants that sell various vegetarian and non vegetarian rolls and are rather popular by the generic name Bihari Kebab Rolls whether its Lexington Avenue (South) in New York or Gerard Street in Downtown Toronto.