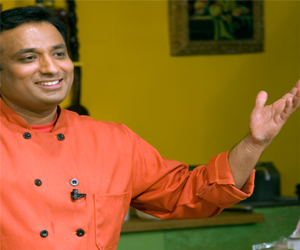 Chicken Shorva
is one of the most popular and nourishing soup dishes in northern Indian cuisine. It's a simple flavorful delicious thin soup dish made of chicken pieces and aromatic spices. Shorva is a spicy soup or gravy like consistency dish which is best served with
naan
or flavored rice. Making the chicken shorva is very easy with simple ingredients. Traditionally, shorva is prepared by cooking meats or vegetables in a yogurt and onion base with spices such as garam masala, dry coconut powder and khus khus or poppy seed powder. You can also use vegetables or mutton in the
shorva
. Normally in most of the restaurants you find the mutton or the chicken shorva that is popularly served in the menus. Most of the Indian restaurants have shorba on the menu and describe it as a soup with big chunks of meat or vegetables but the consistency of shorva is thinner than the
shorba
. Its consistency is somewhat in between that of a soup and a curry. Unlike a soup the shorva is best served with
rice
, rotis or any
Indian bread
. To prepare the Chicken shorva, take a mixing bowl add curd, coconut powder, coriander powder, chilli powder and mix all the ingredients well adding a little water to bring it to a pouring consistency. In a pan, add oil and heat. Add whole garam masala (cardamom, cinnamon, cloves and shahi jeera), finely chopped onions, salt and sauté till the onions turn golden brown. Add ginger garlic paste, haldi and sauté till the raw flavor of ginger garlic is gone. Add the chicken pieces, increase the flame and fry them nicely till they turn to nice light brown color. Now add the curd masala and mix well. To it add sufficient water till all the
chicken pieces
are submerged in water and cook on a slow flame for about 30 mins. When it's cooked in a slow flame all the juices from the chicken pieces and bones are extracted and gets well blended with the spices to make a aromatic delicious dish. Lastly one the chicken is tender add garam masala powder and garnish with freshly cut coriander leaves. Chicken Shorva is ready to serve. This dish tastes well with naan. The shorva is thin consistency and spicy, naan soaked in the shorva and eaten is really heavenly and sumptuous. The longer you cook the stock, better the flavor releasing its natural juices from the chicken flesh,
bones
and spices to make a luscious lip smacking Shorva. Normally the Shorva's are gentle on the digestive system are a good dish to prepare for breaking of the fast. This dish is refreshing and nutritious. Shorva really has to be the simplest and easiest soup in the world to make! It uses minimal ingredients and no blending is required. The secret is in
cooking
the soup long enough for the meat to become very tender and blend thoroughly with the spices to disintegrate and become very soft so they melt in your mouth. Do try this simple recipe and enjoy eating with wonderful butter naan. You can view the preparation of this delicious Chicken shorva at:
https://www.vahrehvah.com/Chicken+Shorva:6217
Chicken Shorva

Author :
Published On : Jun 3, 2009
Preparation Time:

7 min

Recipe Type : NonVeg-Main
Cooking Time :

25 min

Standing Time : 5-8 mins
Yield :

4 (4 servings)

Ingredient : Chicken

Description : Chicken Shorva Recipe made easy, learn how to make Chicken Shorva Recipes at home.
Ingredient Name
Unit
Quantity
Chicken

---

grams

---

750

---

chill powder red

---

tbsp

---

1

---

coconut

---

tbsp

---

2

---

coriander

---

tbsp

---

1 1/2

---

coriander leaves chopped

---

cup

---

1/2

---

Curd

---

cup

---

1

---

dry masalas

---

number

---

2

---

garam masala

---

0

---

pinch

---

Ginger & Garlic Paste

---

tsp

---

1

---

oil

---

tbsp

---

1

---

onion

---

cup

---

1

---

salt

---

0

---

As needed

---

Turermic powder

---

0

---

pinch

---

water

---

0

---

as need

---

Take a bowl add curd,coconut,coriander,chilli powder,water and mix well and make into a paste keep it a side. Now take a pan add oil, garama masalas, bay leaf, onions, salt fry till golden brown colour, then add ginger garlic paste, turermic powder,chicken, mix well cook till it changes the colour. Now add curd masala mix and then add enough water and cook for 30 mins are till chicken is tender in a slow flame. One the chicken is cooked add garamamasala powder and coriander chopped switch of the flame. Serve with Naan.