Every thing about Fatta Fat Chutney – Mango and Sesame Seeds Chutney | Vahrehvah :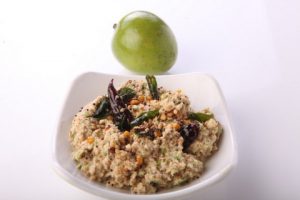 An awesome mango chutney with sesame seeds. Its a Spicy sour Chutney. Mango and Sesame seeds fatta fat chutney is an absolute awesome dish made with tangy and sour raw mangoes blended with sesame seeds, cumin seeds, dry coconut, coriander seeds, red chillies and finally drizzled with a shot of sizzling tempering that enhances the taste of the chutney and makes it crunchy on bite.
This raw mango and sesame seeds chutney goes well with hot rice, dosa, chapatti etc. The sour taste of mango just tickles your taste buds and gives a nice punch to the palate. This is one of the best summer dishes as raw mangoes are available in abundance. Sesame seeds add a pleasing sweetness and nuttiness to the chutney.
Recipe: Fatta Fat Mango and Sesame Seeds Chutney
Ingredients:
Raw Mango - 1 no
Dry Coconut - ¼ cup
Coriander seeds - 1 tbsp
Cumin seeds - ½ tbsp
Sesame seeds - 2 tbsp
Salt - to taste
Red chillies - 4 nos
Mustard seeds - 1 tsp
Cumin seeds - ½ tsp
Urad dal - ½ tsp
Chana dal - ½ tsp
Hing - pinch
Curry leaves - 2 springs
Oil - 2 tbsp
Directions:
In a hot pan, add dry coconut pieces, coriander seeds and dry roast until they are slightly cooked.
Add cumin seeds, sesame seeds and dry roast until it gives a nice aroma. Add sliced onions and sauté until they get soft. Remove it from the flame and transfer into the blender jar to make coarse paste.
Add raw mango pieces, salt and blend again.
Shift this mixture into a bowl and add tempering on top of it.
Serve with hot rice.
Mangoes are the joyous herald. Grated green mango is used throughout Southeast Asia, India and Malaysia to add a tart flavor to dishes, especially in salads. The mango is the national fruit of India, Pakistan, and the Philippines. The mango tree is the national tree of Bangladesh.
Raw mangoes are easily available during the March and April month which is the setting in of summer season, all of us ushering the important Ugadi (New Year) festival in Andhra. We traditionally celebrate the Ugadi festival with making of chutney with the green mango.
The unripe mangoes are so beautiful to look with a natural shade of pure green appearance. Being the national fruit of India, mangoes hold a special place in most of the households as the raw mangoes are pickled and stored for months together.
Mango pickle is one of the most popular accompaniment in Andhra cuisine and available in most of the hotels, restaurants and food stalls. Raw mango or kairee or kayree as we call in Hindi language is abundant in the summer months. Raw mango is used in preparing the tangy, sour and highly flavorful Mango rice which is a comforting classic dish made of fluffy rice, freshly grated raw mango and spices to give a nice tangy and flavorful dish.
Raw mango is known as Maangai in Tamil and as Kachcha Aam in Hindi. While preparing this chutney, remember to add raw mango which will retain its natural sour flavours while grinding the chutney. The simplicity of ingredients keeps the aroma of raw mangoes mixed with aromatic ingredients intact and taste is just perfect.
The most important thing in this preparation is the quality of raw Mango. The raw mango has to be really sour, so it purely depends on the Mango taste. If the raw Mango has wonderful aroma and sourness then the Mango and sesame seeds chutney would also have strong flavours and perfect taste.
Til or sesame seeds are widely used in Asian cooking. Til are tiny, cream coloured seeds and are tear drops shape. They have mild nutty flavour which is further enhanced on roasting the seeds. Til seeds have a unique and distinctive flavour when used in cooking. It is one of the most versatile ingredients that are used in many dishes – sweet & savoury.
Oil extracted from sesame seeds commonly known as Til oil is a popular cooking medium in parts of Indian states. The sesame seeds have a nutty taste, very delicate almost invisible crunch that are added to many Asian dishes. Sesame seeds are tiny little flat oval seeds very delicate almost invisible crunch that are added to many Asian dishes. They are added to breads including bagels and tops of burger buns and baked into crackers. In India, sesame seeds are used for various dishes.
The roasted seeds are also used in flavouring several types of salads, raitas and dressings. Sesame seeds are generally used for making delicious starters and crispy coated food items such as cutlets and are also used to make homemade muffins and cookies. Sesame among the nuts and seeds are rich in quality vitamins and minerals.
They are very good sources of B-complex vitamins such as niacin, folic acid, thiamin (vitamin B1), pyridoxine (vitamin B6) and riboflavin. Just a hand full of sesame a day provides enough recommended levels of phenolic anti-oxidants, minerals, vitamins and protein. Do try preparing this awesome, finger licking fatta fat chutney as it's the fresh homemade chutneys that always add an exotic Indian touch to any meal.
To try more favourite chutney recipes of mine, click on:
https://www.youtube.com/results?search_query=Fatta+Fat+Chutney+%E2%80%93+Mango+and+Sesame+Seeds+Chutney
My rating: 4 stars: ★★★★☆ 1 review(s)
You could always reach me at my below links: My Cooking Videos
Enjoy Cooking and always remember that: "VahrehVah is all about inspiring others to cook"!