Every thing about Tomato Kurma with Green Peas | Vahrehvah :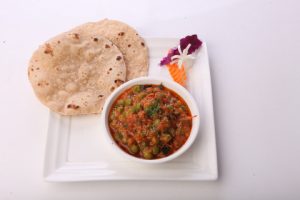 Tomato Kurma with Green Peas is a very simple dish to prepare, flavorful and absolutely appetizing and delicious to eat. It's a Simple, light and zesty Indian-style village kind of tomato and vegetable curry with fresh peas popping in your mouth. The dish is easily made by adding green peas in a spicy seasoning of onions and tomato gravy which is spiced and flavored with ginger garlic paste.
Tomatoes are the most versatile and preferred vegetable that is almost used in every Indian household. Tomato, king of the garden and burst with sweetness, light sour, and a tingly-tangy 'pop'. Tomato is considered both, a fruit and vegetable and forms an integral part of cuisines all across the globe. There's so much you can do with it and at the same time not a lot you can do without it. There are a lot of Indian recipes that are solely dedicated to tomatoes. There are thousands of different cultivars and varieties of tomatoes that can provide you with unique health benefits. Tomatoes also place a healthy snack within arm's reach. You can find different recipes her, such as Tomato chutney, Brinjal potato curry with tomato gravy, Tomato soup, Tomato rice and many more..
Mattar or peas, are one of the ancient cultivated vegetables grown for their succulent nutritious green seeds. Peas probably have originated in the sub-Himalayan plains of north-west India. Peas are one of the few members of the legume family that are sold and cooked as fresh vegetables. Today, this versatile legume is one of the major commercial crops grown all over the temperate, and semi-tropical regions. You can try these dishes with matter Kheema Mattar, Paneer Mattar Methi Malai, Tari Wali Aloo Mattar, Peas Masala, Aloo Mattar, Mattar Ki Dal, Masala Peas Rice, Green Peas Kochuri, Creamy Mashroom Peas, Dry Peas Ki Sabzi , Cabbage Potatoes And Peas, Chicken-peas Curry, Peas Rice, Cauliflower And Peas Raita, Peas Paneer Curry, Minced Beef With Peas, Cauliflower Peas Egg Kaima, etc.
Cooking tips:
If you are using fresh green peas, boil them in a salted water for 7-8 minutes or until tender, drain them. If you are using frozen green peas, thaw them before using.
Healthy Tips:
Tomatoes supply excellent amounts of fiber, vitamins A, C (to resist infections), and K, potassium, controlling heart rate and blood pressure.
Tomato contains a large amount of lycopene, an antioxidant that is highly effective in scavenging cancer causing free radicals.
Tomatoes aid in maintaining healthy teeth, bones, hair and skin.
Tomatoes contain a high volume of water, and they're refreshing and comforting in salads especially on hot days.
Green peas are one of the most nutritious leguminous vegetables rich in health benefiting phyto-nutrients, minerals, vitamins and anti-oxidants.
Fresh, tender peas are relatively low in calories on comparison to beans, and cowpeas.
Fresh pea pods are an excellent source of folic acid. Studies suggest that adequate folate rich foods when given to expectant mothers would help prevent neural tube defects in their newborn babies.
Peas contain high amounts of a health-protective polyphenol called coumestrol. A study in Mexico City determined you only need 2 milligrams per day of this phytonutrient to prevent stomach cancer.
Just one cup of peas contains 44% of your Vitamin K which helps to anchor calcium inside the bones. It's B vitamins also help to prevent osteoporosis.
The niacin in peas helps reduce, the production of triglycerides and VLDL (very low-density lipoprotein, which results in in less bad cholesterol, increased HDL ("good") cholesterol, and lowered triglycerides.
Tomato Kurma with Green peas is a healthy, delicious and wholesome dish that kids would just love to eat with roti, chapatti or paratha.