Every thing about FRENCH TOAST | Vahrehvah :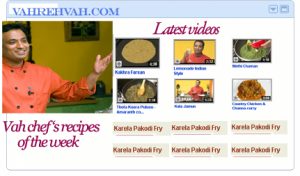 French toast
reminds me of my childhood days when I would rush to the school and my mom would prepare this quickie breakfast and give me the French toast for eat. French toast is one of the easiest and simple
breakfasts
for all those mothers who are in a rush to run to the office and on the days when it had been late to sleep and early to rise, this is the right dish to prepare in a jiffy.
French toast or 'poor knights' is a common breakfast item prepared by frying a piece of
bread
soaked in an egg batter mixture. Normally French toast was developed as a way to use day old stale bread. French toast is a breakfast dish served in
North America
and few other
countries in Europe
and is occasionally called eggy bread in United Kingdom.
French toast
is a Christmas time
dessert
in Portugual and Brazil (rabanada) and a Easter dessert in Spain (torrijas). According to
history
, the first French toast dates back to the reign of Henry V in
England
and was called the pain perdu. Pain perdu means lost bread. Its likely said that French toast was not created in France but was created in Spain.
A recipe of French toast dates back to the medieval times and shows that the French toast existed in the
15th century in Spain.
In France, pain perdu is considered to be a dessert, and not a breakfast food item.
Traditionally
French toast is made with bread and
eggs
adding little milk, sugar and
cinnamon powder.
This versatile dish is often topped with sugar, butter, fruit, syrup, or other items. To make the French
toast
, you need have thick slices of bread. Take milk or curd add to beaten egg and season with cinnamon powder and sugar if desired. Soak the bread slice in the mixture and toss it on both sides. Cook over a slow flame on a flat griddle till both sides cooked properly and turn slightly golden brown in color. Serve hot with maple syrup or honey.
Watch the making of French toast in different variations at:
Usually French toast is served with several kinds of toppings similar to those used for
pancakes
, waffles
, and toast like maple syrup, fruit syrup, whipped cream, powdered sugar,
honey
, strawberries etc. Sprinkle some cinnamon on your toast. It enhances the flavor and taste of the French toast and cinnamon is believed to improve vitality, boost energy and increase circulation and its helps in digestion of fruits and diary products.
There are several variations of the French toast, where you can make a stuffed French toast with two pieces of French toast stuffed with any fruit of your choice and top it with butter, maple syrup and powdered sugar. In the
United Kingdom
it is often savory and known as "
eggy bread
" or "Gypsy toast" or "bread dipped in egg" in
South East Wales
.
It is sometimes known as "
Poor Knights of Windsor
". Another name occasionally used is "
French fried bread
" but this should not be confused with
"fried bread"
, which is white bread fried in butter or fat left over from frying bacon or sausages. Sometimes it is served with ketchup.
One variation has marmite spread on the bread before dipping. In
Scotland
it is also served with sliced sausages, served like a
sandwich
. In
India
, the version is salted rather than sweet. The egg is beaten with milk, salt, green chili and chopped onion.
Bread is dunked into this mixture and is deep fried in butter or cooking oil. It is normally served with ketchup. In
Sri Lanka
and
Burma
, it is known as
Bombay Toast.
French Toast

Author :
Published On : Jun 25, 2009
Preparation Time:

10

min
Recipe Type : Breads
Cooking Time :

5

min
Standing Time :

5

Yield :

4 (4 servings)

Ingredient : Bread

Description : There are many ways to make french toast here are few
Ingredient Name
Unit
Quantity
bread

---

slice

---

2

---

butter

---

to fry

---

1

---

cinnamon pdr

---

tsp

---

1

---

egg

---

number

---

2

---

Honey or Maple syrup

---

tbsp

---

1

---

milk or curd

---

tsp

---

2

---

sugar

---

to taste

---

1

---

Take milk or curd add to beaten eggs season with cinnamon pdr add sugar if desired soak the bread slice in the mixture on both sides cook on a slow flame on flat griddle till cooked on both sides serve hot with maple syrup
if it is salty serve with ketchup if sweet serve with cream