Every thing about SEV | Vahrehvah :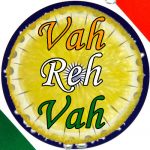 Sev is a popular savory snack made of gram flour and rice flour. Sev is usually used to garnish almost all chaats and is perfect for tea-time snack. They look like small crispy yellow vermicelli and you would find mounds of different types of sevs displayed in most of the farsan or sweet shops. There are a variety of flavors that can be added to the sev such as palak sev, garlic sev, pepper sev, aloo sev etc.
Sev is commonly known as Omapodi or Karapusa in southern India and an essential savory item for most Indian street food snacks. It is prepared by putting dough in the mould (sev maker) having very small holes and then pressing down to get very thin vermicelli like strings.
There is thick and thin variety of sev. Sev can also be eaten on its own or garnished over any delicious homemade chaat or just mix some finely chopped onion, coriander leaves, green chilies and lemon juice. Mix well in the sev and have it with a hot cup of tea.
It's appetizing, refreshing and a comfort dish, simple and fast to prepare. Sev is generally garnished over dahi bhalla, bhel puri, sev puri, papdi chaat etc. It gives an excellent nutty and crispy taste. In some regions of north India, this is also known as bhujia (i.e. sev or vermicelli) usually made of gram flour and a variety of other flours like moath, moong, boiled and mashed potatoes.
Some variants of the sev are added with black pepper which adds the spiciness to the preparation. The crispiness of sev actually gives an amazing texture and flavor to most of the chaats. Many of us like to savor them with a steaming hot Masala Chai.
Generally you will find most of the Indians preparing Sev at home than buying in shops. This is made with a special machine which is called as murukku maker typically made of brass and is passed on from one generation to another within the house. Sev made from besan flour or gram flour is a staple ingredient in Indian, Pakistani and Bangladeshi cuisines.
Moreover when mixed with equal proportion of water is used as an egg-replacer in vegan cooking. It is often mixed as the base for vegetarian omelets. Besan flour is gluten free and contains a high proportion of carbohydrates. Despite this, in comparison to other flours, it has a relatively high proportion of protein.
In South and Southeast Asia, the besan flour is widely used for preparing the mouth watering snacks like pakoras, bonda, dhokla, aloo bhajji. Besan is also blended into koftas and is an vital ingredient in the north Indian Kadhi, a yoghurt based soup.
It is also used in preparing the yummy and delicious Mysore pak and Besan ladoo. Besan flour is also used in Italian cuisine to make farinata and in French cuisine to make socca. Mix besan, rice flour, oma powder, asafoetida (optional) and salt to taste with water and make it into a thick paste like batter but a soft one.
Heat oil in a kadai and when it gets hot just drop a pinch of dough into it and check if the oil is hot enough. If the dough sinks then the oil hasn't become hot enough and if the dough springs to the top with bubbles all around it then the oil is just ready.
Take the muruku press and place the small holes plate and then put add some dough into the mould and press it directly in the hot oil. Fry the sev until it is golden yellow and crispy. The crispy sev is ready. Allow it to cool and store in airtight container.
Sev is a good savory snack usually prepared during festivals. To try this dish, click on the below link for detailed recipe:
https://www.vahrehvah.com/sev-11
Oma or Ajwain enhances the taste and gives a nice strong flavor. Ajwain is good for digestion too. When compared with other standard flours, besan is far superior and nutritionally beneficial. It is lower in carbohydrates and calories than is wheat flour of any type.