Every thing about MIXED VEGETABLE PORIYAL | Vahrehvah :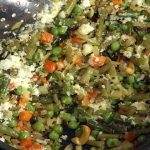 Mixed Vegetable Poriyal is a popular south Indian vegetarian dish especially in Tamil Nadu. Poriyal in tamil means a dry vegetable preparation flavored with generous amount of fresh grated coconut. A poriyal can made with any vegetable and is served as a side dish for lunch for dinner with rice and some curry. This dish is mixture of all vegetables cooked and tossed with freshly grated coconut.
The poriyal is named based on the vegetable that is used like beans poriyal, beetroot poriyal, carrot poriyal, podalanga poriyal (snakegourd), vendakai poriyal (lady's finger), cauliflower poriyal, and many more. You can also make poriyal with cooked dry beans.
Another variation of the poriyal is the combination of vegetables with beans carrot poriyal, cabbage green peas poriyal etc. You can use your own choice of vegetable or combination of vegetables and enjoy this hearty side dish with rice and gravy.
To end of preparing this delicious dish, fresh grated coconut is added to the dish to give a alluring taste and flavor. The mixed vegetable poriyal is a typical south Indian menu. The key benefit of this dish is that it is colorful and has a variety of nutrients in it. Peas are supposed to be the richest in vitamin B1 which is essential for energy production, nerve function and carbohydrate metabolism.
Carrots are rich in vitamin A and also help prevent several cancers. Potato is a starchy vegetable that forms a part of a balanced diet. Potatoes supposedly contain fibers half soluble and half insoluble making the digestion slower and keeping you full for longer.
The mixed vegetable curry with spices is a simple and healthy. Spices like jeera, pepper and red chillies are used. They give a good flavor for the dish and have good values. Pepper is good for digestion, cold and flu. Cumins are good appetizer.
Squash and carrot can be replaced by any other vegetables like beans, plantain, pumpkin, etc. The combination of spices adds a unique and intriguing taste to this curry and the cashews adds a touch of creaminess which make it heavy and rich. The best thing about this dish, other than it's taste, is that it is so quick to make, the entire curry can be made in under 20 minutes, maybe a few minutes longer if you have to prep fresh vegetables.
Poriyal is a Tamil word for fried vegetable dish and is usually shallow fried with diced vegetables along with spices. The preparation would normally involve frying mustard seeds, urad dal, onions and then the main vegetable, and finally adding turmeric, spices, dried red chillis and coriander.
In Tamil Nadu, fresh grated coconut would be added as a dressing. Poriyal serves as a side dish to a three course meal of rice with sambar, rasam and curd. Many other regional variations exist. Palya, a very common dish in the South Indian state of Karnataka is very similar to the poriyal.
Some variations of the palya involve use of chana dal instead of urad dal. To prepare this wonderful simple vegetarian dish, wash and chop all the vegetables into small fine pieces and cook them partially in hot salted water until done but still firm. Drain water and keep aside.
Heat oil in a pan, add mustard seeds and when they crackle add whole dry red chillies, cumin seeds, channa dal, few broken pieces of cashew nut, urad dal, hing (asafetida) powder, chopped green chillies, curry leaves, turmeric and finely chopped onions. Saute all the ingredients well. Do not brown the onions. Add salt and the blanched vegetables and sauté well for 2 mins. Check for seasoning.
You can also add raw vegetables and cook them adding little water. Once the dish is dry (no moisture), add fresh grated coconut and mix well and cook for few mins. The dish is ready to serve. One of the simple luscious and nutritious vegetarian dish. It's a refreshing treat for the vegetarians with the taste of different vegetables, mild spices and the sweetness of the fresh grated coconut. To watch the making of the dish click at:
https://www.vahrehvah.com/mix-vegetable-poriyal
The mixed vegetable poriyal goes well with roti, chapatti or simple with some plain hot rice.