Every thing about JAIN GRAVY | Vahrehvah :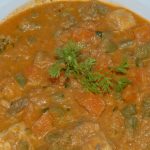 Jain gravy is a dish made without onions, ginger or garlic but is a simple and creamy dish made delicious and can be used as gravy to any vegetable or Channa etc. Jain gravy is fantastic gravy which can be made into different type of curries so that you can try to make easy gravy from this. Jain is a community in India and the Jain cuisine is made without onions and garlic, and root-vegetables.
The Jain community is pure vegetarian and some are very strict in what they eat, mainly those from Rajasthan. More precisely Jains do not consume food grown under the soil. As per Jainism meat of any animals, insects, birds or fish is never taken as food. Tomato gravy forms the base for most of their curries.
The traditional Jain cuisine is completely vegetarian and excludes onions and garlic like the shojin-ryori cuisine of Japan. This is also called 'satvic' because onions and garlic are regarded to be tamasic. According to the Jain cuisine root vegetables are excluded because when the root is pulled up (this action itself can kill bacteria in the soil) the whole plant dies.
Followers of Jainism, called Jains, believe that every living thing has a soul that is in some stage of reincarnation, trapped in a cycle of birth and rebirth. Jain diet consists of grains like wheat, rice, lentils or pulses and beans, oil-seeds are recommended as they fall under the category of non-injurious food. They are yielded only when their plants get dried of their own after their age ends.
Fruits and vegetables that becomes ripe on the plants or branches of trees or those that fall on their own after becoming ripe, are used for food. Strict Jains avoid root vegetables because of the numerously large amounts of cells present inside them. For example, one slab of Potato is considered the equivalent in a whole apple in terms of amount of cells.
Jains are known for avoiding many of the basic staples of Indian cuisine such as onions and potatoes. Because of this Jain cuisine has developed many very unique aspects, such as substituting the peel of a watermelon for potatoes, or cooking up fresh fruits like grapes and mango in sweet and sour curries.
To prepare this gravy without onions, ginger or garlic, grate pumpkin (orange), bottle gourd (lauki) and keep it side, blend cashew nuts in blender to a smooth paste and keep aside. Take a pan add oil, whole garam masala (cardamom, cinnamon, cloves and bayleaves), grated pumpkin, bottle gourd and saute them well till it become brown or cook for 5 min then add red chilli powder, coriander powder, salt, cumin powder, cashew nuts paste and cook for 2 min then add tomato paste mix well and cook.
Cook till the curry till it leaves the oil and then add water as required and cook it for another 5 min till the gravy is thicker and add boiled beans, paneer cubes or any other vegetable as required mix well and then add garam masala powder, grated khoya ( optional), freshly chopped coriander leaves mix well.
The Jain gravy is ready to eat. The Jain gravy can be used for making any recipe like the paneer butter masala, channa masala etc. This dish goes very well with hot rice or roti. An amazing recipe for all and also for the Jains and if you like to view the making of this delicious dish click at: https://www.vahrehvah.com/jain-gravy