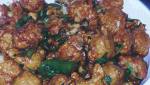 Garlic pepper meat balls
are a popular snack dish. It is made of mince goat meat mixed with other ingredients made into small sized balls and fried. There are a variety of meat ball recipes using different kinds of meat and spices.The meat balls are one of the varieties from the kofta family. The word kofta is derived from a Persian word called Kufta (means to beat or grind). Kofta is a popular dish prepared in Middle Eastern and South Asian countries. They are commonly known as koftas which is a meatball or dumpling. The meat ball could be either made of beef or lamb. In the vegetarian version, Koftas are also prepared with lauki (bottle gourd), aloo (potato) etc. In India we often use the goat meat which is minced to prepare the meat balls. For this recipe,
Garlic
and
pepper
would be the main ingredients to give extra pungent and spicy flavors to the meat balls. Soak sooji (semolina) in little water and keep aside for 20 minutes. For making the masala, add little oil in a pan, add shahjeera (black cumin), chopped onions, salt, turmeric powder, ginger garlic paste, chilli powder, coriander powder, coriander leaves and mix well till the raw flavor of onion and ginger garlic goes off. Add this masala mixture into the minced meat, squeeze the water off from the semolina and mix the semolina to the ground meat, add an egg and little salt. You can also add bread crumbs instead of semolina. You can also add chilli powder if you want the meat balls to be spicier. Mix this mixture well. The meat masala mixture should be quite dry so that you can make fine kofta balls. Take a pan and pour little oil, add finely chopped
garlic
pieces and fry. The garlic should not be cooked completely. Drop the meat balls in the pan. Turn the balls on the other side for 2 mins. Than later add chopped green chillies, fresh crushed pepper and soya sauce and mix well. The garlic pepper meat balls are ready. This dish can be served as a snack or you can also serve it as a snack with drinks. It's an awesome recipe. As this is a minced meat dish the process of cooking would be faster. You can also bake the meat balls.
Summary: Garlic pepper meat balls
Ingredients
chilli powder - 1 - tbsp
coriader powder - 1 - tsp
coriander leaves - 2 - bunch
garlic cloves - 8 - number
Green Chili - 2 - number
meat mince - 500 - grams
oil - 2 - tbsp
onion chopped - 1 - number
pepper - 1 -
salt - 0 - as needed
Sooji / Rava - 1 - tbsp
Soy Sauce - 1 - tbsp
turmeric powder - 0 - pinch
water - 0 - as needed
zeera - 1/2 - tsp
Instructions
Take a pan add oil 1tsp, add zeera, onions,salt, cook till lightbrown colour, then add turmuric,ginger garlic paste,mix well,then chilli powder, coriander owder, chopped coriander mix will and switch off the flame and cool it down.
In a bowl take sooji add water and soake it for 2min.
In another bowl take meat mince,add sooji remove water,then onion masala mix well if require add salt,chilli powder min well and make into small balls and keep a side.
In the same pan add oil,garlic cloves chopped then add the meat ball cook all the sides, then add chopped green chillies, pepper crushed, soy sauce mix well and cook for 3-5mins and switch off the flame.
Transfer into a plate.
Cooking time (duration): 25
Number of servings (yield): 3
Meal type: snack
My rating: 5 stars: ★★★★★ 1 review(s)
Recipe by
Vahchef
.
Normally in India, Koftas are made with fish or vegetables rather than meat. They can be grilled, fried, steamed, poached, baked or marinated, and may be served with a rich spicy sauce. The meat balls can be served dry or also cooked in a spicy saucy curry. Do try this recipe and enjoy the flavors of the meat balls: https://www.vahrehvah.com/Garlic+pepper+meat+balls+:6907