Every thing about BESAN LADOO | Vahrehvah :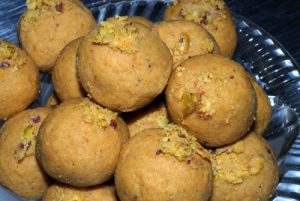 Besan Ladoos are one of the most liked Indian sweets. Besan Ladoo is a sweet dough-like food made during most South Asian festivals. All we need is Besan, Ghee and Sugar to make it. Children's favorite, this simple yet rich dessert adds more to all your joyous occasions and festivals whether it is Diwali or Holi.
Sweets are the most popular delicacy which is provided to the deity. Indian sweets are vibrant in color, size and shape. Their tastes may also be unique and specific. Within the northern portion of India, milk may be the staple and the majority of the desserts derive from milk products whilst in southern portion of India, coconut milk is traditionally used for making desserts together with milk. The researchers said that children who were fed the right portions of sweets from an early age learned the vital skill of 'food discipline'.
Ladoos and Burfis are the common desserts prepared throughout the Diwali festival in which a range of ladoos is visible at the majority of the houses or sweet stalls such as the rava ladoo, boondi ladoo, til ladoo, motichoor ladoo, coconut ladoo and so on. Many of these ladoos are prepared graciously with wonderful homemade ghee making the ladoos delicious. Ladoos are given as a prasadam (religious offering of food) at Hindu temples. Ladoo is considered a traditional Eid dessert in some Muslim communities.
Besan is the Hindi word for gram flour. It is also sold as chickpea flour, garbanzo bean flour, cece flour, chana flour, or (in Tamil markets) kadalai maavu. Besan is made from either raw or roasted gram beans. Besan contains a high proportion of carbohydrates and rich in protein than other flours.
Cooking Tips:
If the mixture is too dry and wont form balls, or if the balls crack or don't hold together, you need to add milk. Milk adds a richer taste and fluffier texture.
Store Ladoo in an air tight container, they will taste fresh for 10days.
Healthy Tips:
Besan is rich in carbohydrates and proteins. Besan is a highly nutrition food which provides us with lots of health benefits. Besan can be used for face, skin and hair, to remove tan and reduce oiliness.
Ghee is rich in the oil soluble vitaminsA, E, K2 and CLA (Conjugated Linoleic Acid). Ghee consists of medium chain fatty acids, which are absorbed directly by the liver and burned as energy.
Besan Ladoos are featured prominently as a favoured Indian sweet and enjoying eating them as part of the celebrations around the Indian festival. Enjoy the delicious Besan Ladoo!