Every thing about KEEMA MATAR | Vahrehvah :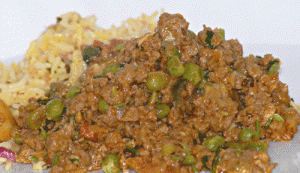 Keema matar
is a mince meat recipe cooked with green pea.
Keema
means minced meat and called as
ground
meat
in North America.
Matar
means the green peas.
Keema
matar
recipe or mince meat curry cooked with peas and potatoes is one of the popular recipes in the non-vegetarian section in many restaurants all over.
Keema matar
is a wonderful deeply flavored
North Indian
dish that's served with Indian breads like the
paratha
,
naan
,
roti
or
poori
and also goes well with simple plain
basmati
rice. The curry has a splendid texture and very delicious when cooked with
ginger garlic paste
, green peas, potatoes
and
various spices.
Ground
meat
with
green Peas
or
Keema matar,
is probably one of the most popular
keema dishes
in Indian cuisine. Kids or old people who cannot eat chunks of meat pieces,
keema
is the best alternative to be prepared. They would love to have as the meat pieces are thoroughly minced or ground soft and easy to chew.
The
keema
matar can also be the best stuffing for
pita
bread
or
samosa
. To prepare the Keema matar, take a fresh
meat
and mince it. It you buy the minced meat by itself there are chances for them to add old
meat
also into it. In a pan heat the oil, whole cardamom and cinnamom pieces. I avoided using the whole clove because while eating if the piece of clove comes in between it gives a strong flavor. Add cumin seeds, chopped onions, salt,
ginger garlic paste
and mix well. Fry till the raw smell of ginger garlic goes and onions become golden in color. Add mince
meat
or keema and mix.
Add chopped tomatoes, chilli powder, yoghurt cover
and cook for
10 to 15 mins
. Add
chopped green chillies
and the boiled green peas. Add
potato
cubes and garam masala powder and mix well. Cook till the mince
meat
and
veggies
get tender. Lastly add some crushed garlic and pepper, chopped coriander leaves and mix. A nice aroma of the
garam
masala
and fresh coriander fills your room. Remember if the green peas are tender or fresh than add it near to the end of preparing the dish as they get cooked fast.
There's something about this dish being so special because of its spices and flavors that get entwined with the
ground meat
that makes the dish a delight in every bite. You can also prepare the same dish with chicken mince, beef or turkey meat.
Keema
is also spelled as
Kheema
or
Qeema
. Turkish and most of the muslim community call as
Kiyma
. It is a traditional meat dish of Pakistan and India.
Keema
can be prepared of any
meat
and can be cooked by stewing, frying or formed into
kababs
. Keema
is also used as filling for
samosas
or
naan.
Keema
with
green peas/ matar
is a very healthy and nutritious dish.
Green
peas
provide nutrients that are important for maintaining bone health. They are a very good source of
vitamin
K
,
folic acid
and
vitamin
B6
.
The contributions of green peas to heart health do not stop there. The vitamin K featured in green peas is instrumental to the body's healthy blood clotting ability. Green peas are bursting with nutrients. They provide good to very good amounts of 8 vitamins, 7 minerals, dietary fiber and protein.
Green peas' supercharged nutritional profile can supercharge your health. One of the favorite dishes served to most of the sportman are Keema roti. It is said to be a healthy dish. Do view the making of Keema matar
and keep your family fit and healthy.
Keemamattar
Author : Gayatri...
Published On : Dec 29, 2007
Standing Time : 5-8 mins
Yield : 4 (4 servings)
Ingredient : Lamb Description : mince meat of lamb cooked with gr peas and potato
Recipe Type :NonVeg-Main
Ingredient Name
Unit
Quantity
Plain Yogurt

---

tbsp

---

2

---

Tomato chopped

---

tbsp

---

3

---

cardamom

---

number

---

2

---

Cinnamon Stick

---

piece

---

2

---

coriander leaves

---

bunch

---

1/2

---

Coriander Powder

---

tsp

---

1

---

Cumin Powder

---

tsp

---

1

---

Garlic

---

clove

---

3

---

Ginger garlic paste

---

tbsp

---

1

---

gr chilli

---

number

---

1

---

gr peas

---

bunch

---

1

---

Groundlamb

---

pounds

---

1

---

Onions

---

number

---

1

---

pepper

---

number

---

4

---

potato

---

number

---

1

---

Red Chilli Powder

---

tsp

---

1/4

---

Turmeric Powder

---

tsp

---

1

---
In a pot heat the oil. When it gets hot add in the garam masala cumin onions and saute well . Add in all spices ginger garlic paste and stir well. Add ground meat tomatoes and and yogurt, stir and saute on medium heat for about 20 minutes When ground meat is well done add in the cooked peas; potaotes (small pieces mix and simmer to heat throughly. season and garnish with coriander pde and garam masala can do the same with chicken,beef,turkey meat