Every thing about Eggplant and Kasoori Methi Chutney – Fatta Fat Chutney | Vahrehvah :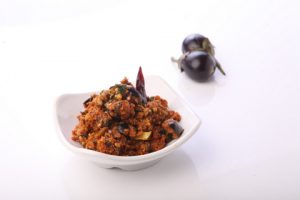 Aubergine and kasoori methi combination goes very well with most of the rustic indian breads. Eggplant and Kasoori methi chutney is an amazing combination that goes very well eaten with most Indian rustic breads. This traditional fatta fat chutney is a nice blend of exceptional flavors mingled together using very few ingredients in hand.
This chutney is a perfect combination of spicy, tangy and slightly sweet flavors. The eggplant and kasoori methi chutney is highly tempting, has a meaty texture and every bite of it you can enjoy all flavors separately. This is an apt tangy accompaniment to any main course meal and can be eaten with hot steaming rice.
Eggplant also commonly known as aubergine or brinjal is a flesh fruit with a meaty texture. The fruit is botanically classified as a berry, and contains numerous small, soft seeds, which are edible, but are bitter because they contain nicotinoid alkaloids, unsurprising as it is a close relative of tobacco. Eggplant is native to India and has been cultivated in southern and eastern Asia since prehistory but appears to have become known to the western World.
Recipe: Eggplant nd Kasoori Methi Chutney – Fatta fat chutney
Ingredients:
Eggplant - 100 gms
Tomato - 50 gms
Red chillies - 8 nos
Coriander seeds - ½ tsp
Green chillies - 4 nos
Kasoori methi - 20 gms
Salt - to taste
Oil - 1 tbsp
Directions:
Heat oil in a pan and add coriander seeds. Saute well and add red chillies, garlic, eggplant pieces, tomato pieces, green chillies, kasoori methi and salt.
Cover the pan with a lid and allow cooking till the eggplant and tomatoes pieces get soft and tender.
When the eggplant pieces are cooked, switch off the flame and allow it to cool.
Transfer the whole mixture in a blender and grind to coarse paste.
Serve with rice, naan, roti or phulka.
The raw fruit can somewhat taste bitter, but becomes tender when cooked and develops a rich, complex flavor. Salting and then rinsing the sliced fruit (known as "degorging") can soften and remove much of the bitterness though this is often unnecessary.
The fruit is capable of absorbing large amounts of cooking fats and sauces, allowing for very rich dishes, but the salting process will reduce the amount of oil absorbed. The fruit flesh is smooth; as in the related tomato, the numerous seeds are soft and edible along with the rest of the fruit. The thin skin is also edible, so peeling is not required.
Eggplant is widely used in a variety of dishes like sambar, dalma, curries, fries, achar and chutneys. It is a very versatile vegetable that is often prepared during festive occasion, marriages or everyday meal, hence it is considered "the king of vegetables". Eggplant and kasoori methi Chutney is very popular chutney made in most of home of Andhra Pradesh and few states of India.Eggplant also known as Vankaya in telugu.
The people of Andhra are very fond of chutneys and spicy recipes and they are part of their everyday meal. Remember as earlier said that Brinjal is bitter in taste, but becomes tender when cooked and develops a rich, complex flavor. Eggplant is the perfect palette for strong flavours.
There are many ways of cooking the eggplant or brinjal. You can stuff, fry, use in salads, soups and many other delicious dishes. The skin of eggplant is extremely absorbent to oil and other ingredients, hence is perfect for stuffing or in sauces, soup and casseroles. In India, you can get number of exotic dishes made with vankaya or brinjal using a number of regional spices.
Kasoori methi is the charm of this chutney that enhances the aroma and taste of this dish. Kasoori methi are the dried fenugreek leaves which is a popular spice of Middle East, Asia and especially India. These leaves are mainly used for flavouring a variety of vegetarian and non-vegetarian dishes. It has a very pleasing and refreshing sweet and pleasant flavour which mingles delicately into the dish.
Kasoori methi is considered a good appetizer, reduces colic disorders etc. Eggplants blend and absorb the flavours well into them making them soft and delicious. When cooked, eggplants taste extremely delicious, are creamy and just melt into your mouth.
Soft and silky and full-bodied, versatile eggplants are considered a star ingredient in many cuisines around the world to add rich, smoky flavour. Wow! Do enjoy preparing this chutney - king of vegetables. This is a very chatpata, spicy, tangy chutney.
If you wish to look out for many more yummy, appetizing and exotic recipes, feel free to click at: www.vahrehvah.com
My rating: 4 stars: ★★★★☆ 1 review(s)
You could always reach me at my below links: My Cooking Videos
Enjoy Cooking and always remember that: "VahrehVah is all about inspiring others to cook"!