Every thing about MEXICAN CORN ON THE COB–ELOTE | Vahrehvah :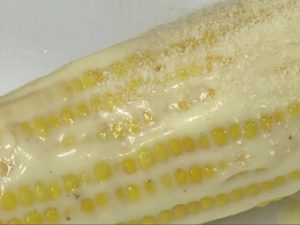 Mexican corn
on the cob is an appetizer and a popular street food in
Mexico,
although frequently served at home prepared in the same way. Elote is the
Mexican
name for corn on the cob. An enormously popular item sold by street vendors, an ear of
corn
is
grilled
or
boiled,
covered with mayonnaise and sprinkled with grated
cheese
and
chili mix.
You can also
make corn masala, corn soups, corn pakoda
and many more dishes using corn scraped off the ear. If you haven't tried it, you're missing a real taste experience. In
Mexico, Chicago,
and
southern U.S.
, it is custom to serve the corn on a stick, or by grasping the husk of the cob that has been pulled down to form a
"handle".
Condiments such as
salt, chili powder, butter, cheese, lemon juice, mayonnaise,
and
sour cream
are usually added to the
Mexican corn
on the cob. Seasoning with lemon juice is popular. Another way of presenting corns is by serving the cut kernels in a bowl. Any of the toppings above are added to the corn and it is then eaten with a spoon.
In
southern
and
central urban zones of Mexico,
ready-to-eat boiled corns are usually sold by street vendors and/or in stands, but in the rest of Mexico corns are more frequently sold in stores or restaurants. The corns are boiled in hot water and condiments of the customer's choosing are added when sold. Start of rainy season and you find fresh locally grown corn in every farmers market. You find most of the corn sellers roasting the corn on coal and once roasted its sprinkled with a
dash
of lemon juice
and
salt
and I have certainly been enjoying it all time during rainy season. Now we shall also see different variation for preparing the
Mexican corn
on the cob.
The Mexican corn on the cob is covered with
melting butter, mayonnaise, cotija cheese
and
cayenne pepper.
What a great way to enjoy corn! Like almost all dishes, there are endless variations on elote, but most commonly it's a cob of corn slathered in
mayonnaise, cotija cheese
(a semi-hard, crumbly cheese that resembles grated Parmesan),
powdered chile peppers
and
lime juice.
Sometimes, you can find it without mayonnaise and instead drenched in
butter, margarine
or
crema.
The corn can be prepared many ways, such as
steamed, roasted
or
grilled
and while it's often served with the cob stuck on a stick. No matter how you eat it, however, the end result is always the same: a
sweet, crunchy, fiery, juicy
and
delicious
corn.
Maize has spread worldwide, particularly to Africa and Asia. The
sweet corn
that is now so popular, both on and off the cob, is a comparatively new discovery. In
Latin America, starchier corn varieties
are generally grown. From
Mexico
through most of
South America,
corn appears in tortillas,
tamales, breads, puddings, stews, beverages,
and a wide range of other dishes. It is still a major staple crop. Spread a layer of mayonnaise—enough to coat—over the hot corn, then roll the corn in the cheese or sprinkle the cheese over the corn while turning it. Then sprinkle with
chili powder
and salt to taste. You can also finish this off with a squeeze of lime.
Summary: Mexican Corn on the Cob (Elote)
Ingredients:
chessee chada - as needed
chilli powder - pinch
mayonnaise -2-tbsp
sweet corn -1 -number
water - as needed
Instructions:
Take Corn on the cob cook in the presure cooker.once it is done top it of with mayonnaise sprinkle chessee and chilli powder.
Cooking time (duration): 25
Number of servings (yield): 4
Meal type: snack
My rating: 5 stars: ★★★★★ 1 review(s)
Recipe by
Vahchef
.
The ingredients will surely surprise you, but this is absolutely wonderful. Enjoy.