Every thing about CORN TIKKI PATTIES | Vahrehvah :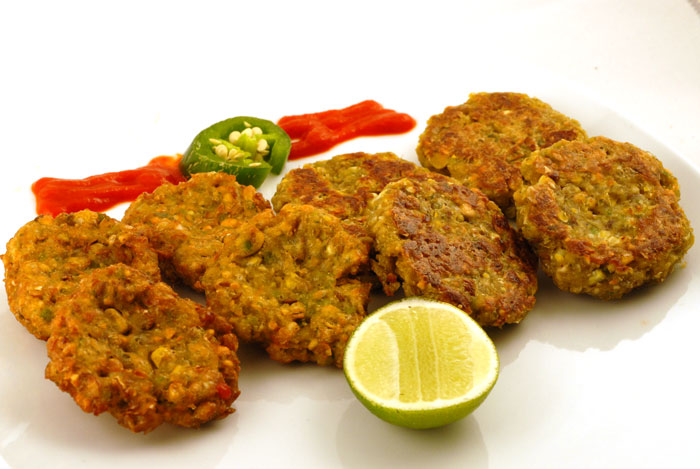 Corn tikki patties
are a very healthy and
nutritious snack.
Start of rainy season and corns are into the market. Normally corn is eaten by roasting it on charcoal and brushing lemon juice and salt over it. It's a snack that can be truly enjoyed on a rainy day.
Corn
is a tall plant grass that has large ears with many
seeds
or
kernels.
These seeds grow in rows on the larger ears and are eaten as a vegetable.
Corn
is grown as food for both people and animals. The term
maize
derives from the Spanish form of the indigenous
Taino
word maiz for the plant. This was the term used in the United Kingdom and Ireland, where it is now usually called
"
sweet corn
",
the most common form of the plant known to people there.
Sweet corn
is harvested earlier and eaten as a vegetable rather than a grain. Outside the British Isles, another common term for maize is "
corn
". This was originally the
English
term for any cereal crop. In
North America,
its meaning has been restricted since the 19th century to maize, as it was shortened from "
Indian corn."
In the
UK, Australia
and other
English-speaking countries,
the word
"corn"
is often used in culinary contexts, particularly in naming products such as popcorn and corn flakes. The
corn
kernels are usually
roasted, boiled
or
steamed
and
served
with
salt.
Corn
have high amount of fibre present which helps lowering cholesterol levels and reduces the risk of
colon cancer
.
Corn
, when consumed in moderate quantities is beneficial for those suffering from
diabetes
and many other
medical benefits.
Summary: recipe by Tamprapali ---- Corn is an all time favourite snack amongst everyone.The recipe below enhances the taste & sweetness of corn in its own way.Try it to believe it.
Ingredients:
All purpose flour as required -1- tbsp
Coriander leaves/cilantro(chopped) - 1/4 - bunch
Cumin seeds - 1 - tsp
Fresh corn kennel/frozen corn - 2 - cup
fried Chana dal-Dhalia - 1/2 - cup
Garam masala powder - 1 - pinch
Ginger garlic paste - 1 - tsp
Green chillies-to taste - 2 - number
Oil/Ghee - tofry
Salt - to taste
Instructions:
Preparation :-
Clean out the corn cob by running the knife vertically or thaw the frozen corn(for atleast 20mins) before preparing corn tikki/patties.
For the Mixture :-
Make a coarse mixture of green chillies,cumin seeds,chopped coriander ,gingergarlic paste & the binding indgrediant chanadal (dalia) in a food processor.
After the coarse textured mixture is ready ,add corn to it.
Blend it again and place the mixture in a seperate bowl.Add salt to the corn mixture and mix well. (Note:- The final corn mixture will have little moisture oozed out of corn)
To get a firm texture add maida/all purpose flour & mix well.
Make dumplings out of the mixture & press it gently to give it a round shape.
Cooking Details:-
Two ways corn tikkis can be prepared -Shallow fry (on a non-stick pan) or Deep fry (in kadhai).
For Shallow fry :-
Take a nonstick pan & place it on medium heat .Then place corn tikkis on it.
Add a drop or two of oil/ghee on each tikki respectively.Allow it cook for a while.
As they get golden brown from bottom turn them & cook the other side in the same way . .
For Deep-Fry :-
Heat oil in a kadai or deep surfaced pan with minimum one inch of oil.
Check the temperature for cooking the tikkis by adding a small piece into the oil. If it floats up without breaking then its ready .
Add the tikkis slowly in the oil & cook till golden brown.
Hot & crisp tikkis/patties are ready to be served.
Cooking time (duration): 25
Diet type: Vegetarian
Number of servings (yield): 4
Meal type: snack
My rating: 5 stars: ★★★★★ 1 review(s)
Recipe by
Vahchef
.
Corn tikki patties are easy to prepare. Clean out the corn cobs by running the knife vertically. For the patties, make a coarse mixture of green chillies, cumin seeds, chopped coriander, ginger garlic paste and for binding this mixture well use channa dal (dalia) and blend in a food processor. The mixture should have a coarse texture and not become too soft. Add corn to it and blend again.
Add salt and mix well. Add maida to give a firm texture if the moisture is more. Make dumplings and press them gently to give a round shape. Shallow fry on a non-stick pan till they turn golden brown on both sides. Hot corn tikka patties are ready to serve. You can serve with mint/coriander chutney or tomato ketchup or chilli sauce. The same mixture if it is deep fried than you can call them as corn pakodas. A variety of dishes can be prepared by corn like the corn soup, corn fritters, baked corn, Corn pulao and many more. Click here and watch preparation of this dish:
https://www.vahrehvah.com/corn-tikki-patties-1