Every thing about pani puri,pani puri recipe,pani puri water, how to make pani puri. :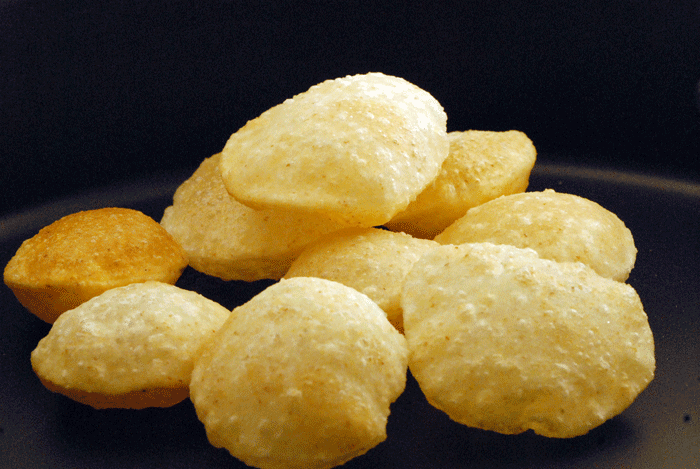 Pani puri
is one of the most sought after Indian
Chaat
that kids and elders love to eat anytime. We see that at every street corner or near the schools or at the cross roads there are plenty of Chaat vendors. Especially today's children love to binge on
fast foods
like all types of
Indian chaats, burgers, pizzas
etc.
Puri used for serving the
pani puri
is a hollow puffed small puri made of semolina and maida (all purpose flour).
Pani puri
is also popularly known as
Gol gappa
or the
gup chupp.
Originally this was one of the famous
Indian
chaat
available near the beaches of
Mumbai
city and has widely spread to all parts of the metros.
But there is always a concern on hygiene when you see the stalls where they sell them. Most of the parents are worried if the water that they serve in the
pani puri
is filtered or nice drinkable water and if the
puris
are fried in fresh oil or stale oil?? So to really have a nice hygienic
pani puri
the best idea would be to prepare it at home. This would make your family and you also happy without any sought of fears and concerns.
Pani puri
is quite simple and easy to make. To make the
puri,
take
semolina (sooji)
in a bowl, add some salt and mix well. Add some
warm water
and mix to make it grainy. To make it to dough you need to add some maida to absorb the moisture. Knead the dough to medium soft dough. Rest the dough for about
20 minutes.
Roll the dough to a thin large
puri
and then cut using a circular cookie cutter or else you can also use a round cork and keep aside. Heat oil on medium flame for deep frying the
small puris
. Once the oil is heated put the small puris and allow them to fry till they puff up and than remove from the oil. The fried puris can be stored for few weeks when kept in airtight containers.
Summary: Mini baloons of fried dough
Ingredients:
maida - 1 - tbsp
salt - 0
sooji (semolina) - 1 - cup
urad flour (optional) - 1 - pinch
Instructions:
make a stiff dough and roll into thin sheets and cut into roundlea and deep fry
use them to serve pani poori
Cooking time (duration): 25
Diet type: Vegetarian
Number of servings (yield): 4
Meal type: snack
My rating: 5 stars: ★★★★★ 1 review(s)
Recipe by
Vahchef
.
Now the puris are ready and you can make your own stuffing and tangy sauces. You can encourage your children from eating the home made pani puris as they are more healthy and nutritious. To make it more nutritious you can also stuff in some sprouts which normally children do not eat it raw.
Adding sprouts with some nice sweet chutney, green chutney and sauces will enhance the flavors and children would really gulp numbers of pani puri down their mouth. To view the making of the puri for the pani puri, go ahead and click this link immediately:
Happy cooking and you will enjoy the experience of preparing it at home.