Every thing about Eating Potato Healthy | Vahrehvah :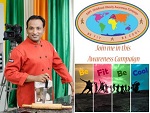 Potato is mostly considered one of the most popular vegetable and a favourite dish to many of us. It is a starchy, tuberous crop of the Solanaceae family and has become an integral part in most of the world's cuisine. It is the world's fourth largest food crop. There is no feast or festival complete without an aloo delicacy.
Originally potatoes originated from the region of southern Peru. Potatoes were first domesticated in Peru between 3000 BC and 2000 BC. Potatoes were the principal energy source for the Inca empire and the Spanish successor. The Spanish had an empire across Europe, and brought potatoes for their armies.
The potato became an important staple crop in northern Europe. The potato forms an important part of the traditional cuisines of most of Europe. The best and healthy way of eating Potatoes is either boiling, baked or roasted. Potato has become a major food resource in Europe and East Asia.
They were introduced in the Philippines during the late 16th century and to Java and China during the 17th century. It was well-established as a crop in India by the late 18th century and in Africa by the mid-20th century. Potato is an all-time favoured that is just adored by all kids and youngsters too. Kids love to eat them in any form be it potato fry, potato curry, aloo paratha or any other dish. Off late you will find a lot of kids munching of potato finger fries, potato wedges, potato cutlet etc.
In India, there are a variety of dishes made of potato like the aloo ki sabzi, batata vada, and samosa, which is spicy mashed potato mixed with a small amount of vegetable stuffed in conical dough, and deep fried. Potatoes are also a major ingredient as fast food items, such as aloo chaat, where they are deep fried and served with chutney.
In Northern India, dum aloo and aloo paratha are a favorite part of the diet; the first is a spicy curry of boiled potato, the second is a stuffed chapati. A dish called masala dosa from South India is very popular breakfast snack all over India. It is a thin pancake of rice and pulse paste rolled over spicy smashed potato and eaten with sambhar and chutney. Poori in south India is most of the times served with either aloo curry or aloo kurma. Other favorite dishes are alu tikki and pakoda items.
Vada pav is another amazing fast food or street food from Mumbai made of potatoes and spices. As this is a starchy tuber containing a lot of carbohydrates, it is always best to make healthy options of cooking it right to eat healthy and stay fit. Baked potatoes are obviously the first best option of eating potato healthy.
To give it some extra taste and flavour, you could try topping your baked potato with low-fat sour cream, few fresh spices and spices. Filling your baked potato with veggies is also a healthy way to add more vitamins without adding fat. If you want your baked potato to be a little royal in taste, but still healthy then do try this amazing, luscious and mouth-watering snack which is known as Aloo Laajawab.
Aloo Laajawab is a wonderful dish, full of flavours, made with boiled potatoes that are thinly sliced into roundels and coated with unique and delectable mixture made with hung curd, fresh herbs, spices and shallow fried in very little oil until golden brown in colour. This can be eaten by itself or goes well with any type of fresh chutney like mint chutney, spinach chutney or sauce.
Potatoes are healthier if cooked and eaten in the right method. They contain more potassium than a banana, vitamin C, and even protein. The major issue is that most people often prepare potatoes in unhealthy ways. Most of the kids, young and oldies love eating potato fry which actually makes them unhealthy.
Do realize that there are several healthy ways to enjoy potatoes. Potatoes are a very good source of vitamin C. They are also a good source of vitamin B6, copper, potassium, manganese, and dietary fiber. The best option is to boil the potatoes. Once boiled, you can use them to create several healthy dishes.
For example, make a salad using fat-free Italian dressing, red onion, red bell peppers, grape tomatoes, and crumbled feta cheese. Another option is to slice the boiled potatoes into wedges, brush them with olive oil, and grill them. Either of these options is flavorful, yet incredibly healthy.
As you can see, potatoes can be prepared in healthy ways and still be tasty. The key is to avoid high-fat ingredients and instead think of cooking healthy food. Also, be creative and add ingredients that you normally wouldn't add. But, the most important tip is to remember to incorporate ingredients that don't contain any calories, such as seasonings. With these tips, you'll be able to enjoy potatoes every day of the week without worrying about gaining any weight.
So what are you waiting for? Go ahead and make a healthy and flavorful potato dish today. Hung curd is another amazing, delicious and creamy ingredients that wraps well with boiled potatoes. When shallow fried the hung curd with spices makes the aloo kababs crunchy and crisp.
Yogurt or curd is also a very nutritional and healthy ingredient known as a good source of calcium and protein. The creamier hung curd from which whey has been removed also packs a nutritional punch offering extra protein compared to yogurt. Also remember; don't discard the whey (watery part of dhahi) which contains essential amino acids. You can add it to soups or use it to make chapati dough.
Do try making this healthy Aloo Laajawab and always remember eating potatoes the healthy way:
You could always reach me at my website for more amazing nutritious and healthy recipes at: www.vahrehvah.com You could also follow this campaign to gain knowledge on some special features and advices from eminent doctors from AAPI (American Association of Physicians of Indian Origin) and also get to know of healthy recipes and diets from popular Chefs that you and your family can relish and enjoy staying fit and strong.
To follow, do click on: https://www.facebook.com/AAPIChildhoodObesity
Enjoy healthy eating and Be Fit. Be Cool!