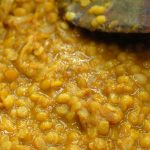 Masala dal is a North Indian lentil soup simple tangy to taste and make a great accompaniment with hot rice, ghee and papad. It is called the masala dal because of the tadka that is used in this dal. It is made a bit spicy and popularly served in many dhabas and restaurants.

Normally the masala dal is made from the pigeon pea which is known as toor dal or arhal dal in India. The tur dal is also known as the Congo pea or gungo pea in Jamaica and Pois congo in Haiti. The split pigeon peas (toor or tuvar or tur dal) are one of the most popular pulses in India for being an important source of protein in a mostly vegetarian diet. Most dal recipes are quite simple to prepare. The basic preparation of dal begins with boiling a variety of dal (or a mix) in water with some turmeric powder, salt to taste, and then adding a tadka (also known as tarka, chaunk or baghaar) at the end of the cooking process. Tadka Dal is one amongst of the popular recipe in this type of cooking.

This dish is a healthy vegetarian dish rich in appropriate nutrients and is unique for its simplicity in taste and loved by all lentil lovers. The masala dal made with tur dal is a blend of exotic simple Asian spices used on a regular basis in every Indian home. This recipe is simple easy to cook and refreshing. The dal is a powerhouse of proteins and mineral.

Dal is a preparation of dry pulses which have been stripped of their outer hulls and spilit. It is a thick stew made of these dals and an important part of Indian, Nepali, and Pakistani, Sri Lankan and Bangladeshi cuisine. It is a dish that is prepared almost everyday in most of the Indian households and eaten with rice and vegetables in south India and with rice and roti (Indian flat breads) throughout north India. Dal is a ready source of proteins for a balanced diet containing no meat.

The hulling of a pulse is intended to improve digestibility and palatability, but as with milling of whole grains into refined grains, affects the nutrition provided by the dish, reducing dietary fiber content. Pulses with their outer hull intact are also quite popular in India and Pakistan as the main cuisine. There are over 50 different varieties of pulses are known in India and Pakistan.

To prepare this simple but delicious dish, firstly boil the dal but do not cook it fully until mashy. They need to appear grainy but cooked when mashed with fingers. Heat oil in a pan, add finely chopped onions and mix well, then add ginger garlic paste and sauté till raw flavors are gone. Add turmeric powder, salt, coriander powder, red chilli powder mix well and fry for 2 mins. Now add the boiled add and a little water and mix well, add garam masala powder and cook for another 3 to 5 mins. After 5 mins the masala dal is ready to serve. It goes well with rice or roti.

Do try this and enjoy the simple flavor of Indian spices and the sweetness of the onions. Watch the making of this fine north Indian dish at:

https://www.vahrehvah.com/Masala+Dal:6056

If at all there are any leftovers of the dal, you can make a special type of dry curry of the same for the next morning that goes well with chapatti or roti. Heat ghee in a pan, add onions and fry over a medium heat until the onions are crisp and evenly browned. Spoon the dal into the pan and mix well and fry until all the moisture dries off. An amazing and delicious dish!

Dals are a great source of protein and are also a very lean and healthy type of cereal, with only 1 gram of fat per 350 calorie serving. Most of the calories come from protein and complex carbohydrates. The split pea is known to be a natural food source that contains some of the highest amounts of fiber, containing 26 grams of fiber (104% DV based on a 2,000 calorie diet). Fiber is known to help the digestive system and to make people feel full and satiated.