Every thing about ALOO GOBI | Vahrehvah :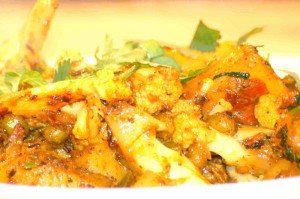 Aloo gobi
is a dry vegetarian Indian dish made with
Aloo (potatoes)
and
gobi (cauliflower)
mixed with spices. The dish is a nice yellowish color and
Aloo gobi
is one of the popular standard dish in many restaurant's menu. There are many versions of making this dish with the same name.
Aloo Gobi
is a traditional
north Indian
delicacy and a staple dish in Punjab and popular across the globe.
It is more of a signature dish of the Indian cuisine. Normally for preparing a non-vegetarian dish one doesn't need to worry a lot as meat have their natural juices and mixed with different types of spices would make a luscious dish. But for preparing a delicious yummy vegetarian dish one need to select the right spices to blend with the vegetables. Spices play an important role in Indian cuisine.
To get your
Aloo
gobi perfectly blended you need to use the right mix of spices. Preparing the
Aloo
Gobi
is quite simple and easy to cook. Usually in restaurants they fry the
Aloo
and
gobi
separately and keep it aside and later freshly mix them with the spices and prepare the dish when ordered. The taste of the dish would be really stupendous, but it is not a healthy way of making.
We shall see the right way of blending all the vegetables and spices together and cook them freshly. Heat oil in a pan, add little cumin seeds and hing (asafoetida). When they get fried add ginger garlic paste and sauté till the raw flavor goes. In the dingchik add chopped onions, tomatoes and green chillies and mash them. Add this mixture in the pan and sauté. Add turmeric powder and cook well till the oil oozes out.
Take some water in a bowl add coriander powder, chilli powder and amchur powder mix well and add it to the tomato paste.
Amchur
powder is added to give extra tanginess to the curry. Crush a little kasuri methi and add to the sauce. Now add the cut
potatoes
and cauliflower florets and sauté. Add salt and garam masala and mix well. Sprinkle little water over the
vegetables
and cover the lid simmer and cook for about 10 to 15 mins until the vegetables are cooked and the spices nicely get coated over the
vegetables
and become a dry dish.
Garnish with fresh coriander leaves. You can also add
green peas
if you like and the dish name would change to aloo gobi matar. Wow! It's one of the variety of a delicious vegetarian Indian dish with a mixture of mixed colors (potatoes, tomatoes and green peas), flavor and taste.
Aloo
Gobi
can be served with various breads like roti, chapatti, puri or naan.
Tip:
Making a paste with the spices will prevent the spices from burning. Aloo Gobi is in fact a
Punjabi
classic made with
potatoes
(
aloo
) and
cauliflower (gobi).
These humble vegetables may not sound like much, but they happen to be the perfect combination to impart a nice golden saffron color of the turmeric and vibrant flavors of cumin, ginger, garlic, onions, green chilies and other Indian spices.
This dish is a real
head turner
for its piquant flavors and vivid color and justly filling.
Aloo
(
potatoes
) and
Gobi
(
cauliflower
) both humble vegetables are a favorite to all.
Potatoes
are a very popular food source. Unfortunately, most people eat
potatoes
in the form of greasy French fries or
potato
chips, and even baked
potatoes
are typically loaded down with fats such as butter, sour cream, and melted cheese and bacon bits.
Such treatment can make even baked
potatoes
a potential contributor to a heart attack. But take away the extra fat and deep frying, and a baked potato or cooking a nice dish like
Aloo Gobi
is an exceptionally healthful low calorie, high fiber food that offers significant protection against cardiovascular disease and cancer.
Potatoes are a very good source of vitamin C, vitamin B6, copper, potassium, manganese, and dietary fiber and Cauliflower too is an excellent source of vitamin C, vitamin K, folate and fiber. It is a very good source of vitamin B5, vitamin B6, omega-3 fatty acids, and manganese. Additionally, it is a good source of potassium, protein, phosphorus, vitamin B1, vitamin B2, vitamin B3, and magnesium. Aloo Gobi is a dish full of nutrition and a healthy dish for the entire vegetarian to make it a balanced dish.
Aloo Gobi
Author :
Ingredient Name
Unit
Quantity
amchoor pdr

---

tsp

---

1/2

---

cauliflower, cut into florets

---

number

---

1

---

chopped coriander leaves

---

bunch

---

1

---

coriander powder

---

tsp

---

2

---

cumin seeds

---

tsp

---

1

---

garam masala

---

tsp

---

1

---

ginger-garlic paste

---

tsp

---

1

---

gr peas

---

tbsp

---

1

---

green chilli

---

number

---

2

---

oil

---

cup

---

1/4

---

onion

---

number

---

1

---

potatoes, cubed

---

number

---

4

---

red chili powder

---

tsp

---

1

---

salt

---

to taste

---

---

tomatoes, chopped

---

number

---

3

---

turmeric powder

---

tsp

---

3/4

---
Heat oil in a pan, saute cumin seeds, ginger-garlic paste for a minute and crushed tomato,onion and gr chilli and add turmeric cook till oil ozzes out add rest of spices mixed in water add poatoes. and cauliflower Also salt. Fry for few minutes. Lower the heat, cover and simmer for about 15 minutes until the vegetables are cooked serve hot with naan , chapati , roti
Happy eating!