Every thing about BADAM MILK-ALMOND SHAKE | Vahrehvah :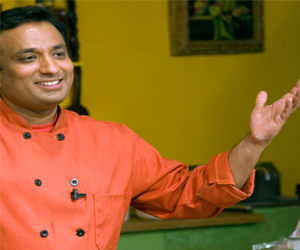 Badam Milk or Almond shake
is a soothing and wholesome drink made with
Badam (Almonds)
and milk, an excellent nourishing and healthy drink for kids.
Badam milk
is delicately flavored with nuts, cardamom, rose essence chilled and served with a nutritious punch.
Badam milk
has dual advantage both in summer and in winter too.
Badam milk
is best when served chilled and also served warm during winters.
Badam milk
is served for breakfast or as a
bedtime drink.
It is basically a energy giving drink.
Almond
is a species of tree native to the
Middle East
and
South Asia.
Almond is also the name of the edible and widely cultivated seed of this tree. The
almond
is a native to the Mediterranean climate region of the Middle East, eastward as far as the Indus. It was spread in ancient times along the shores of the Mediterranean into northern Africa and southern Europe and more recently transported to other parts of the world, notably California, United States.
Almonds
or
badam
is the base ingredient in making of pasanda style curries in
Indian
and
Pakistani cuisines. Badam halwa
is a sweet prepared from almonds with a little extra coloring effect.
Almond
flakes or half
Almonds
are used for decorating the sweets on top and are added to many sweets (such as sohan barfi), that are usually visible sticking on the outer surface.
A variety of sweets are prepared of
Almonds
and they are also used for flavoring sweets like Kheer, Burfi etc. For preparing the
Badam
Milk or
Almond
Shake, firstly soak
badam
in water for 2 hours. Remove the skin and add to blender adding little milk and blend it to a fine paste. Heat the balance milk and add the
badam
paste in the milk and boil for 15 mins and keep stirring.
Add saffron to the boiling milk, mix well then add sugar according to your taste. Add cardamom powder, rose essence and mix again. Once done, pour the
badam
milk in a bowl to cool down. If required add some extra cold milk and mix. Pour in a glass sprinkling little extra cardamom powder, grated almonds and serve chilled. It's truly a yummy thick and rich refreshing high energy drink that give a unique nutty and crisp flavor. I would strongly recommend you give it to growing children and watch the making of this yummy
Badam
milk
or
Almond
shake at:
There are readymade
Almond/
Badam
powder available in most of the super malls. But I would suggest you prepare it at home which is more healthy and natural.
Almonds
are full of essential nutrients. They boost the
magnesium, potassium
and
vitamin
E
in your diet.
Almonds
have got a lot of health benefits and nutritional value.
Almonds
are a rich
source of proteins,
and
vitamin E
, containing
24 mg per 100
g. They are also rich in monounsaturated fat, one of the two "good" fats responsible for lowering
LDL
cholesterol
. In Ayurveda it is believed that almond is considered a nutritive for the brain and nervous system. It is also said to induce high intellectual level and longevity. Recent studies show that the constituents of almond have
anti-inflammatory, immunity boosting,
and
anti-hepatotoxicity
effects.
Claimed health benefits of almonds include improved complexion, improved movement of food through the colon (feces) and the prevention of cancer. Recent research associates the inclusion of almonds in the diet with elevating the blood levels of high density lipoproteins and of lowering the levels of low density lipoproteins.
Badam Milk - Almond Shake
Author :
Ingredient Name
Unit
Quantity
alomnds

---

number

---

20

---

cardamom powder

---

pinch

---

1

---

milk

---

ml

---

1000

---

rose water

---

0

---

2 drops

---

safforn

---

0

---

as needed

---
Soak badam in water for 2hrs. remove the skin and add to blender,add some milk and blend it to a fine paste Heat the balance milk and add the paste of badam, boil for 15min and keep mixing. Add saffron to the boiling milk mix well then add sugar,cardamom powder, rose essence mix again. Once it done pour in a bowl to cool down. If required add some cold milk and mix. Pour in a glass sprinkle cardamom powder, badam mashed. serve chillied.