Every thing about MINT CHUTNEY | Vahrehvah :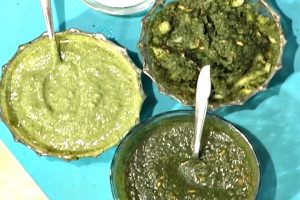 Mint
originates from a greek work 'mentha'. Mint is also commonly known as
pudina
in Hindi. Mint is a wonder herb that has a distinct aroma and fragrance. The reason for mint being flavored is because of the presence of menthol, which facilitates good digestion.
Chutneys
come in a wide range of exciting and bold flavors from
spicy to sweet, savory, tangy
and even sour.
They also vary in textures and taste depending upon the ingredients used and their preparation. There are two main types of
chutneys
: fresh and preserved and they can either be wet or dry in nature. But it's the fresh home made chutneys that always add an exotic Indian touch to any meal.
Mint chutney
is one of the all time favorites. It's fresh and earthy with a slightly floral taste.
This is versatile
chutney
and can be used as a condiment, dip or even as a spread. Be it
samosas, pakoras, bhajjis
or the
luscious kebabs, fresh
mint chutney
is the perfect accompaniment to any
Indian meal. Mint Chutney
goes particularly well with non-vegetarian dishes such as Tandoori dishes, tikkas and kebabs. When buying
fresh mint,
look for bright green sturdy stems and leaves with a characteristic mint fragrance.
To prepare the aromatic mint chutney, add
fresh coriander leaves
, cumin seeds, garlic, ginger, green chillies, fresh mint leaves
and pomegranate seeds and salt and blend all the ingredients to a fine paste.
Pomegranate seeds
give a nice sourness and crunchiness to the dish. This is actually the basic recipe for the mint chutney. Now you can make more variations to the mint
chutney
. Add yoghurt to the mint
chutney
and a little salt and mix well. This is a right accompaniment for kebabs and any meat preparation.
The
mint
chutney
when eaten with spicy
kebabs
soothes and balances the flavors. Normally when you have spicy hot kebabs or any meat dish, the mint
chutney
helps in cooling down the body. This is one of the best combinations. Let's try another mint chutney variation good for serving with Bhajjis/
Dhoklas
or
mirchi pakodas
.
Take a little mint
chutney, add sugar
and mix little water to dilute the
chutney.
This is best eaten with
Gujarati snacks
.
This chutney will be a little sweet as
Gujarati love
it that way. Another variation is chop onions nicely and mix to the
mint chutney
.
You can add this in hot rice and ghee, mix and eat it just like that. Delicious
mint chutney!
You can also make delicious pudina pulao with this mint chutney.
Mint chutney
can be prepared in many variations. It purely depends on ones tastes.
Mint
is one of the main ingredients for any
Mughlai dish.
Mint
leaves are used for making of
biryani
,
snacks
&
appetizers.
Mint Chutney
is very versatile. It can be served as a dip with
appetizers
(example
pappad
,
samosas
,
kebabs,
etc.) or as a spread in sandwiches - with cucumber or tomatoes and cheese (yummy!) and best of all, it plays a key part in making chaat.
To know little more about mint and its benefits: The entire plant is antibacterial, antifibrile. It yeilds an essential oil and menthol which exert, through their rapid evaporation, aslightly anaesthetic, and anodyne local effect. It is effective in headache, rhinitis, cough sore throat, colic, prurigo and vomiting.
Menthol
obtained from this is used in balm. It is also used as flavoring agent in
culinary preparations
.
The leaf, fresh or dried, is the culinary source of
mint
. Fresh
mint
is usually preferred over dried mint when storage of the mint is not a problem. The leaves have a pleasant warm, fresh, aromatic, sweet flavor with a cool aftertaste.
Mint
leaves are used in
teas
,
beverages, jellies, syrups, candies,
and
ice creams.
In Middle Eastern cuisine mint is used on lamb dishes.
In British cuisine,
mint
sauce is popular with lamb.
Mint
was originally used as a medicinal herb to treat stomach ache and chest pains. To cure
stomach aches,
put dried
mint
leaves
in boiling water, then, when it cools drink it. This tea is called
monstranzo
. During the Middle Ages, powdered mint leaves were used to whiten teeth.
Mint
tea
is a strong diuretic. Mint also aids digestion. It is also said that the Chinese used mint to combat spasms and cure upset tummies. Chewing mint can prevent hiccups.
The
mint leaves
juice is also beneficial to those suffereing from hyperacidity.
Mint
is grown all over the world. It comes in many varieties such as spearmint, peppermint, pennyroyal, etc, each with distinct flavour. Mint is generally a sweet flavour imparting a cool sensation to the mouth.
Peppermint
has the highest concentrations of menthol, while pennyroyal is strong with a medicinal flavour.
Mint
is refreshing, stimulative, diaphoretic, stomachic, and antispasmodic. It helps in
colds, flu, fever, poor digestion, motion sickness, food poisoning, rheumatism, hiccups, stings, ear aches, flatulence and for throat and sinus ailments
. Both fresh and dried mint is used.
Mint
is used in a variety of dishes such as vegetable curries,mint recipe for chutney, fruit salads, vegetable salads, salad dressings, soups, desserts, juices, sherberts, etc.
Summary: Mint Chutney Recipe made easy, learn how to make Mint Chutney Recipes at home.
Ingredients:
coriander - 1 - bunch
cumin - 1 - tbsp
garlic - 6 - piece
ginger - 20 - grams
gr chillies - 4 - number
mint - 2 - bunch
pomegranate seeds(dry) - 2 - tbsp
salt - 1 - to taste
yogurt - 1 - cup
Instructions:
blend all the ingredients add yogurt for kabab chutney blend add pinch sugar for pakoda chutney blend add chopped onion,add ghee and mix with hot rice for excellent mint rice
Cooking time (duration): 25
Number of servings (yield): 4
Meal type: snack
My rating: 5 stars: ★★★★★ 1 review(s)
Recipe by
Vahchef
.
So next time when you make a nice snack or tandoori or tikkas, do prepare the mint chutney. Click here:
https://www.vahrehvah.com/mint-chutney
To watch the video.