Every thing about BEERAKAYA CHUTNEY | Vahrehvah :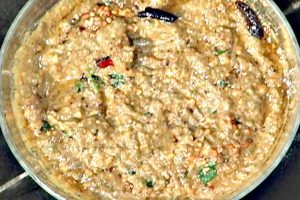 Ridge gourd
or
Turai
or
Beerakaya
(in India) are all same names of one vegetable commonly known as
Chinese Okra
in other parts of the countries. This vegetable is popular in Asia and Africa. This vegetable is believed to have originated in the Arabic desserts, and has spread throughout the world. It is a dark green, ridged vegetable having white pulp with white seeds embedded in spongy flesh. All species of
ridge gourd
/loofah are edible, but they must be consumed before they mature, or else they will be too woody and fibrous to eat.
Beerakai chutney
is the sweetness of the
ridge gourd
perfectly complimented with the hot and sour flavors of onions, chillies and tamarind. To give a nutty flavor you can also add Cashew nuts and roasted channa dal. The Chutney will be a perfect side dish with hot rice, roti, chapatti etc. This
chutney
is absolutely delicious. This
vegetable chutney
is eaten with plain hot rice drizzled with a few drops of melted ghee and makes a meal by itself. Turai or
ridge gourd
is cooked with onions, tempered with mustard, green chillies, garlic and curry leaves and then puréed to get smooth and tasty chutney.
In
South
Indians
, the peel of the
ridge
gourd
is also used for making chutney. To enhance the flavors, gingelly or sesame oil is used. The key ingredient to make great turai chutney is adding extra green chillies because it compliments the spongy sweetness of the ridge gourd.
To prepare the
turai
chutney
, cut turai into small pieces, add oil in a hot pan, fry all ingredients (tamarind, green chillies, garlic, cashew, roasted channa dal) one after the other over a low flame and keep aside. Add little mustard, cumin, chopped onions (allow to cook till they become transparent) and then add the
ridge gourd
pieces and allow to cook. Cook till they become soft and mashy.
Mix this to the spices mixture and blend them together in a blender to the right consistency. Shift the chutney into a bowl. Add salt to taste and mix well. Temper the
chutney
with some mustard seeds, cumin, dry red chillies, urad dal and curry leaves. In this chutney, garlic is optional.
To prepare this chutney it hardly takes few minutes as the
ridge gourd
is soft and spongy.
Ridge gourd
is awesome vegetable as it is
low in saturated fats
, cholesterol, and high in dietary fibre,
vitamin C,
Riboflavin,
Zinc
and
Iron
. This versatile vegetable is mildly sweet in taste, which adds a new dimension to the vegetarian cuisine, but sometimes it does taste very bitter.
So before you make the chutney do taste a small piece of ridge gourd.
Beerakai
is used a lot in Andhra cooking. They cook it with dal or make curry also with it. Most common dishes made with beerakai are (
beerakai
with
senagapappu
, tomato, potatoes, stuffed with home made curry powder, onion masala), pappu (cooked with lentils), pachadi and also chutney with the peels.
Ridge gourd
has many health benefits and nutritional values like maintaining optimum health, being low in saturated fat and cholesterol and high in
dietary fiber
, it becomes the ideal choice for anyone who wishes to lose some weight quickly. It also has very high water content, making it a
very low calorie
vegetable (only
60 calories
in 100 gm of cooked ridge gourd). The juice prepared from
ridge gourd
is a natural remedy for jaundice. It also helps as blood purifier, lowers the blood sugar levels and is good for stomach.
Summary: chutney made of berakai
Ingredients
chooped gr chilli - 2 - number
cumin -1- tsp
curry leaves - 1 - springs
frychannadal or cahsew - 1 - tbsp
hing - 1 - pinch
mustard - 1 - tsp
oil - 2 - tbsp
onion - 1 - small
salt - 1 - pinch
tamrind - 20 - grams
turai (berakai) - 1 -number
Instructions
cut turai into samll peices , add oil in a hot pan,fry in low flame all ingredients one after anotherthen mix all of them and grind to the required consistency ,you can also make chutney with the skin alone when making torai as subzi temper the chutney season and enjoy with hot rice and ghee
Cooking time (duration): 25
Diet type: Vegetarian
Number of servings (yield): 4
Meal type: lunch
My rating: 5 stars: ★★★★★ 1 review(s)
Recipe by
Vahchef
.
I recommend this chutney to all my ridge gourd fans. It's a must try!