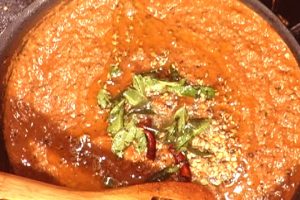 Tomato chutney is spicy freshly made chutney popular in southern India. This is exotic and delicious Indian red tomato chutney which has loads of flavor. The lengthy time to make this is due to the fact that it should stand and cool for a long while before it is served.
It's a good idea to make this a day or two in advance. This dish is traditionally made with tomatoes, tamarind, red and green chillies, curry leaves and essential flavors of garlic, ginger to make it truly spicy and heavenly. If you are not keeping the chutney for a long time then you can also add some coconut and fresh mint leaves. This chutney is a classic accompaniment to Idlis and Dosas, even Medu Vadas! Normally this dish taste amazingly exotic with hot rice and ghee. You can find a jar of tomato chutney in every home in southern India – extremely versatile and tasty, also can be used as a dipping sauce. There are many ways of preparing the tomato chutney.
Usually the tomato chutney is eaten few days after you are spice deprived and craving for something that would get your taste buds tingling again. This chutney would be delicious, juicy and scrumptious. Amazing chutney that refreshes your taste buds! The chutney has a great balance of spicy, sweet, and sour and goes well with pretty much anything - bread, rice, crackers and cheese, rotis, you name it. You can keep in the refrigerator well for 2 weeks. Just be sure to use a dry spoon when you dip into the jar. Moisture is the enemy here. This tangy pickle from Andhra Pradesh (in South India) is so tasty that it can be eaten with just plain boiled rice too. Like in any chutney preparation, the ingredients quality matters a lot for tomato chutney also.
Tomatoes that actually taste like tomatoes with thin skin and little bit under-ripe are the best. Traditionally, tomato seeds and skin are included in chutney for that special texture and extra something they bring to the end experience. Vegetable oil, tamarind, whole red chilli, salt, hing (asafetida), ginger, garlic, and fresh curry leaves are the main ingredients required for making the tomato chutney.
Surrounded by all natural ingredients, simmered tomatoes in tomato chutney sure make a bold, declamatory statement on taste buds. Sweet, sour, salty and spicy, the rich taste of tomato chutney is an addictive one. Tomatoes are now available year-round; the truly wonderful qualities of tomatoes are the best when they are in season from July through September.
They have a subtle sweetness that is complemented by a slightly bitter and acidic taste. Cooking tempers the acid and bitter qualities in tomatoes and brings out their warm, rich, sweetness. Tomatoes are by far the healthiest of the fruits and vegetables with the power to ward off some of the worst known diseases to man. Tomatoes are actually a fruit and not a vegetable and are loaded with all kinds of health benefits for the body. They are in fact, a highly versatile health product and due to their equally versatile preparation options, there's really no reason to neglect the tomato as part of a healthy diet. Tomatoes are often used or even daily used for some dish or other in our kitchens for preparing the tomato dal, sambhar, tomato rasam and so many.
Heat oil in a pan and add mustard seeds, cumin seeds, dry red chilli, hing, ginger and garlic pieces, cashew nuts (optional), tamarind, green chillies and curry leaves and sauté all the well till their raw flavors are gone. In the same pan add the diced tomato, salt to taste, few mint leaves and coconut powder and cook well till the tomatoes are mashed. Once done cool the mixture and then blend to coarse paste (if required you can add little water to adjust the required consistency). Shift it into a bowl and temper the chutney with mustard seeds, cumin seeds, hing, channa dal, urad dal and curry leaves and pour it over the chutney. Wow! Its one of the most delicious chutney's that anybody would crave for. This chutney does not get spoilt for 2-3 days.
Do watch the making of this chutney at: Enjoy cooking! https://www.vahrehvah.com/Tomato+Chutney:60
Tomatoes are an excellent source of vitamin C, vitamin A, and vitamin K. They are also a very good source of molybdenum, potassium, manganese, dietary fiber, chromium, and vitamin B1. In addition, tomatoes are a good source of vitamin B6, folate, copper, niacin, vitamin B2, magnesium, iron, pantothenic acid, phosphorus, vitamin E and protein.