Every thing about THOTAKURA PULUSU | Vahrehvah :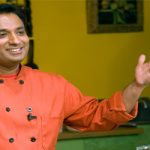 Thotakura pulusu is an amazing dish that tastes tangy, spicy, sweet and a natural earthly flavor. Made of Thota kura also known as Amaranth leaves are very popularly cooked in most of the south Indian homes. Thotakura which is referred as Amaranth (in english) is a delicious green leafy vegetable related to spinach family and is used a lot in traditional Andhra cooking – stir fry's, stews and dal. It blends very well with most of the vegetables and dals (lentils).
Thotakura pulusu (stew) is a very simple and tasty dish spiced up with chillies and sweetened with jaggery. Pulusu is a clear both (tamarind) cooked with vegetables and a spice is served as a side dish along with rice. Basic ingredients in such stew always stays same only the additional ingredients either vegetables or lentils keeps changing. Green leafy vegetables are always known to be nutritious and good for health. When cooked well, they will be tasty and yummy too.
Amaranth or thotakura is one such leafy veggie that is regularly used in south Indian homes. They are loaded with nutrition and packed with proteins. These leaves contain a very good source of vitamins including vitamin A, vitamin B6, vitamin C, riboflavin, and rich in dietary minerals and the stem contains a good amount of fiber. Amaranth is also known as Red spinach and Chinese spinach. There are a variety of green leafy vegetables available which makes it easy and interesting to include them in our meals.
Some of the more popular greens are spinach, bok choy, fenugreek, amaranth, collards, mustard greens, and kale. These provide a great way for vegans, vegetarians, and omnivores to get their nutrients. Greens are packed with vitamins, minerals, and other nutrients that prevent cancer and other diseases.
According to the food pyramid guidelines, an average adult needs 3 cups of leafy greens per week. Greens are commonly used in Indian recipes which includes spinach (palak), fenugreek leaves (methi), mustard greens (sarson ka saag), amaranth (thotakoora), gongura, bachchali (a kind of spinach), and chukkakura (a tangy leaf).
Greens are low in calories, have no cholesterol, and are fat-free, and as such a must for any weight-loss plan. A diet rich in green leafy vegetables coupled with physical exercise, whether yoga or something else, is great for your health. Thotakura pulusu a tangy stew made of simple ingredients that are subtly spiced, sweet, and tangy.
To prepare this dish, wash the amaranth leaves well and keep it aside. Take a pan add oil dry red chilly, murstard seeds, little fenugreek leaves, jeera seeds, now add garlic, turmeric, onions, hing, salt and sauté all the ingredients well.
Add the amaranth leaves, curry leaves cook till the leaves are 90% coked. Now add tamarind juice, jaggery and cook for another 5min then add Roasted peanuts powder mix well cook for 2-3min and serve with roti or rice. Do prepare this nutritious dish for your family and keep them healthy.
Watch the making of this dish at: https://www.vahrehvah.com/thota-koora-pulusu
Amaranthus, collectively known as amaranth, is a cosmopolitan genus of herbs. They are cultivated and consumed as a leaf vegetable in many parts of the world. There are 4 species of Amaranthus as cultivated vegetables in eastern Asia: In Indonesia and Malaysia, leaf amaranth is called bayam, while the Tagalogs in the Philippines call the plant kulitis or Callaloo. In Karnataka state in India it is used to prepare curries like Hulee, palya, Majjigay-hulee and so on. In Tamilnadu State, it is regularly consumed as a favourite dish, where the greens are steamed, and mashed, with light seasoning of salt, red chillis and cumin. It is called keerai masial. In Andhra Pradesh, India, this leaf is added in preparation of a popular dal called thotakura pappu. Amaranth greens are believed to help enhance eyesight.