Every thing about FISH FINGERS | Vahrehvah :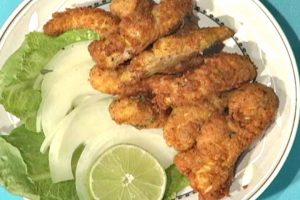 Fish fingers
are popularly known as fish sticks in the
British
and
North American
countries. They are normally made using a whitefish like cod, haddock or Pollock that are battered or breaded. They are commonly available in the frozen food section in many supermarkets or malls.
A popular dish in the children's menu at many restaurants that can be prepared by just baking, grilling, and shallow frying or deep fried. According to
history
that states; during 1930s in the
United Kingdom
most of these priced catches were pickled and exported to other
North European
countries.
Hence in the home markets many companies tried to present it in a new way by creating the fish fingers which were called herring savories. Cod fish fingers were first produced in Great Yarmouth, and introduced in Britain on 26 September 1955.
In 1953, the American company
Gorton-Pew
Fisheries, now known as Gorton's, was the first company to introduce a frozen ready-to-cook fish stick, Gorton's Fish Sticks, which won the Parents Magazine Seal of Approval. There are various methods of making the
fish fingers
suiting according to the individual's taste and choice.
The
fish
used for making the
fish finger
are normally either
fillets
cut to shape or minced/ground fish reformed to shape. Minced fish is more commonly used in store brand economy products. The homemade
fish fingers
are the most simple best and easy to make. There are crispy crust and
tender,
flaky fish on the inside. They are not at all like the compressed fish that gets served in fast food restaurants and school
cafeterias.
Usually the
frozen fish
fingers are not fresh, sometimes give a stale smell and not spicy.
Making the fish
fingers at home is one of the best and healthy thought as you can get fresh fish and cut them into the shape of
fillets
(according to the size you require),
marinate
them in fresh spices and deep fry them. It's amazing doing at home as you enjoy the
aromatic
flavors that are being released while frying is truly the taste buds craving for.
Fish fingers are one of most delectable crispy snack for the kids.
Kids
are one of the best judges regarding the taste of food because they are very particular about the taste of the food, the way it looks, its color and texture. Obviously to keep them at full control, craving and encourage their
appetite
this is a very wonderful snack to offer.
Homemade
fish fingers
are apparently the best better than the frozen or the pre-cooked
fish
fingers they have a fresher flavor and you are also in full control of the ingredients that goes into them. The pre cooked
fish
fingers contain all kinds of preservatives, colorants and not healthy. You can also make the
fish
fingers a balanced meal if served with
onion rings
, mashed
potato
or baked beans.
In making this wonderful recipe, take a
fish pieces
(fillets cut as per your choice), add lime
juice
, salt, turmeric powder, chilli powder, garam masala powder, coriander powder, cumin powder, ginger garlic paste and chopped
curry leaves
,
mix all the ingredients well to the
fish
pieces and keep aside.
In a mixing bowl, add besan flour (Bengal gram flour),
bread crumbs
(you can also use the cheese flavored bread crumbs which enhances the flavor of the fish fingers) and mix well together. Take each fish piece and roll them over the besan flour and bread crumb mixture and keep aside.
Heat oil in a pan till its hot then add the
fish
pieces in the oil and deep fry till they turn golden brown in color. Fry the fish in batches. Remove it and squeeze little
lime juice
over the
fish fingers
which give a super tangy taste. This is one of the most flavorful and well balanced fish recipes.
The breadcrumb coating comes out golden brown and crispy and the fish will be tender and flavorful. I bet you will surely enjoy making this simple recipe and try this recipe viewing the video at:
Once you've tried these lip smacking finger sticks, I bet you'll never buy fish sticks again!
Fish Fingers
Author :
Published On : Nov 13, 2007
Recipe Type : NonVeg-Main
Standing Time : 5-8 mins
Ingredient : Fish
Description : fish finger cooked indian way
Recipe of
Ingredient Name
Unit
Quantity
Basen ( channa dal powder)

---

tbsp

---

2

---

Bread crums

---

tbsp

---

2

---

coriander powder

---

tsp

---

1/2

---

cumin powder

---

tsp

---

1/2

---

curry leaves

---

number

---

7

---

Fish

---

grams

---

500

---

garama masala

---

tsp

---

3/4

---

ginger garlic paste

---

tsp

---

1/2

---

lemon

---

number

---

1

---

red chillie powder

---

tsp

---

1

---

salt

---

---

as per taste

---

turmuric

---

pinch

---

pinch

---
Take fish add lime juice,salt,turmuric,chilli powder,garama masala,coriander powder,cumin,chopped curry leaves,ginger garlic paste mix all these well. Now mix basen and bread crums in a plate dip the fish into it and remove. Take a pan add oil for frying, once oil get heated add some of the fish pieces and deep fry till they turn into golden brown in colour. Remove it and sqeeze little lime jucie.