Every thing about GARLIC PICKLE | Vahrehvah :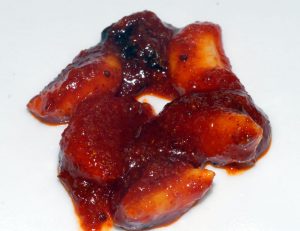 Garlic
is a wonderful seasoning to add aroma, taste and nutrition to the dishes. Often few people do not like the
smell
or
flavor of garlic.
But they are losing out many benefits that we derive from
garlic.
Often it is recommended to use raw chopped or pressed
garlic
in many dishes to get the advantage of the benefits from the
garlic.
Garlic
is said to be native to
central Asia
and also one of the
oldest cultivated plants
in the
world
that has been grown for over 5000 years. Ancient Egyptians seem to have been the first to cultivate this plant that played an important role in their
culture.
Garlic
was introduced into various regions throughout the globe by
migrating cultural
tribes and explorers. By the
6th century BC, garlic
was known in both
China
and
India,
the latter country using it for therapeutic purposes. Throughout the
millennia, garlic
has been a beloved plant in many cultures for both its culinary and medicinal properties.
Over the last few years, it has gained unprecedented popularity since researchers have been scientifically validating its numerous
health benefits. Currently, China, South Korea, India, Spain
and the
United States
are among the top commercial producers of
garlic.
Due to the umpteen benefits that we get from
garlic,
many of us store the
garlic
in
lemon juice
or
vinegar
adding salt and eating one bulb daily.
It's very beneficial to
health.
Hence the same ways pickling of
garlic
has also become very popular.
Garlic pickle
has a very nice hot and
sweet flavor.
The
sweetness
is provided by
jaggery.
For making the
Garlic pickle,
firstly peel the
garlic
pods and keep aside.
In a pan add oil, when hot add
mustard seeds
and allow it to
crackle
than add
cumin, hing, ginger
and
garlic
paste, curry leaves and mix well. Reduce the flame. Add
turmeric powder
and
jaggery
to it and allow the
jaggery
to melt. Once done add mustard powder, coriander powder, cumin powder,
pinch
of
fenugreek powder
and mix well.
Switch off the flame. Add
lemon juice, chilli powder
and mix thoroughly. Remove the whole mixture in a bowl; add salt and the remaining half
lemon juice.
Mix well and store in a
glass jar.
Let it soak for 3 days and than you can start eating the pickle. You can also just soak the
garlic
bulbs in
lemon juice
and salt and store in a glass jar and later put the spices.
For making the garlic pickle choose small to medium
garlic pods.
Do not use fresh new
garlic's
to make the
pickle.
Always remember to use the
chilli powder
that is used for
pickles
only. The mélange of flavors of marinated
garlic
combined with
jaggery, chillies
and other
spices,
to make a rich, complex, bold spicy
pickle.
Best to be more innovation and imaginative to make it perfect to add zing to any dish.
Pickled garlic
has entirely different beneficial compounds than
dried, cooked garlic
and they work differently in the human body. Eating pickled garlic does not give the consumer immediate garlic
breath
or
secondary garlic
odor (sweat, lungs, etc.), hours later whereas cooking fresh or dried garlic gives both kinds of odor.
If the
garlic is
soaked in
vinegar
or
lemon juice,
the acid that is present in them will neutralize the
Alliinase
and slowly breaks down the rest of the cloves into odorless water soluble compounds that circulate via the bloodstream mostly S-allyl cysteine (SAC).
SAC lowers
cholesterol, blood pressure
and
sugar levels
and inhibits platelet aggregation as well.
The SAC has some anti-tumor properties also. The wonderful thing is that the longer you leave the garlic in the vinegar or
lemon juice,
the more SAC is formed.
Pickling
the
garlic
is a great and inexpensive way to enjoy excellent flavor and get a few health benefits too.
Garlic
is an excellent source of manganese. It is also a very good source of
vitamin B6
and
vitamin
C
. In addition,
garlic
is a good source of protein and
thiamin (vitamin B1)
as well as the minerals phosphorus, selenium, calcium, potassium, and copper. Modern science has shown that garlic is a powerful natural antibiotic and has a powerful antioxidant effect.
Garlic
should be seen as part of a
healthy
life
s
tyle.
Summary: pickle made with garlic a specialty
Ingredients:
oil - 1 - cup
Chilli powder - 3/4 - cup
Corriander seeds - 1 - tsp
Cumin seeds - 1 - tsp
curry leaves - 9 - number
Fenugreek seeds - pinch - pinch
Garlic peeled - 300 - grams
ginger garlic paste - 1 - tbsp
Hing (Asafoetida) - pinch - pinch
Jaggery powderr - 1/4 - cup
Lemon juice - 10 - number
Mustard seeds - 1 - tsp
Salt to taste - 0 - as per taste
turmuric powder - 1/4 - tsp
Instructions:
Take a pan and roast cumin seeds, coriander seeds and fenugreek seeds till golden brown without oil.• Powder the roasted ingredients finely and keep aside. • Heat the pan and pour the oil. When the oil is hot add mustard seeds,cumin seeds and when it splutters add, turmuric,ginger garli paste,jaggery,murstad,coriander powder,methi powder,switch of the flame and add lemon juice,chilli powder mix well and keep it a side let it cool down. •Take a bowl add garlic, salt,lemon juicemix well and then add the tempering to it amd mix well. Keep this pickle in a jar for 3 days.
Cooking time (duration): 25
Diet type: Vegetarian
Number of servings (yield): 4
Meal type: lunch
Recipe by Vahchef.
Do Pickle the garlic anyway you want to, but pickle it and eat it because it is too delicious of a dish to pass up. Happy cooking!