Every thing about JOWAR KI ROTI | Vahrehvah :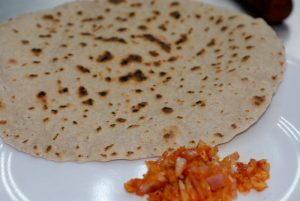 Jowar
is a gluten free whole grain.
Jowar
is also popularly known as
Sorghum. Sorghum
is an important
food crop
in
Africa, Central America,
and
South Asia
and is the
fifth most important cereal crop
grown in the world.
Jowar
is also called as
Jwaarie, Jonnallu
and is one of the staple sources of nutrition for the
rural
and
poor.
Jowar
is very popular in the
villages
and
small towns
in
India
and is prepared like a
roti
(Indian flat bread) and eaten along with
meat
or
vegetable curries. Jowar ki roti
has got high energy and is very
nutritious.
Preparing
Jowar ki roti
you need to known the right mixing of the dough and making of the rotis. As Jowar flour is gluten free it's hard to spread the dough with a rolling pin, hence hands are used to shape the dough into a round circle. This needs experience and skill to get a perfect shape of
roti.
For preparing
Jowar ki roti
firstly you need to prepare the dough add a little salt to the flour and gradually keep adding and mixing hot water.
After a little while the dough should be
kneaded
well and
divided into small balls.
To prepare the rotis you need a flat board. Using your palm spread dough on the flat board making a thin round shape. Fry this on a hot tava (griddle). On medium heat,
roti
is
roasted slowly.
Water is applied with a cotton cloth on the surface of
roti,
before turning it to the other side. Cook both sides well and serve hot.
Jowar ki roti
is also eaten with
garlic chutney
or a
spicy chilli chutney, onions
and
green chillies.
Normally
Jowar ki roti
is eaten during
lunch
or
dinner.
Summary: gluten free Indian flat bread
Ingredients:
hot water - 0 - as needed
Jowar atta milo flour , jonnala pindi - 1 - cup
Salt - pich - pinch
Instructions:
Take a bowl add pich of salt to mix the dough use hot water mix it with a spoon and make a soft dough.Now take some of the atta as dumpling to make a roti, sprinkle jowar atta first and put the dumpling press it with a hand to make a chapati.Once the roti is ready take pan heat it, pan need to be very hot then add the roti, atta side on the top spread water on the to side of the roti with hand or cloth then rotate it to the other side.cook till both sides are done.
Cooking time (duration): 25
Diet type: Vegetarian
Number of servings (yield): 3
Meal type: breakfast
My rating: 4 stars: ★★★★☆ 1 review(s)
Recipe by Vahchef.
Jowar (Sorghum) is one of the nutritious cereals and makes a healthy diet. Jowar is rich in potassium, enery, protein, calcium and Iron. Eating Jowar ki roti keeps bones and teeth healthy giving energy to the entire body and also maintains the health of heart, controls diabetes and weight loss.
But gone are the days that Jowar ki roti is a poor man's meal. Nowadays it is suggested by doctors and dietician to have Jowar ki roti and keep you fit and strong. Do learn the recipe and enjoy cooking to stay fit. You can watch the video of cooking of Jowar ki roti at:
https://www.vahrehvah.com/jowar-ki-roti