Every thing about PALAK PANEER | Vahrehvah :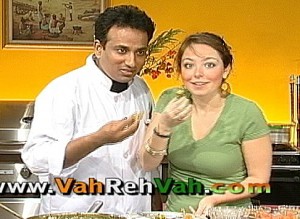 Palak Paneer
is a traditional
North Indian
delicacy and an integral part of the Punjabi cuisine. It is also one of the favorite dishes to many especially the kids coz the influence of Popeye the Sailor gulping cans of Spinach and acquiring tonnes of super energy. It's a nice way of feeding nutritious dishes to kids who do not eat a proper balanced diet.
Palak Paneer
is an Indian
gravy based curry
made of spinach and paneer (a non melting Indian cheese) in a tomato and onion gravy with Indian spices. It's a very popular vegetarian delicacy. The dish looks very appetizing due to the combination of its natural green and white colors of the spinach and
paneer
.
This dish is mildly flavored and not a very spicy curry. Normally in the state of Punjab,
Palak paneer
is a speciality dish in most of the dhabas.
Palak paneer
is served with hot Indian flat breads accompanied with a glass of Lassi.
Anyways
Palak paneer
is truly a guilt free, satisfying well balanced delicious dish.
Spinach is a versatile
vegetable
. Spinach works well when combined with most or any type of cuisine whether you're adding it to
dal
,
pasta
,
stir
-
frys
,
curries
,
noodles
,
quesadillas
,
pizza
… etc, the culinary possibilities are virtually endless.
Spinach
is very healthy, nutritious and full of antioxidants. It's also high in iron, vitamins A & C and even calcium. Preparing the
Palak paneer
is quiet very simple. In a large pot of boiling water, blanch the
spinach leaves
for just a minute or two. Remove, drain well in a colander and run under cold water. This will stop the cooking process and also set their lovely green color.
Do not cover the vessel while boiling the
spinach
or else you will lose the fresh green color of spinach. Using a food processor or blender, puree the
spinach
into a smooth paste. Do not over blend otherwise you may end up with spinach juice. In a large pan over medium medium heat, add about 1 tbsp of the oil add whole garam masala (cardamom, clove and cinnamon),
cumin seeds
,
chopped garlic
and onions and sauté till the onions turn golden color.
Add little salt and mix. Once the onions turn brown add ginger garlic paste, turmeric powder and mix. Add chopped tomatoes and mix well. Allow to cook on medium flame till the tomatoes are mashed completely. Add cumin powder, coriander powder, chilli powder, crushed fenugreek leaves (kasoori methi), chopped green chillies and mix.
Add the
palak
puree and cook well till it releases oil. Lastly add the
paneer cubes
and little freshly grated nutmeg and mix well. Add cream to give extra richness and taste to the dish (cream can be optional for dieters). The
palak paneer
is ready. Serve with fresh rotis and fragnant Basmati rice.
Palak Paneer
(gravy) has always been a favourite among all the paneer lovers, not only for the great taste it holds, but also for the nutritional components present in it.
Palak Paneer
is an entirely "
Green
" dish, as it contains a whole lot of Palak (green leafy vegetable) which is highly recommended for a good health. It then contains the famous
"Paneer"
which is loved by most people.
According to ayurveda, bitter leafy greens like spinach have a stimulating effect on digestion. They are high in protein, calcium, and carotenes–and, hence, a vital component of a healthy vegetarian diet. Same ways the paneer is rich in protein, vitamin B12, and calcium–and easier to digest than other cheeses.
Ayurvedic
theory states that the nutrients in milk become more available through boiling.
Making paneer
takes this one step further by adding a powerful acid–lemon juice–which breaks the milk into two substances: curds and whey. Paneer is a fresh cheese common in South Asian cuisine. It is of Indian origin. In eastern parts of India, it is generally called Chhena.
It is an unaged, acid-set, non-melting farmer cheese or curd cheese made by curdling heated milk with lemon juice or other food acid. Paneer is completely a lacto-vegetarian and providing a source of protein for vegetarian
Hindus
. The use of
paneer
is more common in northern India, Pakistan, and Bangladesh due to the prominence of milk in their cuisine. It is very popular when wrapped in dough and deep-fried or served with either
spinach
(palak paneer) or peas (mattar paneer).While cuisine in the northern states of India features paneer in spicy curry dishes, the use of sana/ chhana/ chhena in
Oriya,
Assamese
, and
Bengali
cuisine is mostly restricted to sweets like the well known rasgulla or rosogulla.
Summary: spinach cooked with indian cheese
Ingredients


coriader powder - 1 - tbsp


cream fresh -1 - tbsp


cumin powder -1 - tsp


Dry garam masalas -2 - number


fenugrek leaves - 1 - tbsp


garlic - 5 -number


ginger garlic paste - 1 - tbsp


Green Chili - 2 - number


onion - 1 - number


palak - 5 - number


red chilli powder - as per taste


salt - as per taste


tomato - 3 - number


Instructions


Clean and wash spinach and immerse in boiling water for 2 min mash it in a mixer or some prefer to chop and use. Heat oil in a deep pan. . add whole garam masala Now add onions and fry till golden brown. add turmeric and ginger garlic paste Add all spices and red chili powder. Now add the spinach (palak) and cook till it ozzes out oil . Cut paneer into pieces some use it fried , if you have fresh paneer just add Add Paneer pieces to the gravy and simmer in for few min adding garlic slices is optional , some prefer to grind green chillies with spinach top with little cream ( optional).


Cooking time (duration): 25
Diet type: Vegetarian
Number of servings (yield): 4
Meal type: lunch
My rating: 5 stars: ★★★★★ 1 review(s)
Recipe by
Vahchef
.