Every thing about Fat Free Mix Vegetable Indian Bread Paratha | Vahrehvah :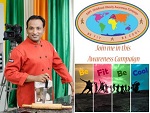 Fat Free Mix Vegetable Indian Bread Paratha is one of the fanastic fat free healthy flat Indian paratha that tastes extremely delicious and goes well accompanied with low fat yogurt raita. Traditionally Paratha is a very popular north Indian flat bread and also an extensively served dhaba food that is made with different variations of stuffing and dollops of butter.
Paratha literally means layered Indian flat bread. A classic scrumptious paratha is excellently made, stuffed with yummy mix of spice powder in between each layer; later pan fried and cooked evenly smearing more oil or ghee which helps in making the paratha crisp and golden brown.
The paratha is made with whole wheat flour made into a soft and pliable dough, rolled out into a thin chapatti and smear with ghee and a mix of spices which includes salt, pepper corns powder, chilli powder, cumin powder, and chaat masala mixed together; spread evenly over the chapatti and then cut horizontally and vertically into strips.
The chapatti pieces are then layered one on top the other, each with the smeared part on top and the last piece placed downwards; they are pressed lightly, dusted with flour and rolled out again to the desired thickness and put on a hot griddle to cook smearing ghee to make it crisp and golden brown. This layered spicy and delectable crispy chapatti goes well with plain yogurt, raita and vegetable pickle. Some add a pinch of sugar to most savoury dishes that enhances the taste of spices and gives that extra zing to the dish.
Paratha Paratha is wholesome, nutritious and healthy Indian flatbread that originated in the Indian subcontinent. It is the most popular unleavened flat bread in the northern states of India. Paratha is made with whole wheat flour kneaded into dough and pan fried on a tava or griddle.
There are a variety of parathas that can prepared. Paratha are either made plain or stuffed with variety of spicy vegetables mix which includes potatoes, radish, paneer, cauliflower, green leafy vegetables etc. Stuffed parathas can be eaten simply with a dollop of butter spread on top, pickle and yogurt whereas a plain paratha goes with either any meat or vegetable curries.
Paratha have its own unique identity in Indian food culture mainly for its taste and nutritional values. Paratha is made in different shapes such as round, square, triangular or heptagonal. They can be eaten anytime in the day. You could also make parathas as per your taste giving different variations in taste and flavour. Paratha makes a complete wholesome meal and is stomach filling.
Whole wheat flour Whole wheat flour commonly known as ghehun ka atta in Hindi is one of the staple food in north India. Whole wheat flour is derived from the complete wheat kernel (the bran and germ). When baked, it gives a nutty flavour and has denser texture.
Whole wheat is generally ground into flour to make a variety of dishes such as roti, bread, paratha, sheera (halwa), noodles etc. Whole grain wheat flour is flavourful and packed with enormous health benefits. It contains vitamins, minerals and protein. It is a good source of calcium, iron, fiber and other.
This fat free mix vegetable Indian bread paratha is a brilliant mix of fresh veggies mixed with few spices and stuffed into the flat bread paratha and pan fried until cooked. A healthy and nutritious paratha that is fat free, no cholesterol and filled with the goodness of numerous vitamins and minerals offered by the fresh veggies.
An excellent stomach filling food that is easy to prepare, carry and sent to kids for their lunch break. A nice yummy, lip smacking cup of raita made low fat yogurt, cucumber, onions and tomato mixed together taste absolutely explicit with the paratha, keeping the fat free Indian bread also soft and moist.
Do try this and enjoy its benefits and unique taste.
You could always reach me at my website for more amazing nutritious and healthy recipes at: www.vahrehvah.com
You could also follow this campaign to gain knowledge on some special features and advices from eminent doctors from AAPI (American Association of Physicians of Indian Origin) and also get to know of healthy recipes and diets from popular Chefs that you and your family can relish and enjoy staying fit and strong.
To follow, do click on: https://www.facebook.com/AAPIChildhoodObesity
Enjoy healthy eating and Be Fit. Be Cool!