Every thing about Typical North Indian Menu | Vahrehvah :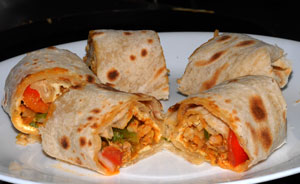 Appetizers Samosa - Triangular pastries filled with vegetables, subtly flavored with spices & exotic herbs, served with mint / yogurt chutney Bhajiya or Pakora - Slices of onion spiced & coated with chick pea flour batter, deep fried to a golden brown, served with mint/yogurt chutney Lamb Kebab - Lamb chops sprinkled with ginger/garlic extract, mildly seasoned, marinated & cooked over charcoals, served with mint/yogurt chutney.
Chicken or Paneer tikka - Succulent boneless breast chicken pieces or paneer, marinated in yogurt & spices, cooked in the tandoor oven until tender, served with mint/yogurt chutney Seek Kebab - Minced lamb, marinated with garlic/ginger & exotic spices, skewered & cooked in the tandoori oven, served with mint/yogurt chutney.
Vegetarian Entrees Vegetable jalfrezi - Seasonal vegetables tossed in butter & mildly seasoned with cumin seed, turmeric & cayenne pepper Paneer Kofta - Koftas of homemade creamy cheese ground with vegetables, mixed with nuts & raisins, deep-fried, served in a creamy sauce. Palak Paneer - Homemade cottage cheese, deep-fried & cooked in fresh pureed spinach, mildly spiced.
A speciality from North India. Dum Aloo - Small potatoes, exotically flavored with fresh herbs & fresh ground spices, sauteed & cooked in yogurt sauce garnished with chopped coriander leaves Dal Makhani - Lentils cooked on slow fire with butter until tender, mildly spiced & complimented with fresh herbs.
Meat dishes Lamb Roganjosh - A rich lamb curry from Kashmir delicately flavored with exotic spices Chicken Tikka - Succulent pieces of chicken marinated in exotic spices, cooked in the Tandoori oven, finished with tomato, cream and butter sauce. Lamb Vmdaloo - An authentic spicy, hot, sharp & tangy, lamb dish Korma - A northern delicacy.
The most popular dish to entertain guests with. Cooked with lots of yogurt, cream, coconut, rose-water and garnished with raisins, almonds and fried onions. Tandoori Chicken - Whole Chicken baked in clay-oven Accompaniments Basmati Rice. Plain Basmati rice Peas Pilau - with fresh peas Vegetable pilau - with mixed vegetables.
Tandoori breads:Plain naan Garlic naan Roti Cheese and Onion Kulcha Alu Paratha - potato and herb Paratha Lacchader - "Flaky" Side Condiments and Raitas: Tomato and onion 'kachumber' salad Cucumber and yogurt raita' Sweet mango 'Chutney' Mango, lime and chili pickles.