Every thing about Wonders of Coconut | Vahrehvah :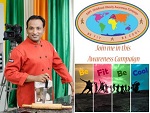 Coconut is one of the very popular ingredients widely used in South Asian cuisine. It's very tasty and versatile and is considered a health food. Coconut is used in various forms like coconut oil, coconut meat, coconut water, coconut milk, desiccated coconut, etc. Over times, coconut has become a very hot and versatile food commodity and is used in almost every day cooking.
Coconuts are highly nutritious, rich in fiber and packed with numerous essential vitamins and minerals. Right from making our daily culinary delights to beautifying our hair, face etc; coconut is a vital part of life with amazing health benefits to offer.
Coconut oil is used as both a cooking medium and for nourishing the hair. In Southern India especially the state of Kerala, coconut oil is used for cooking a variety of delicacies, curries etc. It is also the largest coconut growing state and is popularly known as "God's own country" for it rich greenery thick plantation of coconut trees and plantains.
Coconut is also cultivated in other states of India like Tamil Nadu, Karnataka, Goa, Andhra Pradesh, Orissa, West Bengal, Pondicherry, Maharashtra, Islands of Lakshadweep, Andaman and Nicobar. The coconut palm yields up to 75 fruits per year. Nearly all parts of the palm are useful, and it has significant economic value. In southern India, the coconut flowers are very significant and adorn auspicious occasions especially during Hindu weddings.
They are stood in brass urns and placed in prominent positions. The coconut meat is considered to contain less fat than many other oil seeds and nuts like almonds and is said to have high amount of saturated fat. Like most nut meats, coconut meat contains less sugar and more protein than popular fruits such as bananas, apples and oranges. It is relatively high in minerals such as iron, phosphorus and zinc.
Coconut is used in various ways for culinary use. The white flesh meat in the coconut is edible and can be used fresh or dried for cooking. It is used for making chutney, adding few spices to it and makes a aromatic masala for curries and gravies. The fleshy part can also be used to producecoconut milk which are used in various aromatic and flavorful dishes like cooking fish in coconut milk with spices or for making kheer (Indian dessert).
Puttu, a culinary delicacy of Kerala and Tamil Nadu, where layers of coconut alternate with layers of powdered rice are fitted into a bamboo stalk or in recent times this has been replaced with steel or aluminium tubes, which is then steamed over a pot. Invariably coconut chutney is an important accompaniment served with Idli, Vada and Dosa.
Ground coconut with spices is also used in making of Sambar. The coconut leaves are extensively used in making of broom sticks, baskets and cover the roof thatch. In southern India like Kerala and Tamil Nadu, the coconut leaves are woven and used as pandals for marriages. In Kerala (India), coconut trunks are used for house construction.
The coconut has an important role in Indian daily life especially the south India, where coconut is used as a pooja material and is broken either before or after the pooja as a ritual. Truly nature has gone all its way out in creating this wonderful land with the goodness of tender coconut water which is a soothing, pleasant, naturally sweet water found in young or unripe coconuts.
One of popular natural Indian beverage that is consumed especially during summers to beat the heat of this tropical region. They contain good source of nutrients and is considered as the fluid of life that helps us fight dehydration of the body.
The complex composition of coconut water comprises ascorbic acid, vitamin B, iron, protein, fructose, nitrogen and some basic minerals like potassium, phosphoric acid, calcium and magnesium. It's best to consume it in its natural form because any kind of process done on coconut water may destroy its nutrients. Coconut water is also low in calories, carbohydrates, and sugars, and almost completely fat-free.
Coconut oil is one of the most stable oils when cooking with high heat, and does not form harmful by-products when heated to normal cooking temperatures like the other vegetable oils do. In addition, it can be used as a spread, for baking, and for making delicious raw, vegan desserts. The wonders of coconut are just brilliant, amazing and most of the coconut lovers love to add in their foods daily as they add flavour, variety and numerous healthy nutrients in the food.
Some of the popular dishes made with coconut are:
Hot - Red Chilli Hot Coconut Chutney
Quick and Simple Coconut Chutney
Prawns Kuzhambu with Onion Tomato and Coconut
Chicken Coconut Red Curry - Kundapur Chicken
Coconut Pancake - crepes from Kerala
Sweet Coconut and Oats Paratha
Ash Gourd Pumpkin Coconut Stew - Kerala Olan Curry
You could always reach me at my website for more amazing nutritious and healthy recipes at: www.vahrehvah.com
You could also follow this campaign to gain knowledge on some special features and advices from eminent doctors from AAPI (American Association of Physicians of Indian Origin) and also get to know of healthy recipes and diets from popular Chefs that you and your family can relish and enjoy staying fit and strong.
To follow, do click on: https://www.facebook.com/AAPIChildhoodObesity
Enjoy healthy eating and Be Fit. Be Cool!