Every thing about Okra Chutney | Vahrehvah :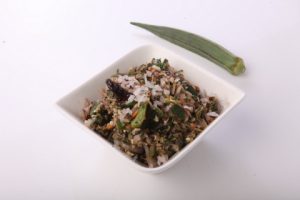 Okra Chutney is a finger licking starter to any normal day meal made Okra. Okra chutney is an awesome and brilliant dish with a fantastic twist and flavor given to this slimy vegetable.
This dish is spicy, tangy chutney made combining various ingredients like okra, cumin seeds, green chillies, coriander leaves, anardana powder, amchur powder and onion which are sautéed together and seasoned with a sizzling tempering of aromatic and flavorful ingredients giving the chutney a appetizing and delectable tang.
Okra chutney goes well with any type of Indian flat breads, rice etc. Okra is a humble vegetable having gummy, slimy qualities and extensively used in making a variety stir-fry dishes, added to stews, curries etc in most Southern States of India.
Recipe: Okra Chutney
Okra, cut into pieces - 2 tbsp
Oil - 1 cup
Cumin seeds - 1 tsp
Green chillies, slit - 5-6 nos
Coriander leaves, chopped - 1 bunch
Anardana powder - ½ tsp
Amchur powder - ½ tsp
Onions, chopped - 1 no
For Tempering:
Oil - 1 tbsp
Mustard seeds - ½ tsp
Cumin seeds - ½ tsp
Chana dal - 1 tsp
Urad dal - 1 tsp
Red chillies - 2-3 nos
Hing - pinch
Curry leaves - 2 sprigs
Directions:
Heat some oil in a pan and when it gets hot, add cumin seeds. When they sizzle, add Okra pieces and fry over medium flame.
Add green chillies, cover the pan with a lid and cook the okra. Do stir in between so that the okra does not get burnt.
Once the okras are fried, add coriander leaves and stir well till the coriander leaves are fried.
Switch off the flame and shift all these ingredients into a blender once they get cooled.
Add some anardana powder (pomegranate seeds powder) and amchur powder (dry mango powder), Salt and blend to coarse paste.
Add some chopped onions and mix well.
Dish out the Okra chutney in a bowl and for tempering the chutney, add some oil in a pan and when it gets hot, add mustard seeds.
When the mustard seeds crackle, add cumin seeds, chana dal, red chillies, urad dal wash, and fry till the lentils are slightly colored. Add hing and curry leaves. Switch off the flame. Add the tempering to the okra chutney and mix.
Serve with roti, chapatti or rice.
Tender okra cooks fast, has a pleasing flavor when cooked and complements well with various flavors. Cooked Okra has a soft texture, very flavorful, unique to taste and delicate. When deep or stir-fried, they have a nice crispness and crunchiness to provide while you take a bite. Okra is power packed with nutritional benefits.
It is rich in vitamin A, vitamins B1, B2, B3, B6 and folacin. It also provides impressive amount of potassium and calcium. Anardana powder or pomegranate seeds powder is an interesting spice used for flavouring this chutney. The anardana powder is widely used in most north Indian dishes like the curries, stews, stir-fries which enhances the taste of the dish and gives an amazing tang on taste.
Amchur powder is another excellent flavouring spice that gives a tangy taste to the chutney. Do prepare this dish that is unique to taste, exotic and delicious to eat. Finally with a mix of so many aromatic spices, the Okra flavour just stands above any comparison and mingles well with these spices absorbing to offer delectable taste.
To try more variations in preparing Okra, do check out for umpteen mouth-watering and appetizing recipes at: www.vahrehvah.com
My rating: 4 stars: ★★★★☆ 1 review(s)
You could always reach me at my below links: My Cooking Videos Indian Recipes Indian Food Regional Indian Cuisines VahChef Sanjay Thumma
Enjoy Cooking and always remember that: "VahrehVah is all about inspiring others to cook"!