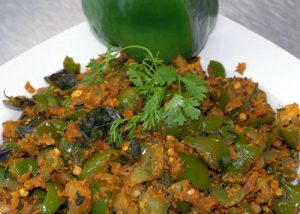 Capsicum Masala Curry is a very popular and savory Andhra delicacy Capsicum Sada Masala is a simple and delicious curry very easy to cook which can be served as a side dish for Chapathi, Paratha, Naan, Roti and rice. Capsicum by itself has a unique flavor and tastes great when mixed in different curries. It gives the curries a colorful look of savor. This dish is made with simple ingredients as capsicum being the main ingredients with onions chopped and fried nicely with spices tastes fantastic. Capsicum is a refreshing vegetable that comes in an exciting range of colors, like green, red and yellow. It is native to America and in fact, has been cultivated by the people of the tropical Americas since the past thousands of years. Known by a number of names, like chili pepper, bell pepper and red or green pepper, the vegetable is used as a spice, medicine and obviously, a vegetable. Apart from being good in taste, capsicum also holds a great degree of nutritional value and accords numerous health benefits to its users. Recipe: Capsicum Sada Masala https://www.youtube.com/watch?v=rvqGq8dp7xA
Ingredients:


Capsicum - 5 nos


Oil - 1 tbsp


Mustard seeds - ½ tsp


Cumin seeds - ½ tsp


Curry leaves - few sprigs


Onion, chopped - 1 no


Salt - to taste


Turmeric - ¼ tsp


Ginger garlic paste - ½ tsp


Coriander powder - ½ tbsp


Coconut powder - 1 tbsp


Chilli powder - 1 tsp


Directions:


Heat a tbsp of oil in a sauce pan. Add few mustard seeds, cumin seeds and fresh curry leaves allow them to crackle.


Now, add chopped onions, and salt (which helps the onions to cook faster). When the onions are slightly cooked add pinch of Turmeric.


Add ginger - garlic paste and sauté well till the raw flavors are gone. When the onions are slightly sautéed, add bell pepper (Do not cover it with a lid).


When the Bell pepper is slightly cooked, add coriander powder, chilli powder according to your taste. Mix Well. You can be generous in adding cauliflower, potato, or green peas to this bell pepper which will enhance your dish even more.


After 10 mins of slow cooking, the capsicum (bell pepper) looks great and your dish is ready.


Garnish it with freshly chopped coriander (cilantro).


The most common variety that we find in India is the green bell peppers, commonly known as Capsicum. They have a refreshing juicy flesh and crisp texture. And unlike mature bell peppers yellow and red, they do not have a sweet flesh. Chopped into narrow slices, this vegetable tastes great as pizza topping, can be cooked into curries and can be used as seasoning. This tangy vegetable is not only used for its medicinal properties, but the strong, spicy flavor is a great culinary ingredient. Capsicum as a vegetable is used combined with few vegetables like the potatoes, peas, cauliflower to make excellent tasty dishes. Capsicum enhances the taste of the dish with its unique flavor. They taste great when added to salads and salsas. The capsicum sada masala curry in a simple dish made with bell peppers and goes well with polkas, chapatti or even rice. Do make this recipe as the capsicum has enormous health and nutritious benefits and is a best diet for your whole family. This following, traditional recipe from Andhra Pradesh, India suits green bell peppers and is quite easy to prepare, tastes good. The bell peppers are rich in nutritional value and are also associated with numerous health benefits. Capsicum is rich in beta carotene, capsaicin and vitamins A and C, which are good for preventing a host of diseases, including live disease and impotency. Capsicum is great for metabolism. The nutrients in these tangy vegetables lower triglycerides in the fat deposits in blood corpuscles. This not only burns extra calories, but also energizes the metabolism. To try more delicious and favorite recipe of yours, do click on: www.vahrehvah.com. My rating: 4 stars: ★★★★☆ 1 review(s) You could always reach me at my below links: My Cooking Videos Indian Recipes Indian Food Regional Indian Cuisines VahChef Sanjay Thumma Enjoy Cooking and always remember that: "VahrehVah is all about inspiring others to cook"!