Every thing about POTATO PODIMAS | Vahrehvah :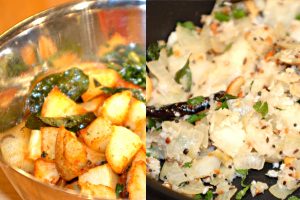 Potato podimas
is a famous south Indian dish.
Potato
is an all time favorite and the most adored
vegetable
to one and all around the world. There is hardly anyone who dislikes this
vegetable
especially all those kids who dislike eating various other
vegetable
shares a common interest for the
potatoes. Potatoes
have a
magical taste
and flavor when
cooked.
Potato podimas
is a very simple recipe and easy to cook. You can make it in 15 minutes. It's one of the classic
south Indian
dishes that go very well with
poori
,
roti
or
Chapathis
and rice. This dish also is served with curd rice and
sambar
rice too.
Many of the times when there is leftover podimas you could make excellent sandwiches or puffs by stuffing the in and can also prepare yummy and delicious
aloo paratha
out of this podimas.
So next time if the
podimas
is leftover do use it in making other exotic dishes!
Potato
is the most forgiving
vegetable (tuber,
to be more accurate) a cook can lay hands on. You can chop, dice, mash or steam, deep fry or bake them. They succumb to any kind of cruelty and always yield good results. They can be seasoned heavily, like gravies or lightly or fried. One of the most favorite dish made of
potatoes
are the
potatoes chips
or
fries.
Truly an enticing and luscious dish! Any type of
recipe
made with
potato
would keep your kids in high spirits.
Potatoes
are a
very popular food source.
Unfortunately, most people eat
potatoes
in the
form of greasy French fries
or
potato
chips,
and even baked potatoes are typically loaded down with fats such as
butter, sour cream,
and melted cheese and bacon bits. Such treatment can make even
baked potatoes
a potential contributor to a heart attack. But take away the extra fat and deep frying, and a
baked potato
is an exceptionally
healthful low calorie,
high fiber food that offers significant
protection
against cardiovascular disease and cancer.
Since
potato
is rich in carbohydrates, it is good for health (to be avoided by diabetic patients and those who diet, stay away, but could be eaten once in a while!). A
south Indian
variation of the common
potato sabji, Potato podimas
is one of the specialties of Iyer
Brahmins.
It is lightly spiced and served as a side dish in a
south Indian vegetarian meal.
The dish is usually prepared for special occasions. Whether
mashed, baked
or
roasted, people
often consider potatoes as comfort food. It is an important food staple and the number one
vegetable
crop in the world.
Potatoes
are available year-round as they are harvested somewhere
every month of the year.
There are about
five thousand
different varieties of
potatoes
grown all over the world.
Today one cannot even imagine
vegetables
without potatoes. This situation is there in very household all over the world. This ugly muddy shapeless has cast a spell over all of us with its taste. For most of the calorie conscious people, eating potatoes is considered a sin, but the truth is that they have excellent nutritional values so much so that they can even be used as a diet food. They have umpteen
health benefits
in their store. Not surprising though, owing to its versatility,
Potatoes
are sure to lend a helping hand to entertain your surprise guests or make a quick meal.
This
potato podimas
(mashed potatoes) is a mildly flavored curry to go with
hot
&
spicy
sambar rice
. This is a twist to the normal potato fry made with chilli powder and lots of oil. A very simple, easy to make recipe! Here I shall be telling you how to make a
Indian French fry
(potato chips) and
potato podimas.
To prepare the
potato chips, boil the potatoes
and cut them into small
cubes.
Heat oil in a
kadai
or
pan
for deep frying the cut
potatoes.
Drop
potato pieces
in hot oil and fry on medium heat.
Cook
for few mins till golden in color. To get the right crispness the temperature of the hot oil needs to be 350
0
F. Fry some curry leaves and coriander leaves and sprinkle them over the potatoes and mix well. Sprinkle some salt and chilli powder according to taste and toss the whole ingredients well. Do not cover them or else they will get soft.
Curry leaves
is the main ingredients in this dish that gives excellent flavor and taste to the
potato chips
.
For making
potato
pod
i
mas,
boil
and
roughly mashed potatoes.
In a pan add oil and heat, add mustard seeds, red chillies, cumin seeds when they crackle add channa dal, urad dal (black gram), cashew nuts, hing, chopped green chillies, curry leaves and chopped onions and sauté well. Do not brown the onions or else they will lose the crunchiness. Add salt
turmeric
(optional), add the mashed potatoes and grated
coconut
and mix well. Garnish with coriander leaves and lime juice. These are few amazing delicious recipes that you can prepare easily with hardly few ingredients at any time to make your kids and family happy.
You can also view the making of these dishes at:
https://www.vahrehvah.com/potato-podimas-fry
Potatoes
are a very good source of
vitamin
C
, a good source of vitamin B6, copper,
potassium,
manganese, and dietary fiber. Potatoes also contain iron and copper. Iron is the most important component that maintains the hemoglobin levels in the body. Low iron intake causes lack of energy, dizziness, headache and anemia. Copper along with iron is necessary for red blood cell formation.
Potatoes
are a wholesome food and you won't be hungry at all, for some hours, after eating
potatoes.
They contain
carbohydrates
, which is a good source of energy. If potato is so nutritional, where does the fault lie? The fault lies in the way people cook or eat
potatoes.
We prepare a salty, fried and
fatty snack of potatoes.
The skin which contains most of the nutrients is peeled off. While cooking potatoes, most of the
vitamin
C is lost. It is better to eat baked potatoes, than fried or grilled ones. Here is the podimas recipe which will help keep the nutrients intact in your potato dish. Get rid of the preconceived notions about potatoes and eat them the healthy way.







Potato podimas fry
































Author :


Published On : Oct 30, 2007




Preparation Time:

7 min



Recipe Type : Veg-Main




Cooking Time :

25 min



Standing Time : 5-8 mins




Yield :

4 (4 servings)



Ingredient : Potatos






Description : potatoes fried and potato podimas



















Ingredient Name


Unit


Quantity








potatoes

---



number

---



4

---













follow video instruction