Every thing about PRAWN SHRIMP BIRYANI | Vahrehvah :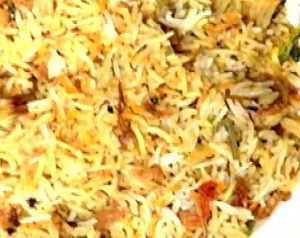 Prawn Biryani
is a traditional Indian dish prepared by layering spices, shrimp/
prawn
and
aromatic rice.
Prawn Biryani is not a very richly flavored dish but has all the flavors of an authentic biryani. Its simple dish and you will surely love the taste of this
luscious Prawn shrimp biryani.
Prawn shrimp biryani is an aromatic, lip smacking rice dish preparation with prawns and spices mixed with
natural
herbs
.
Prawn shrimp biryani is a
seafood
entrée where one experiences the succulent flavors of shrimps wrapped up in layers of aromatic rice and perfectly blended to make the prawn/shrimps
juicy
with delicate spices and rice. It's an irresistible awesome and a perfect dish for the
seafood lovers
! Biryani is one of the enticing authentic dishes from the
Hyderabadi
cuisine which has actually come from the kitchen of the
Nawabs
and
Nizams
that truly showcases its richness in food and flavors to make it an expensive delicacy that is served normally during festive occasions or important events.
Biryani is a rice based food made with spices, basmati rice and any
meat
,
fish
,
egg,
prawns/ shrimps or
vegetables.
Biryani is a flawless mixture of right spices and
herbs
that is vital to enhance the flavor and taste of the dish which as of today has attained a symbolic mark as the high class delicacy all over the world and taken the Indian style of cooking to greater heights.
Biryani is derived from the Persian word
beryan
which means fried or
roasted
. Hence we use the same method in making the prawn shrimp Biryani where we first deep fry the prawns/ shrimp marinated in spices mixture and later cooked with aromatic rice. Prawn shrimp biryani can be eaten by itself or best with raita (dahi chutney) or any
korma
or gravy. Biryani originated in
Persia
and
Arabia
and was popularized by the Mughal rulers in Lucknow years and years ago.
It has developed into a rice dish that is consumed on special occasions such as Muslim festivals and Hindu weddings. It's just as delicious and super special dish of the
Hyderabadi cuisine
.
Prawn shrimp
biryani takes lesser cooking time than the
mutton
or
chicken
biryani as the prawns get cooked faster. To prepare the Prawn Shrimp Biryani, fry finely sliced onion until golden brown and keep aside. Wash basmati rice and soak in water for about 30 mins.
In a mixing bowl add the washed and cleaned prawns/ shrimps, add salt, ginger garlic paste, chilli powder, coriander powder and mix well. Add oil in a pan, heat oil and deep fry the prawns little by little or else they would stick together. Once the prawns are almost done remove from oil and keep aside. In a vessel add water, add some oil to the boiling water, add shahi jeera, and garam masala (cardamom, cloves, cinnamon and bay leaves). Allow the water to boil add the soaked rice and salt to the boiling water and cook the rice till 85% to 90% cooked and drain the water off.
In a heavy bottomed vessel, add oil, add garam masala (mace,
cardamom,
cloves, cinnamon), cumin seeds, chopped green chillies, coriander leaves, mint leaves, yoghurt, biryani masala, fried onion and salt. To this add the fried
shrimp
and mix. Add the cooked rice and top with chopped coriander leaves, fried onions, saffron color and garam masala powder.
Close the vessel with an airtight lid and cook for another 5 mins. Do not over cook the
biryani
. Prawn shrimp biryani has a delicious unique
taste
of its own and is a wonderful variation to Chicken or meat biryani. Prawn shrimp biryani is a very exotic and luscious dish swarming its fragrance all over. The bit of saffron gives a wonderful color and glorious aroma to the biryani.
Prawn Biryani is sure to make every day a special day with its flavors of the cooked juicy prawns added to the rice along with a delectable combination of fried onion, yoghurt, fresh herbs and whole spices. There are many versions of cooking the Prawn Shrimp Biryani but I bet this is the best and most easy way to prepare the biryani. Do watch the video on making of the Prawn shrimp biryani and enjoy cooking and eating along with your family. Don't miss it! Watch now at:
In a busy and fast track world where most of the people are conscious of
health
and
fitness
and the thought of eating healthy food, Prawn shrimp biryani is the dish always healthier than the other meat dishes. Prawns/ shrimps are considered to be a healthy dish
low in calories
and saturated fats compared to other meats. Prawns/ shrimps are rich in proteins, various vitamins and minerals. Prawns are also a good source of vitamin C, and almost 2-3 mg of the same is present in 100 grams of prawn. Apart from this, the
carbohydrate
content in prawns is around 0.90 - 0.91 gram and selenium content is about 38 - 39 microgram. It is also very low in the sugar content (sugar is almost absent in prawns!).
Overall Prawns is a very good source of vitamin D, vitamin B12 and a good source of iron, phosphorus, omega-3 fatty acids, niacin, zinc, copper and magnesium. Consuming sufficient quantities of prawns is necessary to gain its many health benefits. Prawns are a fairly good source of protein, which help in proper growth and development of the body. Prawn Shrimp Biryani obviously makes a tastier and healthier food than other biryanis. Prawns might form a small part of your diet but it brings in a lot of health benefits. Wish you a great health!!!
Ingredient Name
Unit
Quantity
oil

---

cup

---

1

---

Bari ilaayach

---

number

---

1

---

Basmati rice

---

cup

---

2

---

biryani masala

---

tbsp

---

1

---

Chhotee ilaayach

---

number

---

2

---

chilli pdr

---

tsp

---

1/2

---

coriander leaves

---

number

---

1

---

coriander pdr

---

tsp

---

1

---

curd

---

cup

---

2

---

Daalchini (cinnamon)

---

stick

---

1

---

fried onion

---

number

---

1

---

ginger garlic paste

---

tbsp

---

1

---

gr chilli

---

tsp

---

1

---

Jeera -

---

tsp

---

1/2

---

Jeera powder

---

tsp

---

1

---

mint

---

bunch

---

1

---

Prawn

---

grams

---

400

---

Red chilly powder

---

tsp

---

1

---

Salt

---

to taste

---

1

---
cook rice till 90 % done in salted and spiced water as shown with oil heat oil and saute/fry shrimp as shown with marination as shown cook shrimp till 50 % done add curd and all other spices and add shrimp and mix top with hot rice and let it cook for not more than 7-10 min serve hot with other dishes