Every thing about SWEET SEMOLINA POORI | Vahrehvah :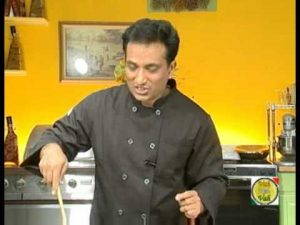 Sweet Semolina Poori
is an Indian sweet.
Semolina
is cooked with
water
and
sugar
flavored with
cardamom powder
and then stuffed into wheat flour dough. This dish is very similar to a
Maharashtrian
dish '
Sanjorya
' which is
sweet semolina Roti.
It is a quick lip smacking sweet dish.
Sweet Semolina poori
is a dish which is very easy and simple to prepare. It is one of the
best dishes
which can be cooked for guests who come home on short notice and you want to make some
sweet,
then
Sweet semolina poori
is a perfect recipe. The
sweet semolina poori
is a very famous
Maharashtrian sweet
.
The dish is popularly called as
Sanjachi Poli in Marathi.
In Marathi Sanja is
semolina
pudding or the
sooji halwa.
The difference between Sanja and Sheera is that Sanja is made with water where as Sheera is made with
milk
or
Ksheer
in
Sanskrit.
Usually most of the delicious lefts over dishes like the
misals, batata vada
etc having their own unique
taste
and
food
that are good for recycling. The Sanjachi Poli is one such creation. Whenever Sanja or Sheera is made in excess you know what to expect next. But many times we make specially for the
taste.
The same in
Andhra
it is popularly known as
Bobatallu,
which is the
stuffed roti. Sweet semolina poori
can be prepared according to the choice of the individual. Suppose you do not like fried stuff due to
health
conscious than you can also make this as nice
rotis
as eat. The
sweet semolina poori
is usually made during the
Navaratri festivals
and occasions.
Semolina
is a popular ingredient and easily available in most of the shops.
Semolina
is coarse, purified wheat middlings of durum wheat used in making pasta and also used for
breakfast cereals
and
puddings.
In
South India, semolina
is commonly used for making the
plain upma, vegetable upma
or the
rava dosa.
In
North India
and
Arab countries
it is used for making the
sweets
such as
sooji
halwa
. Semolina is also used to flour the baking surface to prevent sticking. In
bread
making, a small proportion of durum semolina is added to the usual mix of flour which produces a
tasty
crust. For making the Sweet
semolina poori,
take a pan add water and bring to boil. Add semolina and mix well. Once the
semolina
is half cooked add sugar and mix well.
Add
cardamom
powder
for flavoring and enhances the taste. Mix well.
Cook
till the sweet is done and keep aside. Once the
semolina
stuffing becomes
lukewarm, knead
gently with hand and make 2 inches round balls and keep aside. To make the dough for the
poori
or
roti
, sift wheat flour and adding a pinch of salt. Add little oil and mix. Add water and knead dough to medium consistency. Make small balls with this dough. Take one dough ball and make puri just like we make for modak or just roll it to a puri.
Put one stuffing ball on it and close all the edges and cover stuffing ball with the wheat flour dough. Dust this ball with some wheat flour and roll it gently with rolling pin. Make a thin
poori
or
roti.
Deep fry the
pooris
until golden color and remove and drain the oil and keep aside.
If you want to make a
poli
or
roti
then heat non stick tawa, place the
roti
on it and cook till it become golden brown. Now turn the side and let the other side and cook till golden brown. Pour some ghee around the
roti
while cooking. It will give nice buttery flavor to the
roti
or
pooris.
Well I assume most people know how to make a
stuff poori
or
paratha.
Just follow the same routine and there you go. For the novices here is the elaboration and just view the making of the sweet semolina poori
at:
Sweet Semolina Poori
Author : Admin
Published On : Jul 21, 2009
Preparation Time: 7 min
Recipe Type : Desserts/Sweets
Cooking Time : 25 min
Standing Time : 5-8 mins
Yield : 4 (4 servings)
Ingredient : Sooji/Semolina
Recipe of
Ingredient Name
Unit
Quantity
Atta

---

cup

---

1

---

cardomam powder

---

tsp

---

1/2

---

oil to fry

---

0

---

---

salt

---

0

---

pinch

---

Semolina

---

cup

---

1

---

sugar

---

cup

---

1

---

water

---

cup

---

1 1/2

---
Take a pan boil water add semolina mix well once it is half cooked add sugar cardomam powder mix well. Cook till sweet is done keep a side to cool down. In another bowl take atta,salt,oil 1tsp mix well then make into a dough. Now take equal quantity of dough and sweet stuff into the dough and make a poori size and deep fry. Another method take dough of chapati size stuff the sweet and make a chapati and cook both the side on tava.