Every thing about PINEAPPLE PASTRY | Vahrehvah :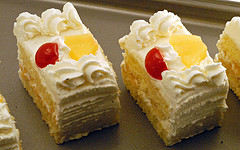 Pineapple Pastry
is one of the most tempting and flavorful
desserts
and most of us love to eat. Kids are very fond of baked food and
pastries
top the list. Pastry is referred as a small
cake
made with fresh cream filling or frosting. Pastry is the name given to various kinds of baked goods that are made from various ingredients like flour, butter, shortening, baking powder and
eggs
.
Generally small cakes, tarts and other
sweet baked
goods are called
'pastries'.T
he thought of pastry just makes you to jump to grab for one, it's so tempting and luscious. There are a variety of pastries that can be made are easily available in most of the bakery shops. The range of pastries right starts from everyone's favorite Black forest pastry, chocolate pastry, pineapple pastry, French Lining pastry etc.
Pastry
is distinguished from
bread
by having a higher fat content, which contributes to a flaky or
crumbly texture
. A good pastry is light and airy and
fatty
, but firm enough to support the weight of the filling.
When making a short
crust pastry
,
care must be taken to blend the fat and flour thoroughly before adding any liquid. Pastries are usually made with fat free
sponge cakes
where all the sponginess comes from the eggs. A basic pastry mixture is made of
flour and fat
. Nowadays with the wide range of pastries easily available, has made it vary in texture and taste than the basic pastry.
This is because of the proportion of the fats used and the incorporation of
flour
and mixing methods.
Development of the pineapple pastry:
In the beginning, both of the
pineapple cakes
and the
pineapple pastries
were made of the
pure pineapples
. The ingredients of the pineapples had rough fibers, and the taste was sour. It was not so delicious. Although the bakeries used lard to dress up the flavor, the taste was not very ideal. Through many experiments of the bakers, they, finally, found the best partner, the
white gourds
. The white gourds contained an amount of water, and its fibers were more detailed.
After the process of dehydrating and a long-bull cooking with
sugar
, pineapples, the white gourds and
maltose
, the
jam
would be tastier. Moreover, in Chinese medicine, the white gourd was a kind of food which was good to release internal heat or fever. It was also easy to accelerate human body's
metabolism
. On the other hand, the white gourds were good to
digest
and relieve one's thirst.
They were extremely the good partners of the pineapple pastries. As for the
paste
, the bakers formerly used lard to dress up the flavor, but now, due to the healthy attention, butter is often used as a substitute for lard. When we eat the pineapple pastries, we can smell the flavor of
butter
. The pineapple pastry has been one of the most popular traditional snacks in
Taiwan
. In the
18th century
,
pineapples began
to be cultivated in
Hawaii,
the only state in the U.S. in which they are still grown. In addition to Hawaii, other countries that commercially grow
pineapples
include
Thailand,
the
Philippines, China, Brazil
and
Mexico.
Pineapple is a perfect addition to
fruit salads
, especially when added to those containing other tropical fruits such as
papaya, kiwi and mango
. Colorful, delicious fresh fruit salad is a temptation to many especially kids and this fruit is a perfect addition to any meal and makes a great
snack or dessert
. Fresh pineapples are nutritionally packed with antioxidant and bromelain. In India, a variety of dishes are made with pineapple like the Pineapple rasam, pineapple chutney,
pineapple halwa
and pineapple upside down
cake
or fresh
pineapple juice
.
Bromelain
is a natural anti-inflammatory with analgesic properties that encourages healing, promotes well-being and has many other
health benefits. Bromelain
is very effective in treating bruises, sprains and strains by reducing swelling, tenderness and pain. Additionally, bromelain can relieve indigestion. The enzyme contained in
fresh pineapple
helps break down the
amino acid bonds
in
proteins,
which
promotes good digestion
.
Pineapples
also provide an ample supply of
vitamin
C
; hence choose the fresh fruit because it has the most healing properties.
Pineapple
tastes exotic and delectable by just
eating like that or added to salads
and entrees for an exotic flavor, or made into tasty tropical drinks and smoothies.
Pineapple
is an excellent source of
vitamin
C
and
manganese.
It is also a good
source
of
vitamin B1, vitamin B6, copper
and dietary fiber.
Check out for the recipe of Pineapple Pastry:
Ingredients:
Cake sheets - 2 nos
Cake cream - 1 ounce
Pineapple essence - 1 tbsp
Pineapple pieces - 1 cup
Sugar - as required
Method:
Take cream and sugar in a blender and blend well.
In a bowl take sugar water and add pineapple essence mix well and keep a side.
Now take the cake sheets sprinkle sugar water, spread the blended cream evenly add some fresh pine apple pieces and then another layer of cake sprinkle sugar water and spread the cream over the cake.
Decorate it with cherry and pineapples.
Pineapple
as such is the second most popular tropical
fruit,
next to
bananas.
Some people find
pineapples
as a very luxurious and even exotic fruit. Eating this delicious fruit on regular basis provides immense health benefits one could ever think of. The obvious benefits of
pineapple
are all the
vitamins
and
minerals
the
fruit
is loaded with. Its nutrients include
calcium, potassium, fiber,
and
vitamin
C.
In addition it is low in fat and cholesterol.
Pineapple pastry
is a wonderful dessert, moist cake, layered with rich whipped cream,
pineapples
and few
cherries.
It's a high calorie dessert. You can make the base cake or else buy a plain sponge cake available in the market and prepare the pineapple pastry. It can be made in any shape of your choice. It's a simple procedure to follow and the result is absolutely amazing. Believe me. Here you go and watch the best and easy way to prepare …
https://www.vahrehvah.com/pineapple-pastry