Every thing about Popular & Easy Brinjal/ Eggplant Recipes | Vahrehvah :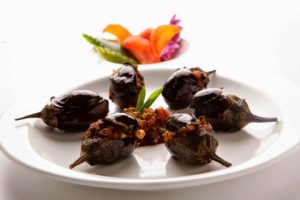 Brinjal recipes
Brinjal or Baigan (in hindi) is also popularly called as eggplant, aubergine. Brinjal (Solanum melongena), is an easily cultivated plant belonging to the family Solanaceae. Its fruit is high in nutrition and commonly consumed as a vegetable. The fruit and other parts of the plant are used in traditional medicine. It is native to Nepal, India, Bangladesh, Pakistan and Sri Lanka.
The vegetable is fleshy and has meaty texture. The vegetable is capable of absorbing large amounts of cooking fats and sauces, allowing for very rich dishes, but the salting process will reduce the amount of oil absorbed. The vegetable flesh is smooth; as related to the tomato, the numerous seeds are soft and edible along with the rest of the fruit. The thin skin is also edible, so peeling is not required.
Cooking of Baigan bharta can be in many variations as per their regions and liking. It may also be roasted in its skin until charred, so that the pulp can be removed and blended with other ingredients such as lemon, tahini, and garlic, as in the Middle Eastern dish baba ghanoush and the similar Greek dish melitzanosalata.
Grilled, mashed and mixed with onions, tomatoes and spices make the Indian dish Baingan ka Bhartha or Gojju, similar to Salată de vinete in Romania, while a mix of roasted eggplant, roasted red peppers, chopped onions, tomatoes, mushrooms, carrots, celery and spices is called Zacuscă in Romania or Ajvar in Serbia and Balkans.
Ratatouille is a very popular dish made with a combination of eggplant, tomatoes, onions and zucchini. To discover and refresh yourself by starting off preparing these popular and easy Brinjal Eggplant recipes listed below to keep your family and kids in high spirits.
Crispy Fingers Eggplant Eggplants are especially delicious fried into finger shapes that are both nutritious and fun to eat for the family and friends during party time after frying sprinkle some cheese on top and enjoy.
Brinjal and Cucumber Chutney Brinjal & cucumber chutney or Vankaaya dosakaya pachadi is popularly made in Andhra cuisine and made with eggplants and the lemon cucumber that gives a tangy taste and crispness to the fresh chutney.
Bharli Vangi Stuffed Baby Eggplants Traditional Maharashtrian curry popularly known as Bharli Vangi or "Stuffed Eggplant" is an exotic dish made with baby eggplants/ brinjals stuffed with spicy masala sweet and tangy gravy.
Bengali Eggplant Fry Begun/ Eggplant/ Aubergine/ Brinjal is a popularly used vegetable in Indian cooking. Bengali eggplant fry is a side dish that can be eaten with rice, chapattis or just as a snack. For preparing, coat spices over the eggplants with spices and deep fry until done.
Smoked Eggplant Pachadi Smoked eggplant pachadi is an excellent relish made with charring the eggplant until cooked and the skin peeled off; adding some yogurt and spices into the mashed smoked eggplant tempered with a nice seasoning to make it yummy. Goes well with phulkas!
Eggplant Gotsu for Ven Pongal An awesome and tasty stew type curry made with eggplant which is accompanied with Ven Pongal.
Brinjal Fry Gutti Vankai Gutti Vankaya Kura or Stuffed Eggplant/Brinjal curry is Andhra traditional special. Eggplant stuffed with spices and cooked to perfection.
Paneer with Brinjal Rolls A big brinjal called (aubergine) cut into fillet and grilled then rolled up with some paneer stuffing and cooked in tangy tomato gravy with the touch of basil it combines flavourfull dish.
Brinjal Curry Ennai Kathirikai Kulambu This ennai kathirikkai kulambu is one of the typical south Indian gravies which will be definitely liked by all. Tender eggplants are stuffed with the roasted masala mixture and shallow fried in oil to get it cooked and again it is simmered/cooked in masala tamarind gravy to get the traditional taste.
Brinjal Potato Curry with Onion Tomato Gravy Brinjal Potato Curry with Onion Tomato Gravy, popularly known as Aloo baingan ki subji is made with cubed brinjals and potatoes cooked in a onion tomato gravy.
Brinjal Rasam Brinjal rasam is a conventional rasam with a unique taste from tender cooked brinjals added to the pulp extracted from tamarind that is the base of Rasam and gives a tangy taste. This is a different variation from the normal rasam cooked daily. The dal water added to the rasam helps in balancing the sourness or the spiciness of the soup. Brinjal rasam is highly aromatic and flavourful that emanates from the fresh roasted and ground Indian spices added to it.
Brinjal chutney - ding chick Brinjal chutney is excellent and yummy freshly made chutney in a ding chick to taste absolutely good.
Chicken Brinjals Curry Normally no one make this combination chicken with brinjal but everyone has to try this recipe it was awesome taste an unbelievable flavour comes out of this dish and can serve with chapati or rice.
I am sure that you all will be enthralled in preparing these exotic and yummy Brinjal recipes and delight your family and friends with joy.
If at all I have not mentioned any of your favourite Brinjal/ Eggplant recipes then you could always click on at: https://www.vahrehvah.com
You could always reach me at my below links: My Cooking Videos Indian Recipes Indian Food Regional Indian Cuisines VahChef Sanjay Thumma
Enjoy Cooking! Keep Smiling…