Every thing about PHALDARI KABAB VEG SHEEKH KABAB | Vahrehvah :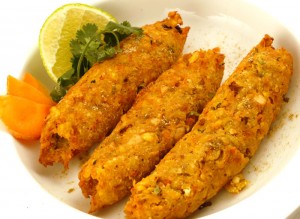 Monsoon
, the best time for munching on some juicy and
spicy kebabs.
Apart from the array of
kebabs,
Phaldari kebab
is a very popular dish among all the vegetarians.
Phaldari kebab
is an interesting mix of raw
banana,
assortment of
vegetables
and spices well kneaded and can be either deep fried or shallow fried which is easily made at home for an enjoyable evening or get together.
The dish is best served with a yummy
tamarind
or
mint chutney
.
This is one of the most relishing dishes for the
vegetarians
. A
kebab
is usually marinated before being skewered over the tandoor, and cooks in the inherent water-content of the main raw ingredient. Originally, it was made, packed and consumed during long journeys across the
Arabian sands
as it had a longer shelf life because of low moisture content.
Later,
kebabs
evolved to become an indispensable delicacy in the
Royal
repast of
Nizams
and
Nawabs.
A perfect
Phaldari
kebab
should just melt in the mouth, endlessly extolling its taste. Some of the very popular
veggie kebabs
are the
Vegetable sheekh kebab, Paneer sheekh kebab, Mawe ki sheekh
and many more that are pleasant and offers memorable bites.
Mughlai cuisine
is well known for its
kebabs
all over the globe.
Phaldari Sheekh kebab is delicately blended with
raw banana,
paneer
and veggies mashed spiced with spices skewered on stick and deep fried with crunchy outer layers yet creamy and soft within. It is one among the few exotic and authentic dishes that is well acclaimed. These offerings can tempt only the most famished herbivores. The
sheekh
kebab
is as much a feast for the eyes as a temptation for the palate and one of the most elegant items on a
barbeque.
The
shashlik
,
to which the
seekh
is believed to be related, is quite popular in the
West
and is served with a flourish on shining
skewers
and is most seductive to say the least. It is surprising that the
vegetarian kebab
on the
skewer
is seldom given the pride of place in menus and housewives/house husbands give it a miss, imagining quite incorrectly that it is a bother to cook at home.
Nothing could be farther from the truth. You can have as much variety in a
veg seekh
as in a
non-veg skewer
.
If you have any
kabab paste
left, you can make
patties
too. Stuff them in bread, and eat it like a
sandwich!
Personally, I know many like to shallow fry coz they are health conscious.
To prepare the
Phaldari kebab/ Veg sheekh kebab
, boil the raw plantains
(bananas)
till tender, remove from hot water, cool and peel the skin.Grate and mash till smooth in texture (remember to remove the cooked raw
bananas
from hot boiling water immediately or else it will absorb moisture which is not good for making the
kebab).
Kebab
requires very less moisture. In a mixing bowl add the grated cooked raw
bananas
, chopped green chillies, fresh
coriander leaves, cumin seeds, chopped corn, carrots,
few
raisins
(enhances the taste of the
kebab),
cashew nuts (to give crunchiness),
grated paneer,
salt to taste, garam masala, chilli powder and chaat masala.Mix all the ingredients well. Knead all these ingredients well to form nice dough. Mix for about 5 mins.
The
kebabs
can be either baked in an oven or deep fried or made in the form of
tikkas
and shallow fried. Divide themixture into small equal sized balls and put the mixture on a wooden spoon or sheekh to give the shape of alollypop. Slowly pull out the stick and deep fry on medium heat till it turns golden brown color. Sprinkle little
chaat
masala
and
lemon juice
just before serving and serve with
chutney
of your choice or
chilli sauce.
Tip: If your
kebab
mixture is slightly moist than you can add all purpose flour which shall absorb the moisture and form nice
kebab
shape. You can also form it into shape of
Tikkas
and shallow fry them which would consume very little oil. If you bake it in the oven just brush it with butter or else it will become dry.
Do try this lip smacking, luscious and refreshing
kebabs
at home to keep your family healthy and offer nutritious dishes.
Click at the link to view the making of the
Phaldhari kabab veg sheek Kabab
Author : Admin
Published On : Apr 23, 2008
Recipe Type : Appetizers
Standing Time : 5-8 mins
Ingredient : Green Plantain
Description : vegetable kabab made with green Plantain
Recipe of
Ingredient Name
Unit
Quantity
chat masala

---

pinch

---

1

---

chopped fresh corn

---

cup

---

1

---

chopped carrot

---

small

---

1

---

chopped coriander

---

tsp

---

1

---

chopped raisins

---

tbsp

---

1

---

crushed cashew

---

tbsp

---

2

---

cummin seeds

---

tsp

---

1/2

---

garam masala

---

tsp

---

1/4

---

gr chilli

---

number

---

2

---

lime juice

---

number

---

1/2

---

paneer

---

cup

---

1

---

plantain

---

number

---

2

---

red chilli pdr

---

pinch

---

1

---

salt

---

to taste

---

1

---
boil green plantain for 20 min , and remove from hat boiling water, if it is left in the water to cool down it will absorb moisture and is not good for kabab chop all other ingredients , vegetables and mix like mixing chapati dough once ready put it on a wodden spoon or sheek and remove and fry or bake in the oven if you bake it in the oven just brush it with butter or else it will become dry always sprinkle little chat masala and lemon juice just before serving and seve with chtney of your choice