Every thing about Fat Free Sambhar | Vahrehvah :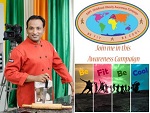 Sambhar or Sambar or Kuzhambu is the dish that is common in South India and Sri Lanka. One of the popular signature dishes in the Tamilian cuisine. This dish is usually made every day in most of the Tamilian household. It is also prepared in Karnataka and Kerala. Sambar is reflective of a broad and ancient tradition of dal-based vegetable stews in southern India. Many regions and families of the Indian subcontinent have developed and maintained their own adaptations of a dal and vegetable stew, and similar preparations are evident in such dishes known in local languages as rasam, charu, saaru, and pappuchaaru. Every state in the South makes it using a standard variant, adjusted to the flavor and environment.
Sambhar is a healthy, flavorful vegetarian dish, very tempting and nourishing, made of Arhar Dal/ Tur Dal and Vegetables. Tamarind soaked in water to extract the juice combined with mixed vegetables (including lady's finger, drumstick, carrot, radish, pumpkin, potatoes, tomatoes, brinjal and whole or halved onions and also other vegetables), spices (turmeric and chilli powder) and freshly ground sambhar powder cooked together adding the dal and boiling the sambar well till it gives a thumping aroma all over the house. South Indian food, folks and tradition are inextricably connected with a popular dish such as idli and sambhar, sambhar and rice and many others.
There are many variations of making the sambar and each state in Southern India prepares according to its taste and environment. These fat free sambhars would make a classic creation which can astonish your family or guest with a bolt from the blue-
Easy Tasty Sambhar: This sambar is quite easy and delicious. Once you will taste it, you will make it again.
Sambhar: Lentil based south Indian dal recipe, slightly tangy to taste combined with a mix of vegetables, spices, and freshly ground sambar powder that gives a thumping aroma all over the house.
Tiffin Center Sambhar: A recipe of delicious udupi style sambar or tiffin center style. This dish is made with few lentils, mixed vegetables, Indian spices roasted and ground to a masala paste.
Mutton Sambhar: It is an awesome dish made with chunks of mutton pieces with bones, channa dal and spices together giving the dish a wholesome taste and texture.
Pappu Charu (mild sambhar): It is redolent with the delicate flavor of curry leaves and seasoned with Indian spices like cumin, mustard, and fenugreek and ginger garlic paste.
Sambhar Sadam: Sambar sadam is a very easy one pot meal.It tasted awesome and it tasted more like the restaurant style sambar sadam. It's also known as bisebelebath.
Chow Chow Sambhar: Chayote Toor dal recipe is a traditional sambar preparation popular in and around the districts of Tamil Nadu.
Sambhar or Sindhi Kadhi: Sindhi kadhi is one such example where all the vegetables are used beautifully to complement each other in taste, color and texture.
Cooking Tips:
Do not add the tamarind before the veggies are cooked completely.
Make sure that the dal is smooth.
The longer the sambar is cooked the better it tastes.
Health Tips:
Toor dal contains folic acid, an important vitamin for all women.
Toor dal is also an excellent source of carbohydrates, which your body needs for energy. When you eat, food containing carbohydrates, your body breaks them down into glucose, or blood sugar.
Tamarind is an effective cure for bilious disorders, it plays an indirect yet very important role in controlling the cholesterol levels in the body.
So, Friends! By preparing this dish you will not miss your original taste of sambar, hence ahead and give it a try. Enjoy and live through the flavors.
Enjoy healthy eating and Be Fit. Be Cool!