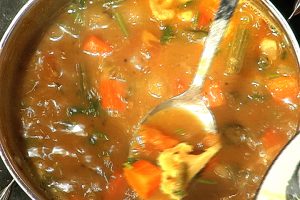 Sambhar or Sambar or Kuzhambu is the dish that is common in South India and Sri Lanka. One of the popular signature dishes in the Tamilian cuisine. This dish is usually made every day in most of the Tamilian household. It is also prepared in Karnataka and Kerala. Sambar is reflective of a broad and ancient tradition of dal-based vegetable stews in southern India. Many regions and families of the Indian subcontinent have developed and maintained their own adaptations of a dal and vegetable stew, and similar preparations are evident in such dishes known in local languages as rasam, charu, saaru, and pappuchaaru. Every state in the South makes it using a standard variant, adjusted to the flavor and environment.
Sambhar is a healthy, flavorful vegetarian dish, very tempting and nourishing, made of Arhar Dal/ Tur Dal and Vegetables. Tamarind soaked in water to extract the juice combined with mixed vegetables (including lady's finger, drumstick, carrot, radish, pumpkin, potatoes, tomatoes, brinjal and whole or halved onions and also other vegetables), spices (turmeric and chilli powder) and freshly ground sambhar powder cooked together adding the dal and boiling the sambar well till it gives a thumping aroma all over the house. South Indian food, folks and tradition are inextricably connected with a popular dish such as idli and sambhar, sambhar and rice and many others.
Toor dal also known as Arhar dal is the most popular and widely consumed dal in India. This dal is known with many different names in different part of India, like Tuvar dal, Toovar dal. In Northern part of Indian it is known as yellow dal (peeli dal) or Arhar dal. Every region in India has its own combination of seasoning and cooking style of cooking Toor dal.
Listed below are a few of the best Sambar/ Sambhar that I enjoy and it is pretty much prepared at each and every household in south India:
Cooking Tips:
Do not add the tamarind before the veggies are cooked completely.
Make sure that the dal is smooth.
The longer the sambar is cooked the better it tastes.
Health Tips:
Toor dal contains folic acid, an important vitamin for all women.
Toor dal is also an excellent source of carbohydrates, which your body needs for energy. When you eat, food containing carbohydrates, your body breaks them down into glucose, or blood sugar.
Tamarind is an effective cure for bilious disorders, it plays an indirect yet very important role in controlling the cholesterol levels in the body.
This vegetarian dish can easily give a tough competition to its non-vegetarian counterpart.. Yummy!!!!