Every thing about TOMATO PAPPU | Vahrehvah :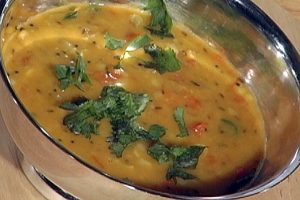 Tomato Pappu
is an integral dish of every day
Andhra vegetarian food
. This dish is very simple, earthy and a soulful food. Tur dal or Kandi Pappu with tomato is a winning combination and addition of fresh coriander adds a perfect touch.
Pappu
in telugu is known as the dal.
Tomato dal
is a dazzling dal recipe and a basic and beginners favorite in Indian cooking. This dish is a main course dish served with rice, chapattis for a hearty and satisfying meal.
Dal
is the yellow lentil which have been stripped of their outer hulls and split.
It also refers to the thick stew prepared from these, an important part of
Indian
, Nepali, Pakistani, Sri Lankan, and
Bangladeshi
cuisine
.
Dal
is a dish that is regularly eaten with rice and vegetables in
Southern India
, and either with rice and roti (wheat-based flat bread) throughout
Northern India
& Pakistan.
Dal
is a ready source of proteins for a balanced diet containing little or no meat.
Sri Lankan cooking of
dal
resembles that of
southern Indian dishes
. There are many ways of making the dal as per the spices available region wise. In
South
India
, dal is often used to make the dish called
sambar
,
pappu charu
etc. There are a variety of
dal
that can be prepared which includes the Tur dal, channa dal, yellow split peas, kala channa, kabuli dal, green moong dal, urad dal, masoor dal and many more. Most of these dal are simple to prepare.
A standard preparation of
dal
starts off with boiling the
dal
(any variety) in water with turmeric powder and then seasoning or tempering or adding a tadka at the end of the
cooking
. This gives a real punch and aromatic flavor to the dish. The
tadka
can be of various spices or flavorings fried in a little oil. The ingredients added in the
tadka
vary by region and individual taste.
Common ingredients to add in the tadka are the mustard seeds, cumin seeds, asafoetida, dry chillies, garlic, curry leaves. Although dal generally refers to split pulses, whole pulses are known as sabut dals and split pulses as dhuli dals. The hulling of a pulse is intended to improve digestibility and palatability, but as with milling of whole grains into refined grains, affects the nutrition provided by the dish, reducing dietary fiber content.
Pulses
with their outer hull intact are also quite popular in India and Pakistan as the main cuisine. Over 50 different varieties of pulses are known in India and Pakistan.
Tomato Dal
is nothing but a stew made with lentils cooked in tomatoes. It's an
Indian
specialty and the recipe is more or else the same everywhere with slight variations. Immensely simple to make and the taste is out of this world.
It's very low in fat and is one of those rare dishes which can be served just the way it is for an elaborate party dinner but also enjoyed on a day to day basis.
Tomatoes
are such an important part of
Indian cooking
. There's so much you can do with it and at the same time not a lot you can do without it. There are a lot of
Indian recipes
that are solely dedicated to
tomatoes
.
Tadka Tomato Dal
along with
tomato
and
cilantro chutney,
it's something which is kind of a staple in
North Indian
homes and is very easy to put together
.
For this dish here goes the recipe, put the
dal
in the pressure cooker. Once the dal is cooked mash the lentils well and keep aside. Add oil in and once it is hot, add mustard seeds, cumin seeds.
Once they crackle add garlic, curry leaves and sauté till they slightly change their color then add onion and fry till transparent, add tomatoes, turmeric powder, chilli powder, green chillies, salt and sauté all ingredients well. Cook till the
tomatoes
are soft and cooked. If require you can add little water to it. Lastly add the mashed dal and mix well simmer the heat and cook till the right consistency you require.
This dal has a very distinctive flavor of tomatoes, curry leaves and spices. Tastes awesome with steamed rice! One of the best comfort food easy to cook! To make this wonderful dish do watch the making at:
Tomatoes
are amazing red fleshy vegetables having a natural sweetness and tangy taste. They are an excellent source of vitamin C, vitamin A, and vitamin K. They are also a very good source of molybdenum, potassium, manganese, dietary fiber, chromium, and vitamin B1. In addition, tomatoes are a good source of vitamin B6, folate, copper, niacin, vitamin B2, magnesium, iron, pantothenic acid, phosphorus, vitamin E and protein.
Tomato Pappu
Author :
Ingredient Name
Unit
Quantity
Clarified Butter

---

cup

---

1/4

---

Cumin seeds

---

tsp

---

1

---

Curry Leaves

---

number

---

12

---

Garlic (crushed)flakes

---

number

---

8

---

Green Chillies (slit into half & seeded)

---

number

---

4

---

Mustard seeds

---

tsp

---

3/4

---

Onions (finely chopped)

---

grams

---

90

---

Red Chilli Powder

---

tsp

---

1

---

Salt

---

to taste

---

---

Tomatoes (chopped)

---

grams

---

500

---

Toor daal

---

cup

---

1

---

Turmeric powder

---

tsp

---

1

---

whole Red Chillies

---

number

---

4

---
Put daal in a pan and cook
add oil add garlic onion , add tomatoes, turmeric, red chilli powder, onions and green chillies. cook all the ingredients scum, reduce to low heat, simmer, stirring at regular intervals, add mashed lentil . Continue to simmer.
To prepare the tempering, heat ghee in frying pan, add mustard and cumin seeds, stir on medium heat until they begin to pop, add garlic and stir -fry until golden brown.
Then add red chillies and curry leaves, stir until the chillies becomes bright red, and pour over the simmering daal. Remove and adjust seasoning.